​
STREAMS IN THE WASTELAND
See, I am doing a new thing! Now it springs up; do you not perceive it? I am making a way in the wilderness and streams in the wasteland. (Isaiah 43:19)
I was sitting at a table, notebook and pen before me, when I noticed a little red dot bouncing at my feet. Half a lobby away sat my son, laser pointer in hand, chuckling. Minutes later, he crossed the lobby and plunked himself into the chair opposite me, propping up his feet.
"What's up?" I asked.
"Nothing."
"Uh-huh," I laughed. "Tell me what's on your mind right this second."
Smirk. "If my thoughts were water, my mind would be a desert."
I laughed, so did he — but he didn't move, so I waited … and the words finally came.
"I have big trust issues with God," he said.
"When did it break?" I asked. "The trust?"
"I don't know."
"When you got sick or before?"
Tears slipped from his eyes, and he rubbed them away. He didn't have to answer. I knew. He's been straddling this mountain for a while, wrestling with God, grieving what was, and afraid of what is.
"I don't think about the future," he said quietly.
"Ever?" I asked.
"No."
"Why?"
"Because I can't see myself there."
Then came the truth.
"I don't think I'll make it there."
Oh…
How do I hold this living grief?
How do I drink this boiling
sea of suffering?
Who will protect me from
this crushing pain …
life spilling from
his eyes, her lips, his
mind? Spines collapsing
like a house of cards
as I choke on the dust
of these years. This grief …
Oh God, how long will it last
You watch me drowning?
He is angry at nothing …
and at every … blessed … thing.
Grief is a torrent
I cannot stop. Eating
has become a battleground:
I stop. He won't. She can't.
He tried. She purges. And
I am gutted by the words
I cannot speak …
     loss upon loss
          upon cascading loss.
How do I hold this living grief
in a body so sated with pain
that my hair is falling out?
Grief piled so high it's fueled
a nine-month migraine,
piercing so deep, it tremors
through my muscles like
aftershocks. Where is the
stopper for this hemorrhaging grief?
How can this be our story?
Father, gather these shards.
Redeem the years the locusts
have eaten. Loose my fisted
grip and scoop up these bits
and fragments and spill Your
glory into every wounded,
broken space that we might
one day be Your precious
mercy-rich kintsugi.
He found him in a desert land, and in the howling waste of the wilderness; he encircled him, he cared for him, he kept him as the apple of his eye. (Deuteronomy 32:10)
One afternoon, nearly a decade later, I asked my son how he was feeling. He paused, shrugged, looked away, and said, "I'm gracefully dying."
Oh…
His words sung in a minor chord in the space between us. How long has he been turning these words over in his mind, trying them out, before speaking them aloud?
PRAYER
Oh Lord, gather these shards! Redeem the years the locusts have eaten. Scoop up these bits and pieces, and hold them in Your Hands until Your grace fills every crevice, flooding the space left by every missing piece, until we become Your mercy-rich kintsugi. In Jesus' name, amen.
QUESTIONS FOR REFLECTION 
Describe your grief. Metaphors and poetry sometimes help us write words we cannot say any other way.
Have you been there, grieving what was and afraid of what is? Did God meet you on that mountain? Has He redeemed the years the locusts have eaten? Have you felt His grace flooding into every shattered space?
What new thing has God been doing in your life? How has He surprised you? How has He made a way in the desert and streams in the wasteland?
Cindee Snider Re
Author, Designer, and Co-Founder of Chronic Joy®
Cindee is married to the man she loves most in this world, mom to five adult kids plus a son- and daughter-in-love, and Lolli to an adorable grandbaby. She and four of her kids have Ehlers-Danlos and myriad co-existing conditions. While a life steeped in illness is not what she would have chosen, through it, she's learning that the deeper the valley, the greater her capacity for joy.
Cindee is the author of Discovering Hope, Finding Purpose, Embracing Worth, and I Take You in Sickness and in Health.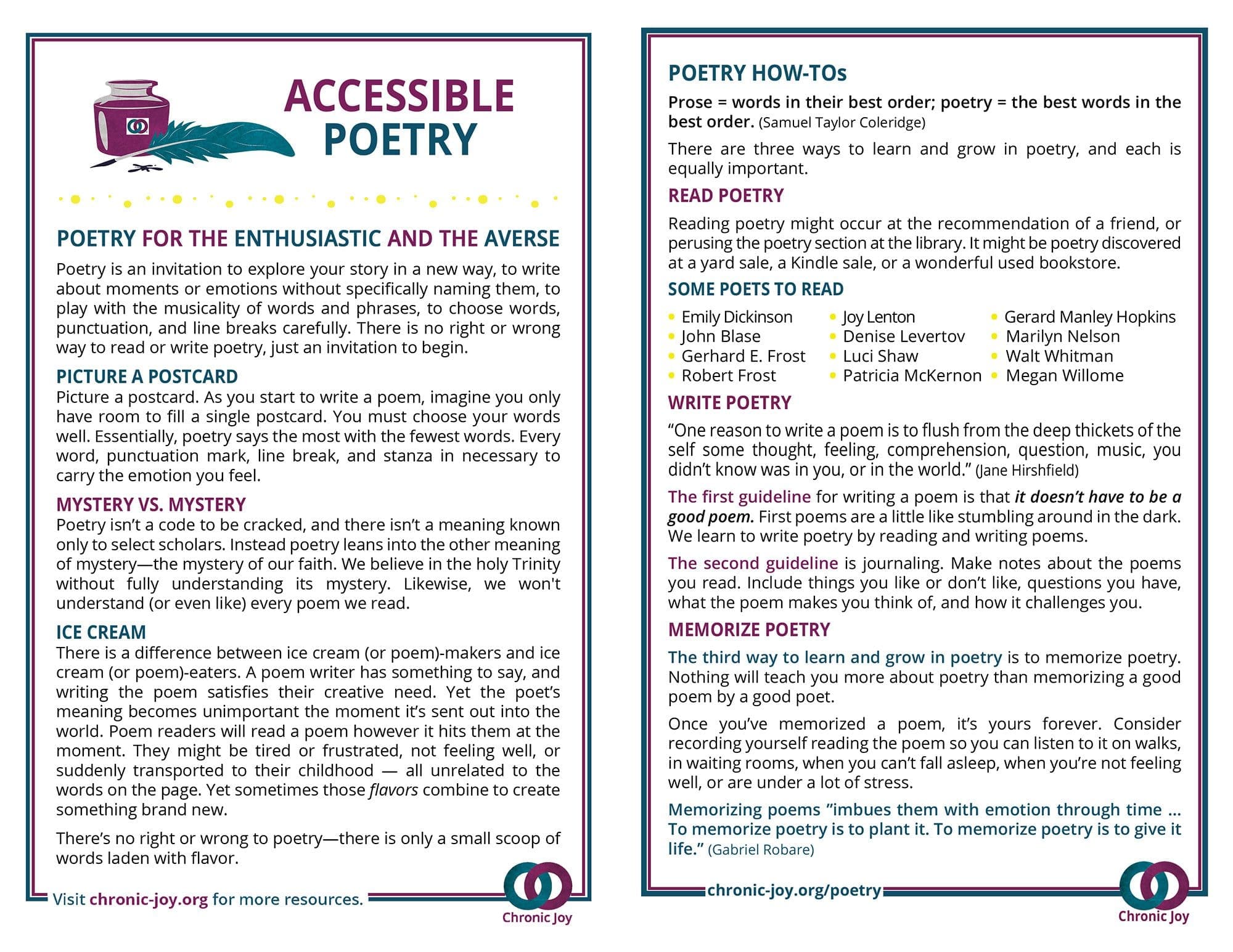 Accessible Poetry
Poetry is an invitation to explore your story in a new way, to write about moments or emotions without specifically naming them, to play with the musicality of words and phrases; to choose words, punctuation, and line breaks carefully. There is no right or wrong way to read or write poetry, just an invitation to begin.