#

C

onnect

B

y

T

ext
Spice up your text life! Infuse someone's day with encouragement, hope, and kindness. Share a heartfelt prayer, inspiring photo, or favorite Bible verse. Send a virtual smile with a fun fact or silly joke. Never underestimate the power of a simple text.
Encourage, Inspire, and Love Others Through A Text
Looking for a great way to connect with, encourage, inspire, and love on others? Text them!
In just a few minutes, you can:
Just as "A little yeast will make all the dough rise." (Galatians 5:9), a little encouragement can make a powerful difference on a difficult day.
FOUR TIPS FOR TEXTING THOSE WHO ARE STRUGGLING
Keep it short. When we're hurting, it can be difficult to process too much information, but a short message can be easily read and re-read.
Don't expect a response. When we're struggling, we might not have the energy to respond, but that doesn't mean your text didn't mean the world to us.
Write from your heart. Just be you and share a little love.
Don't skip the emojis! Body language, tone of voice, emotion, and facial expression are lost in text, so as goofy as it seems, adding an emoji or two can convey those feelings for you.
#ConnectByText with Your Spouse
Surprise your spouse with a love note. (Don't forget the ❤️.) Thank your spouse for all he/she does at work. Don't forget "please" and "thank you" (Could you please pick up ______ on your way home. Thank you.).
I'm so grateful I get to do life with you.
You make every challenge worth it.
Thank you for being patient with me.
Thank you for taking such good care of me.
Last night was amazing!
I love being your husband/wife.
I appreciate you and how you ______.
There's no one I'd rather do life with than you.
I love you and am praying for you right now.
Thank you for being my person!
I was just thinking about our wedding day. I still do.
Thank you for loving me even when I'm not very lovable.
Your smile brightens my day.
I still can't believe I'm the one who gets to grow old with you.
#ConnectByText with Teens
Connect with the teens in your life through an affirming text. Highlight and celebrate their special moments and small victories with encouraging words (Don't forget the emojis!). Point out how much they are loved by you and most of all by God — remind them often.
I love your enthusiasm for _____!
Hang in there and keep trusting God.
You're one of my favorite people!
We are so blessed to know you!
I'm so proud of you.
Your (characteristic/quality) is a very special gift.
I (did your chore) today, just because I love you.
Be strong and courageous. God is always with you.
You inspire me to be a better person.
I love being your (parent/grandparent/mentor).
Thank you for helping me with _______. I really appreciate it!
You are one of God's greatest blessings to me.
Even when we don't agree, I always love you.
Guard your heart today, dear one. I'm praying for you!
#ConnectByText with Photos
A  picture is worth a thousand words. Bless loved ones with an inspirational photo and short text about why that picture brought him/her to mind. Include a fun emoji.
Looking for a great way to encourage and inspire?
We have thousands of images available for free, instant download. No sign-ups. No waiting. Find an image you love, click, and download. It's that easy!
Search by topic (for example: anxiety, caregiver, hope, suffering, marriage, joy), by author (for example: Martin Luther or Charles Spurgeon), or by Scripture verse, and you'll discover every image we've created for that topic, author, or verse.
Then you're all set to text the image to a friend or loved one.
CLICK HERE  to check out Chronic Joy's photos.
#ConnectByText with Prayer
Texting a short prayer not only slows us down as we consider the words we're sending, but also helps both the sender and the receiver lean into God's presence. Never underestimate the power of texting a prayer.
Short prayers to text to a friend or loved one:
Today, I pray God will fill your soul from the wellspring of His love. Amen.
May God hold you gently in His Hands today, His peace washing over you and soaking deep. Amen.
Lord, flood my (friend/loved one) with peace, renew her/him with Your precious promise of joy after sorrow, and grant him/her mercies new every morning. Amen.
Lord, what joy to rest in Your presence, knowing all is in Your hands! Amen.
Lord, draw my friend/loved one to live each moment and every breath in Your presence, amen.
May the gentle stirrings of God dance in your soul today, drawing you into His presence, the very best place to be. Amen.
#PenToPaper Ideas
#PenToPaper is a ministry of the heart: God's love, poured into us, infuses each word we write to the heart of another. What an encouraging reason to pick up your pen and write!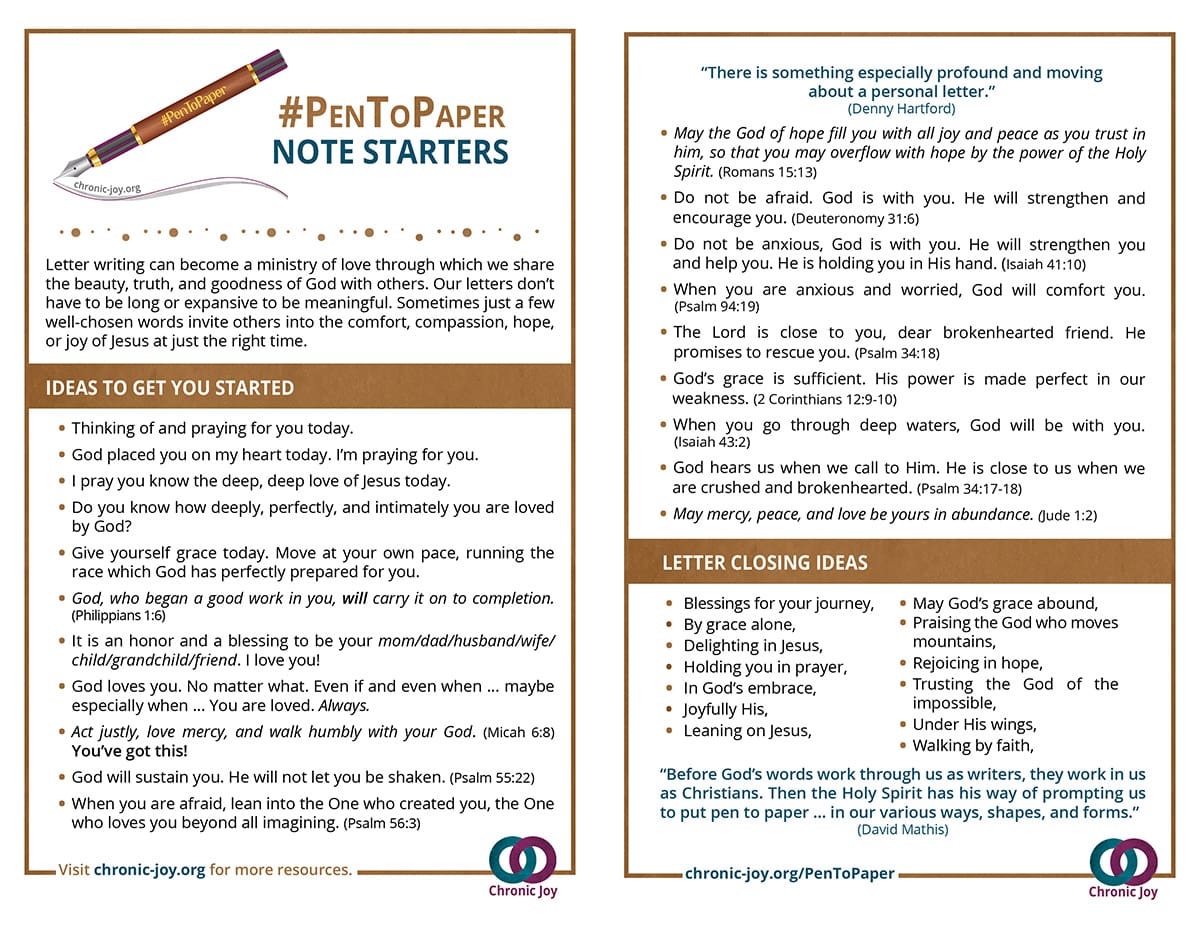 Note Starters
Sometimes all we need to get us started are a few words. Include these short prayers in a notecard or email, or send them in a message or text to a friend or loved one.
Note Starters for Difficult Relationships
Difficult people are often hurting, overburdened, and under-encouraged, leading to impatience, anxiety, short tempers, loneliness, depression, and emotional isolation. If we're honest, we are all difficult people sometimes.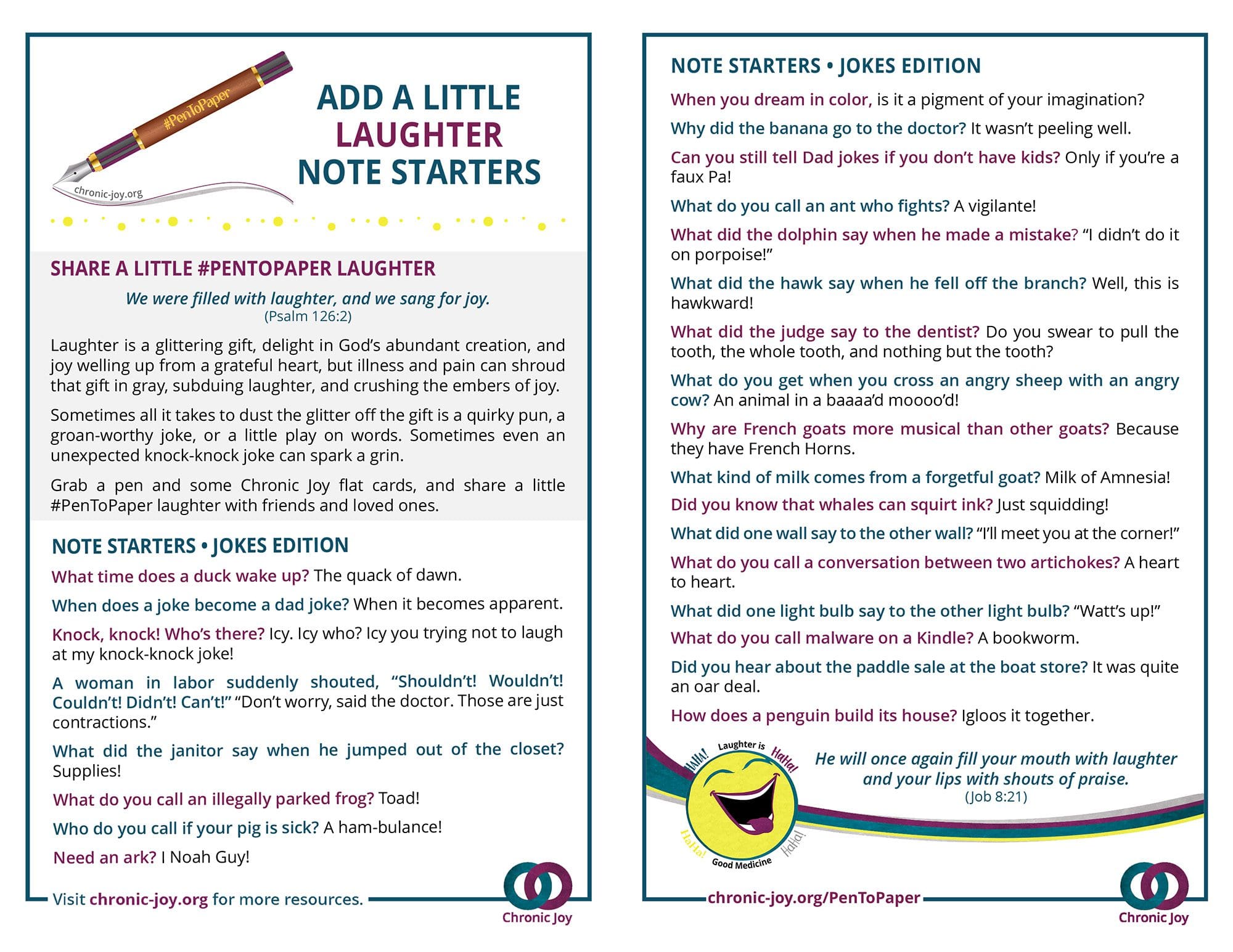 Add a Little Laughter Note Starters
Illness and pain can sometimes shroud the gift of glittering laughter, crushing the embers of our joy. Sometimes all it takes is a quirky pun, a groan-worthy Dad joke, or a play on words to spark a grin. Grab a pen, a Chronic Joy flat card, and share a little bit of #PenToPaper laughter with a friend.
Kind Words for Caregivers Note Starters
Caregivers need to be reminded that their sacrifice, endurance, and compassion are noticed, that they are seen, cared about, thought of, and prayed for, that living into this vulnerable calling matters.
7 Ways to Thank Care-Providers
Seven simple ways to thank care-providers and remind them of how very much their care and expertise are needed and appreciated. Say "Thank You," handwrite a card, write a positive review, participate in clinic or hospital surveys and fill out feedback requests, make a donation in your care-provider's name, refer a friend or loved one, pray for your care-providers.
15 Prayers to Share • Note Starters
These prayers are an invitation to settle in with God. Then an opportunity to love one another. Pull out a Chronic Joy flat card, and share a meaningful prayer with a friend of loved one. It's always the right time to #PrayItForward.
Gratitude Note Starters
Gratitude invites us into the wonder and awe of God's expansive creation. Eager to see and thirsty to notice God's handiwork. We begin to experience the exquisite joy of the Lord. What a beautiful gift to share God's joy and our gratitude with friends and loved ones.
#ConnectByText
Looking for a way to connect with, encourage, inspire, and love on others? Text them! Tips for texting: Keep it short. Don't expect a response. Write from your heart.
Note Starters to Thank Healthcare and Service Providers
Thanking healthcare and service providers is often a huge encouragement to them. Sometimes a single act of kindness and gratitude makes all the difference in someone else's life.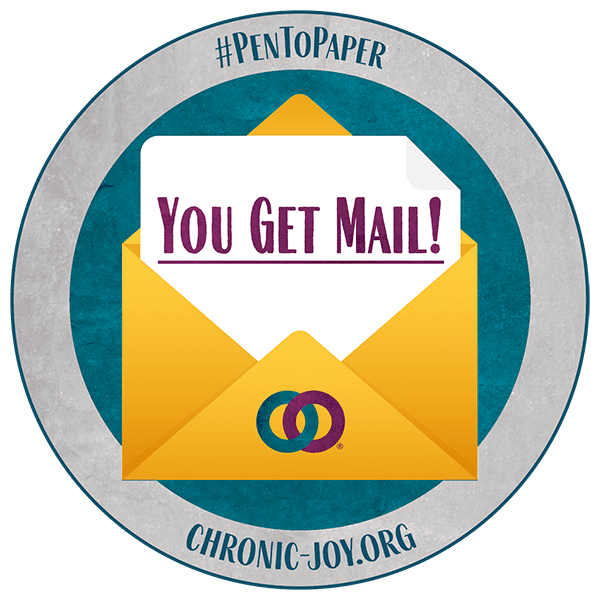 You Get Mail!
You Get Mail! Sign-ups for Adults, Teens, and Children. It's safe, secure, and free!