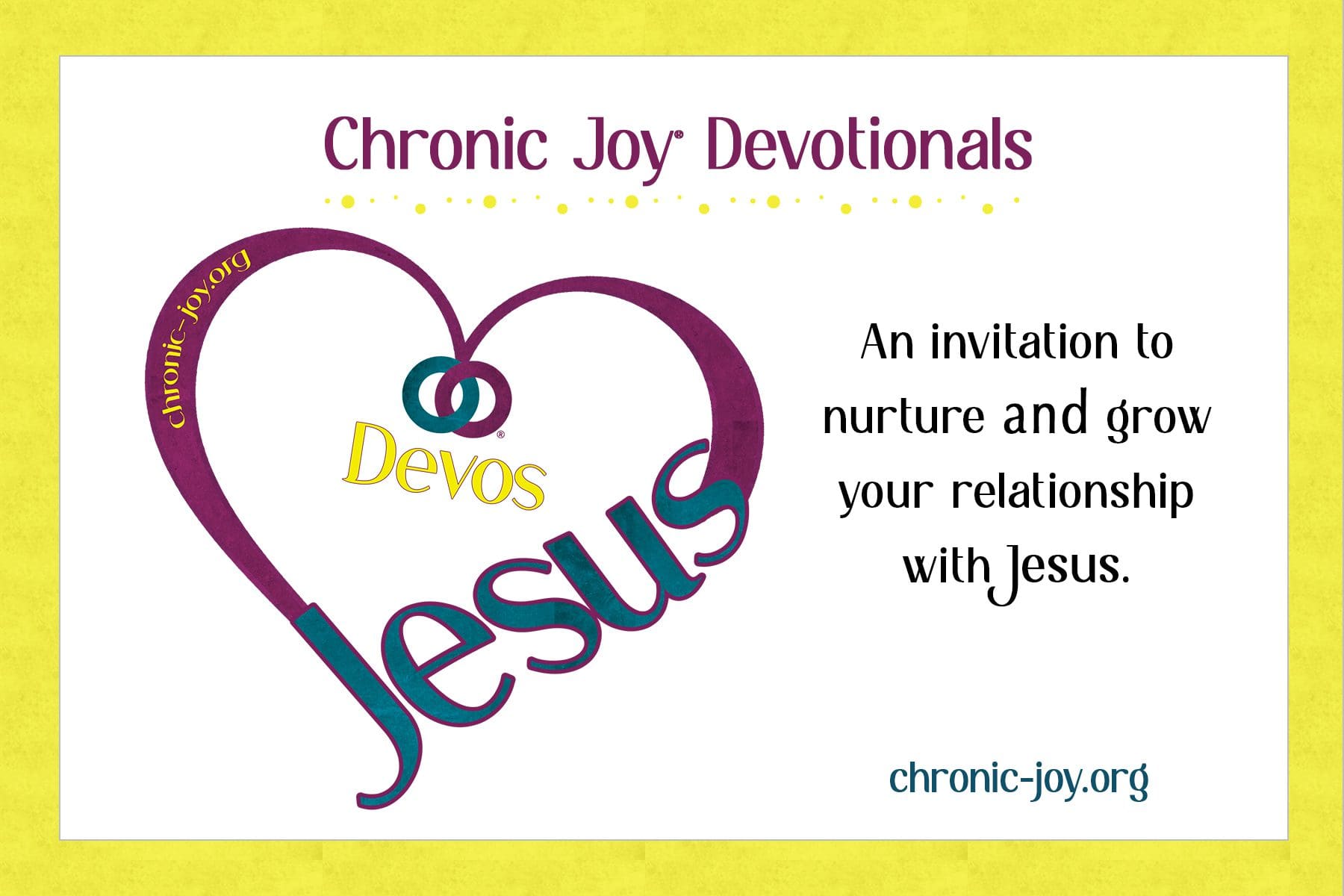 DEVOTIONALS
An invitation to nurture and grow your spiritual life.
Experience the fresh grace of God with Chronic Joy® Devotionals. Take one gentle step today, lift one precious life, pray for one more minute, and discover greater joy in Jesus.
HOW TO BEGIN YOUR JOURNEY DEEPER INTO PRAYER
Sometimes the hardest part is figuring out how to start. Chronic Joy Devotionals extend a warm invitation. Step in, hush the voices of the world, and enter into holy conversation with God.
God longs for us to bring ourselves. He delights when we bring our time and attention, our words and questions, our frustrations and laughter, our joy, and even our tears. Then He promises something even more – He promises that the One who searches our hearts for the feelings too deep for words "intercedes for us with groanings too deep for words."
"When life is going smoothly, and our truest heart treasures seem safe, it does not occur to us to pray," writes Timothy Keller.
Tonnya Blaylock adds, "One thing I have learned about my prayer life is that it is enriched through pain. It may not be the thing one wants to hear or acknowledge, but that doesn't make it any less true. It is through pain that my prayer becomes deeper and more authentic. I love Psalm 31:7, which says, "I will be glad and rejoice in your unfailing love, for you have seen my troubles, and you care about the anguish of my soul."
Can you think of a time when your words have felt futile, when you've prayed but haven't felt heard, when there were no words? Maybe that's where you are now. Or where you've recently been.
We understand. You are not alone here. And it's why we've lovingly crafted these prayer prompts to meet you exactly as you are, right where you are, as is.
YOU'RE INVITED TO…
Nurture and grow your relationship with Jesus.
SIGN UP to receive inspiring devotionals delivered right to your inbox!
WHAT IS A DEVOTIONAL?
Chronic Joy Devotionals are an invitation to take one gentle step, to pray in a comforting and familiar or perhaps new-to-you way, or to cry out on behalf of one precious life today … maybe even yours.
Devotions:
Strengthen and deepen our relationship with God
Change and enrich us (Psalm 51:10)
Help us to engage with Scripture
Shed a whole new light on interruptions! (Theology of disruption)
Equip prayer to nourish and inform the rhythms of our lives
Develop consistency over time.
PRAY IN THE SPIRIT & DISCOVER GREATER JOY IN JESUS
Pray in the Spirit at all times with every kind of prayer and requests. (Ephesians 6:18)
We know how difficult prayer can be, how hard it sometimes is to find the words, to feel that our hearts are heard, and that our prayers for someone matter. We understand the days when our prayers seem to bounce back off the ceiling or echo into space, the days when we're so exhausted, so burdened by pain that we cannot pray. And those days when we sense the Spirit's gentle nudging, but let the moment slip away.
You are not alone. We are in this together.
It's why we created our new Let's Pray page.
Charles Spurgeon wrote, "True prayer is measured by weight, not by length. A single groan before God may have more fullness of prayer in it than a fine oration of great length."
And Brennan Manning said, "prayer is first and foremost an act of love … born of a desire to be with Jesus."
Join us as we nurture and grow our spiritual lives, discovering greater joy in Jesus.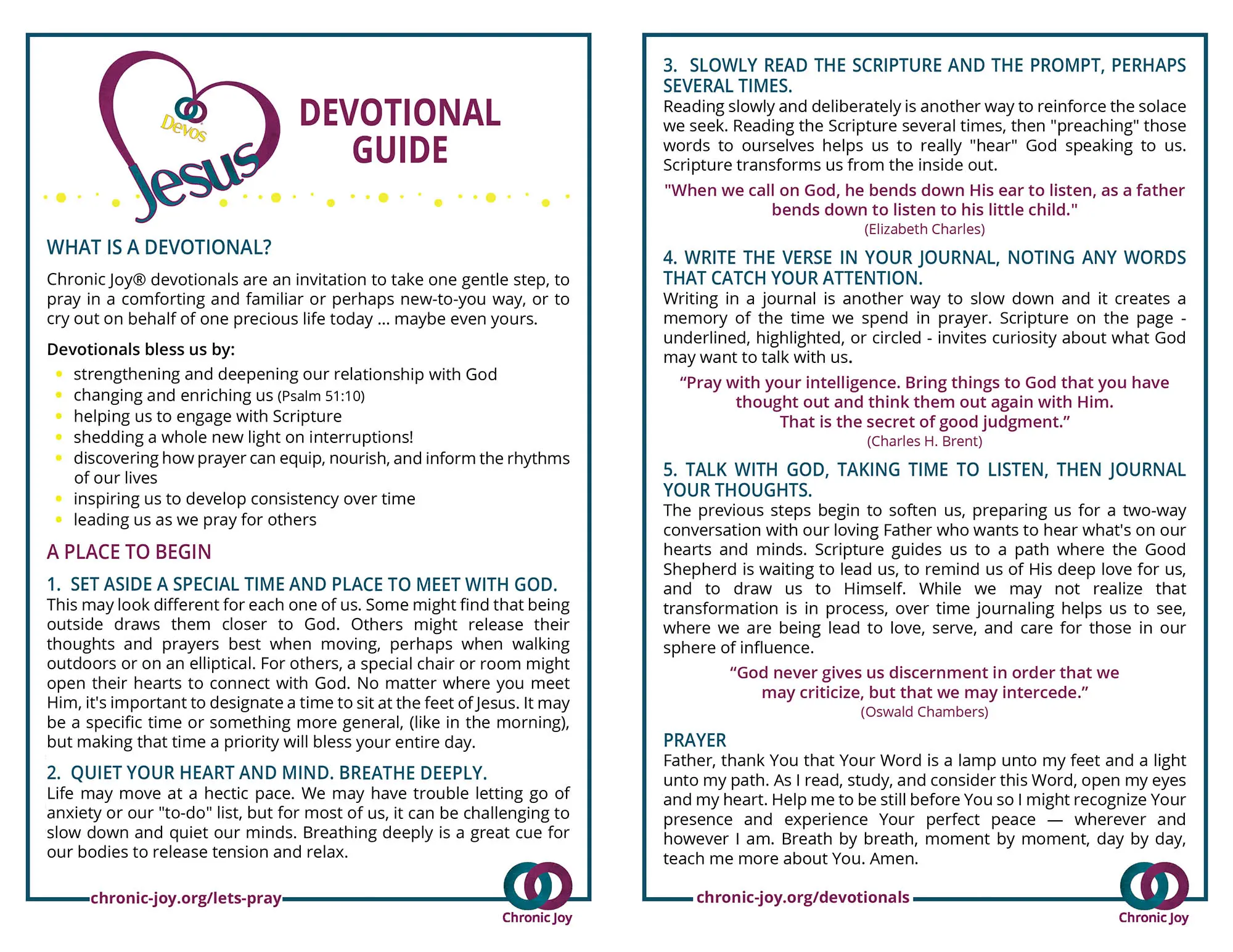 Devotional Guide
Chronic Joy® devotionals are an invitation to take one gentle step, to pray in a comforting and familiar or perhaps new-to-you way, or to cry out on behalf of one precious life today … maybe even yours.
Prayers for the Journey
These short prayers can strengthen, encourage, and inspire you to step into the comforting presence of God, where you are fully known, infinitely cared about, and deeply loved.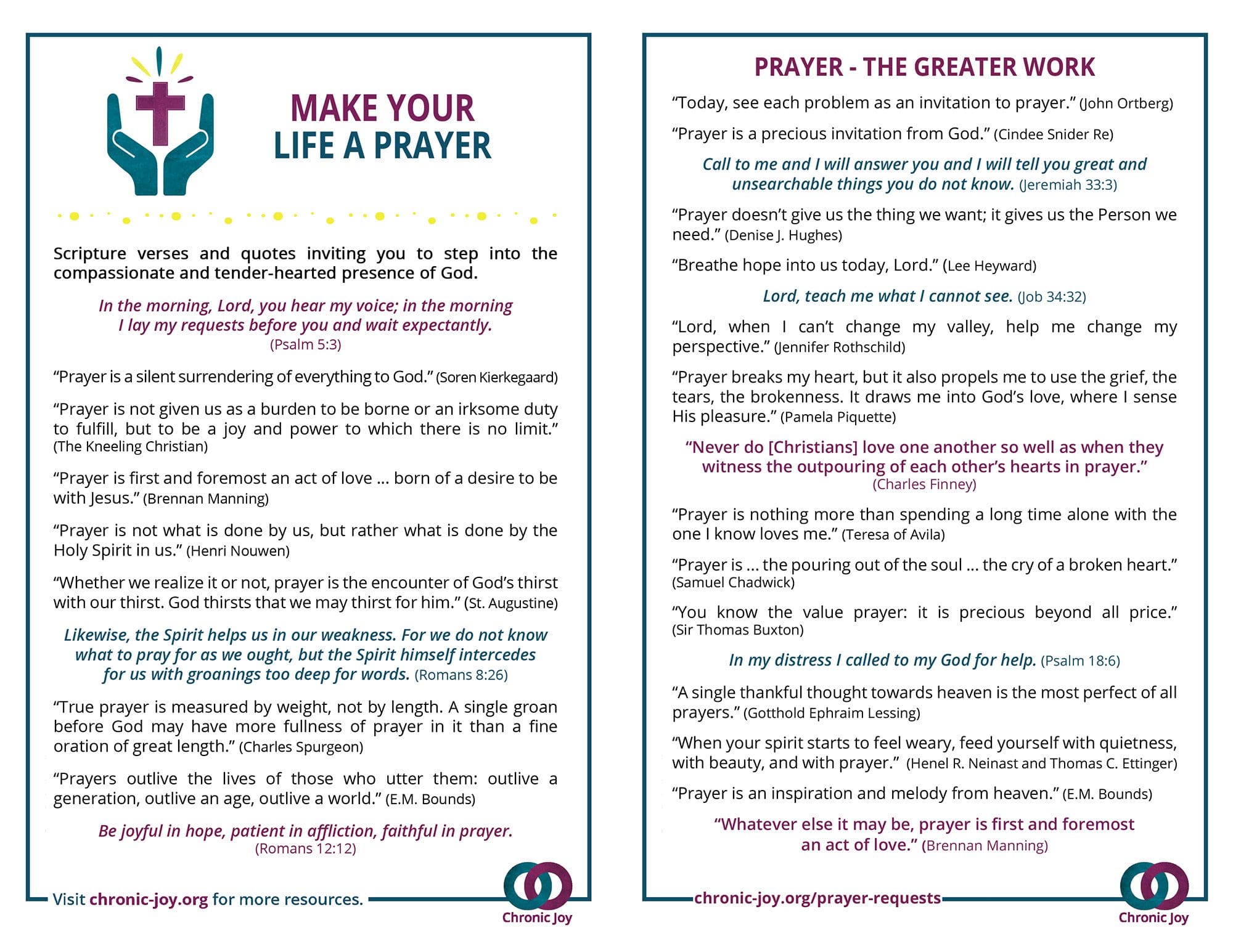 Make Your Life a Prayer
Scripture verses and quotes inviting you to step into the compassionate and tender-hearted presence of God.
We bring our praise to You, O God. To whom else shall we go? We are a people custom-made to praise You. So, we do! For rivers of water in dry places, for majestic mountains and mighty oceans, we praise You. We praise You for green, green, GREEN everywhere we look these spring days.