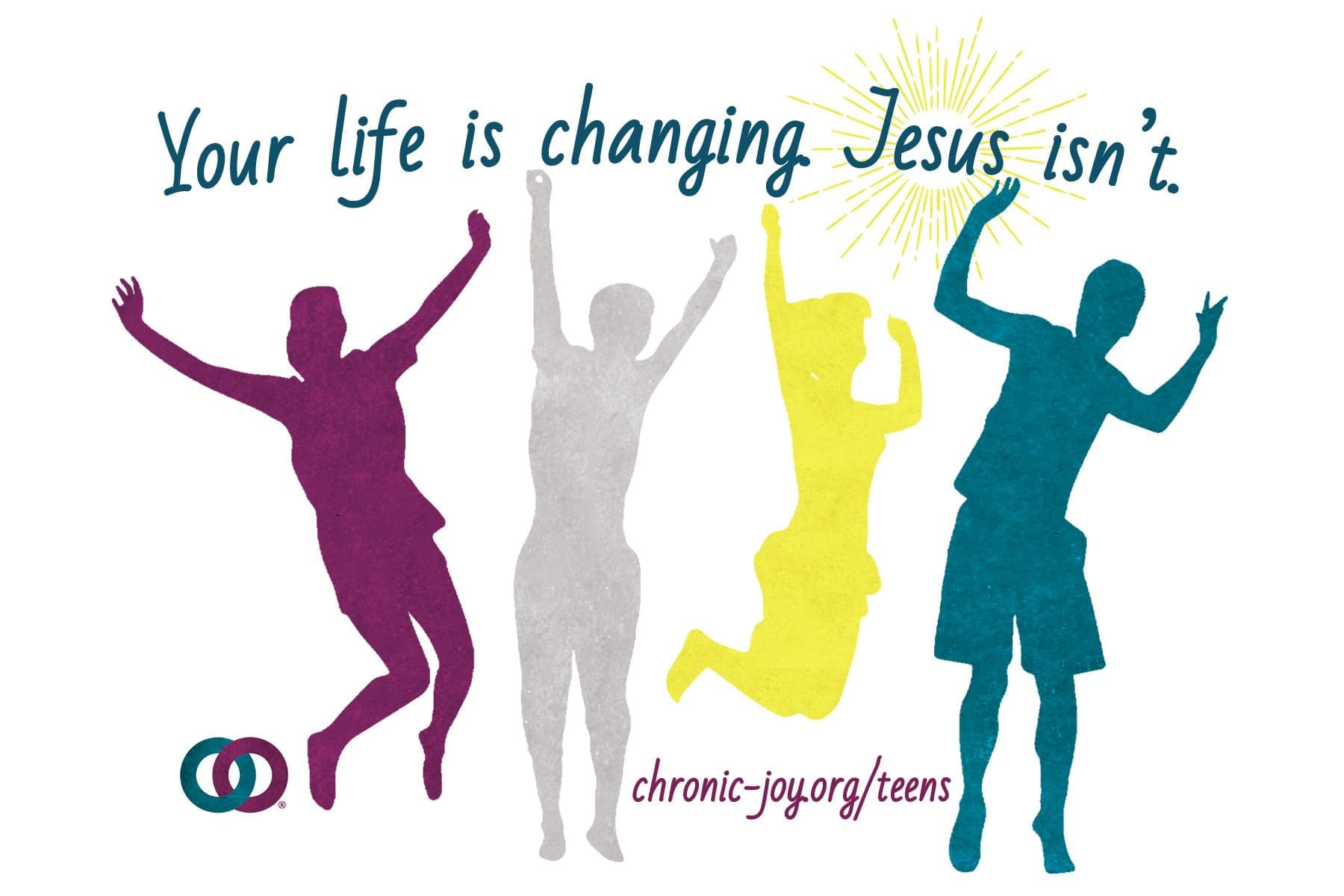 Teens with Chronic Illness, Mental Illness, Chronic Pain & Disability
Your life is changing. Jesus isn't.
The teen years are a kaleidoscope of change, especially when living with chronic illness, mental illness, chronic pain, and/or disability. Yet no matter how much changes, one thing remains the same, Jesus. Hope, encouragement, and resources for teens.
Teens and Chronic Illness, Mental Illness and Chronic Pain
Our teen years are a kaleidoscope of change – schools, friends, activities, teams, performances, dating, driving, dances, first jobs, college apps, and so much more.
And if that crazy mix isn't enough, our chronic illnesses add symptoms, appointments, tests, treatments, and hospitalizations too. And just when we think we have it all figured out, we graduate from high school, and the kaleidoscope spins again.
Yet no matter how much changes, one thing remains the same … Jesus … always.
He is the same yesterday, today, and forever.
"For I am the Lord, I do not change …" (Malachi 3:6)
Jesus is the same today as He was on the day we were born. He will be the same on the day we walk across that stage in our cap and gown as He was on the first day we stepped through those high school doors. And He will be the very same through every single step of our changing journey through life.
No matter what.
Jesus is the same whether we felt great today or we couldn't climb out of bed. The same whether we cheered on our favorite team or snapped at our best friend. The same whether we're sad, excited, lonely, or beyond angry. And the exact same whether we we're dreaming of the future or even if we just want to give up today. Our moods, our actions, even our inactions don't and won't change Jesus.
God loves us as is – regardless of, in spite of, and no matter what. Always.
We are:
God cares about every detail of our lives. Not a single detail goes unnoticed. He knows every hair on our head Luke 12:7 and every word before we speak it Psalm 139:4. Others might not notice when we're exhausted, in pain, struggling, or lonely, but God does. Others might not seem to care that we've missed one more day of school, one more game, practice, performance, or dance, but Jesus does.
He is our strength when we are weak. And He promises that He will lead us, guide us, and pursue us every day of our lives. His grace is sufficient. And His mercies are brand new every morning.
We are His beloved, His delight, His masterpiece, and His magnum opus.
The Lord your God is with you,
the Mighty Warrior who saves.
He will take great delight in you;
In his love he will …
rejoice over you with singing.
(Zephaniah 3:17)
I'm OK with being sick, because it's given me a strength many people my age don't have. I'm different now, but I'm still me. Joe T.
Celebrate the accomplishments in life, even the small ones.  Remind yourself just how worthy you are, even on the days when you don't feel like it. Michaela S.
My illness has taken a lot away from me, but it's also given a different perspective on life and what matters. It's easy to get caught up in drama, but when you spend a lot of time at a children's hospital, you quit focusing on the little stuff. My illness has also made me more empathetic, and it's taught me to keep fighting. Ellie J.
How to Live Well When Life is Changing
There are no easy answers or quick fixes to living well when chronic illness is our constant companion. It's easy to notice all the things we can't do, yet illness has the capacity to draw us to Jesus and to lean into faith. Faith is a courageous step, and when we choose to take even one step, the Holy Spirit is faithful to equip us. Chronic Joy has developed and continues to develop practical guides, not as solutions, but as invitations to step out in faith and try something new.
FEATURED PRINTABLES
13 Things That Might Resonate
With chronic illness, every day is an adventure! It isn't a life we would have chosen, but it is one we're learning to walk through with courage, tenacity, humor, and grace. We are so much more than our illnesses!
Wonder Walks • Trail Signs
Wonder nourishes our souls as we discover God's fingerprint in every atom of creation. "Stand and consider the wonders of God." (Job 37:14)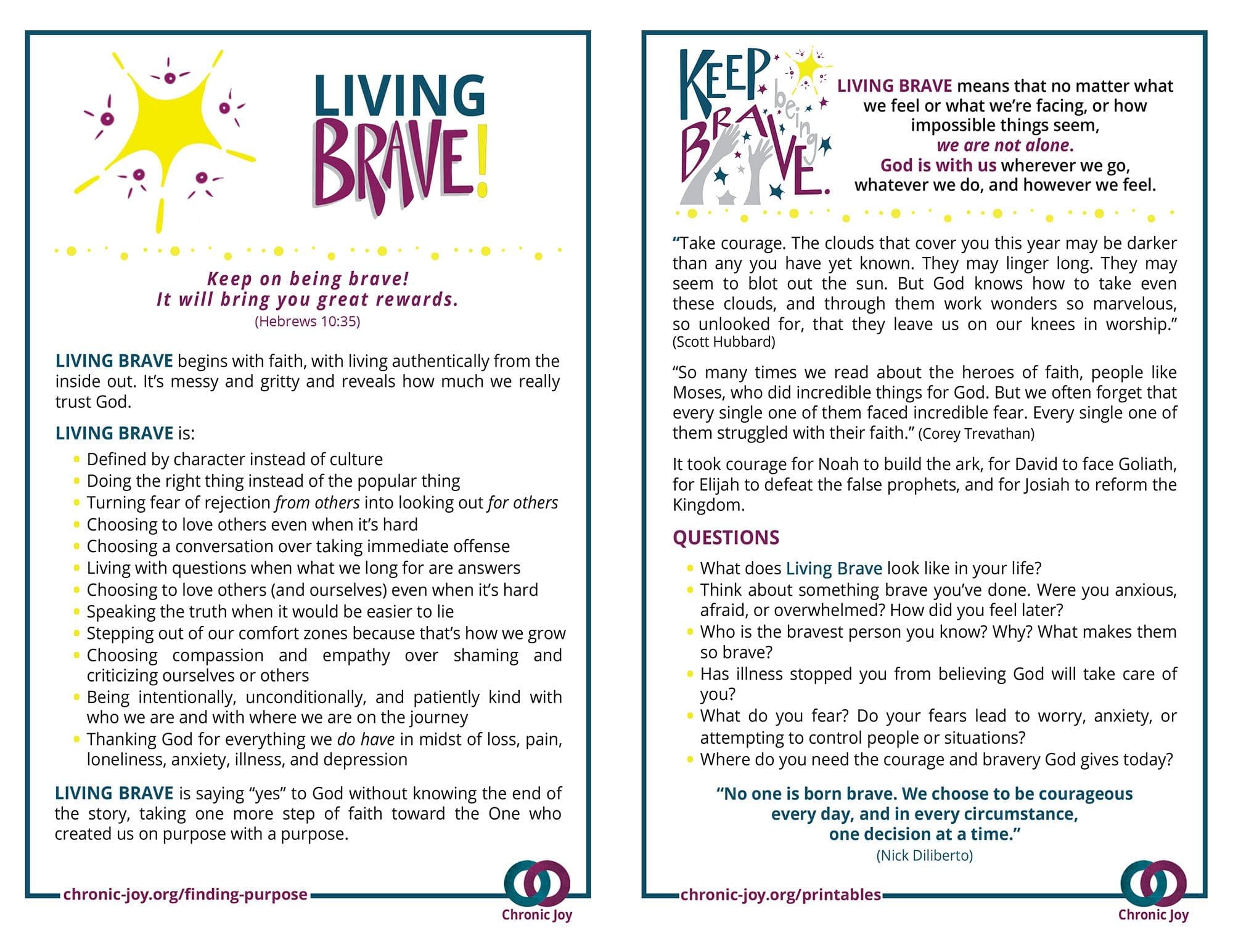 Living Brave
Living Brave begins with faith, with living authentically from the inside out. It's messy and gritty, and reveals how much we really trust God.
Never Alone: God's Unending Mercies
Christ understands everything we go through because he lived it first. While it might be difficult to see small pieces of joy during chronic illness, God's mercies truly are unending.
Finding Your God-Given Purpose
Discovering our God-given purpose begins with trust, with learning to be present with God in each moment — less about why we were created and what we are created to do than about who we are created to be.
WORDS FOR THE JOURNEY • A PRAYER
God, please protect my heart and mind, and fill me with Your hope. When I am lonely and discouraged, help me cling to You and soak up Your strength. Teach me to raise a hallelujah even when I am down, even when I am in pain.
I am your child. I am so grateful that you know every single thing about me and love me completely as is. Help me to become who You created me to be. Help me to shine Your light into this world, to love others as You love them, and to serve You wherever I am, however I am feeling.
On the dark days, please fill me with Your hope. Remind me that You have a plan for my future. Protect my heart and mind from the pressure and stress of fitting in, making good grades, of having it all figured out. Remind me to rest when I need it, to pace me days, to soak up Your strength, and to raise a hallelujah even when things are hard, even when I am in sick, even when I am in pain. 
Thank you for loving me no matter what, and for never leaving me alone.
In Jesus' name, Amen.

Be strong and courageous.
Do not be afraid; do not be discouraged,
for the Lord your God will be with you wherever you go.
(Joshua 1:9)
God's Got It – No Worry Needed
Every day our culture bombards us with messages of self-empowerment. We are told to take charge of our life, push ourselves to the max, and have a "can do" attitude. Every day your illness may bring many challenges, but you can rest in God's loving arms, reminding yourself, "God's got it!" You were never meant to do this alone!

Even More
#PenToPaper for Teens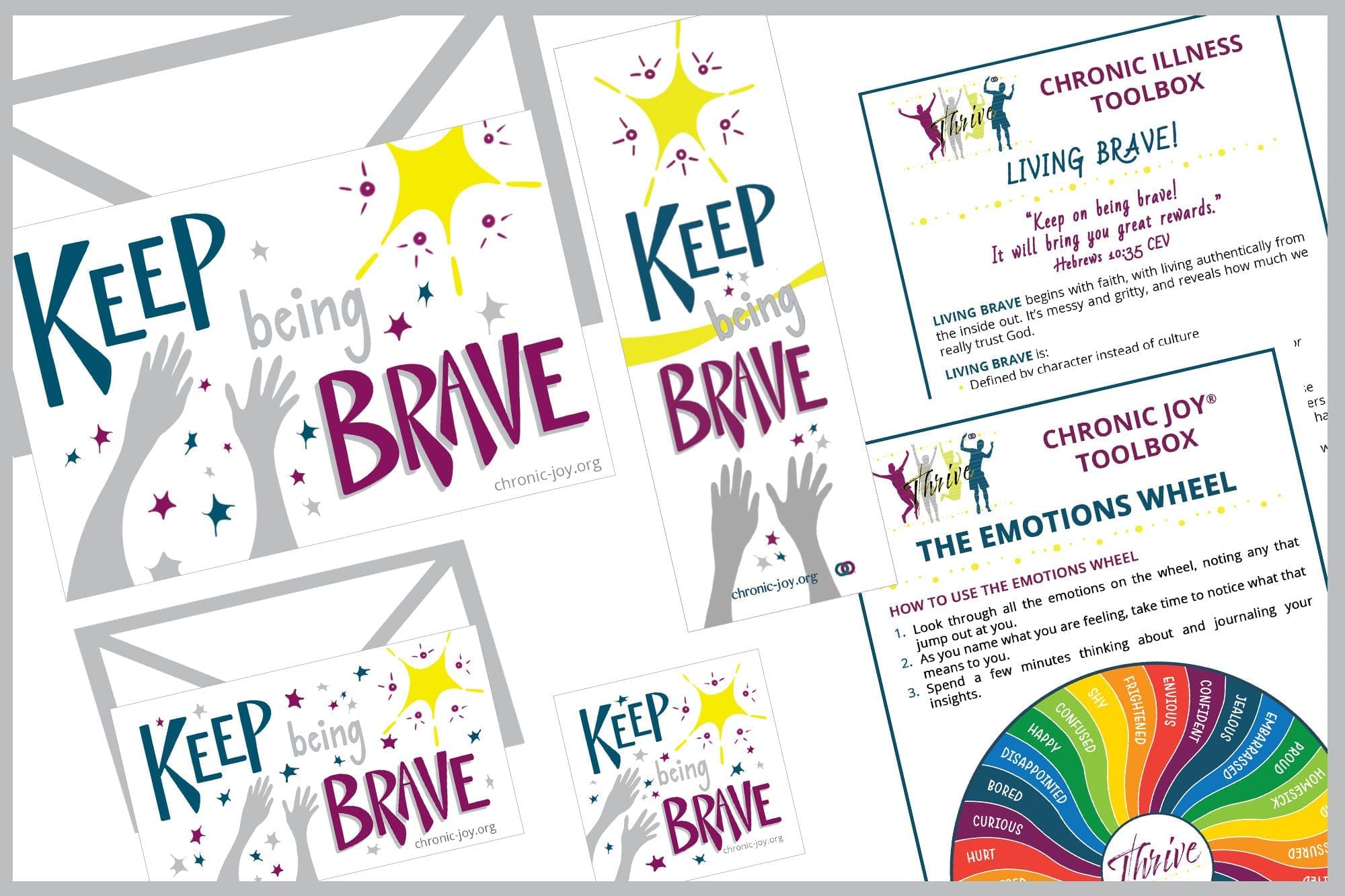 You Get Mail!
You're invited you to sign-up for #PenToPaper packets designed especially for you. Fun, edgy, and transformational snail mail will wing its way to your mailbox several times a year. Sign-up today, and invite a friend!  (Safe and secure.) 

The Amazon buttons are affiliate links, which means if you click on the link and purchase the item, Chronic Joy will receive an affiliate commission.

Websites
Remember that time when you felt like disappearing and were sure no one would even notice? That moment was real. So real that millions are experiencing the same moments of hopelessness in their daily lives. Your story is important. Isolation, depression, and anxiety are real, and they have a bigger effect on our lives than we realize. It only takes seven seconds. Send one simple message. You could impact a life forever.
"Because of everything my family went through with my son and what our small town had faced, I felt led to create a movement called #only7seconds." The goal of the movement was simple: spread kindness through thoughtfulness. "Take seven seconds out of your day to send a text telling someone that you are thinking of them." To Kristin, this simple thought meant everything. "You never know if that text could be the one thing giving them an inkling that life is worth living."