Embracing Worth: Understanding Your Value in a Life with Chronic Illness
EMBRACING WORTH
This 10-chapter study powerfully reminds us that our value isn't found in what we can or cannot do, but in Christ alone. Regardless of what we've lost through chronic illness, this isn't the end of our story. In spite of our circumstances, in the midst of the hard, when we're not sure we can take even one more breath, God is still good.
Through vulnerable storytelling, inspiring Scripture, insightful questions and thoughtful journal prompts, Cindee invites you to discover who God says you are: worthy, chosen, cherished, delighted over with singing. You are the crown of His creation, His masterpiece and magnum opus, beloved image-bearers of the King.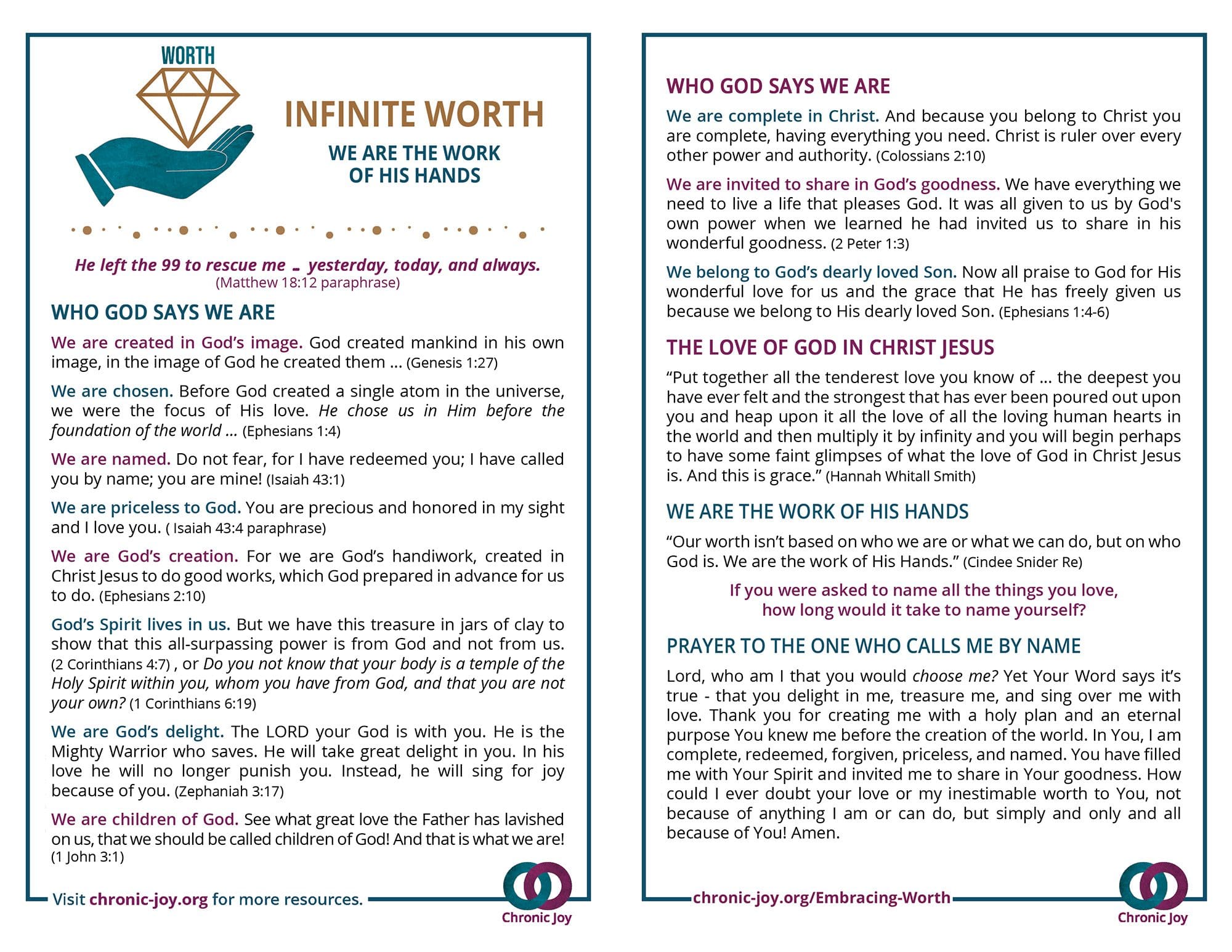 Infinite Worth
He left the 99 to rescue me ... yesterday, today, and always. (Matthew 18:12 paraphrase) Our worth isn't based on who we are or what we can do, but on who God is. We are the work of His hands.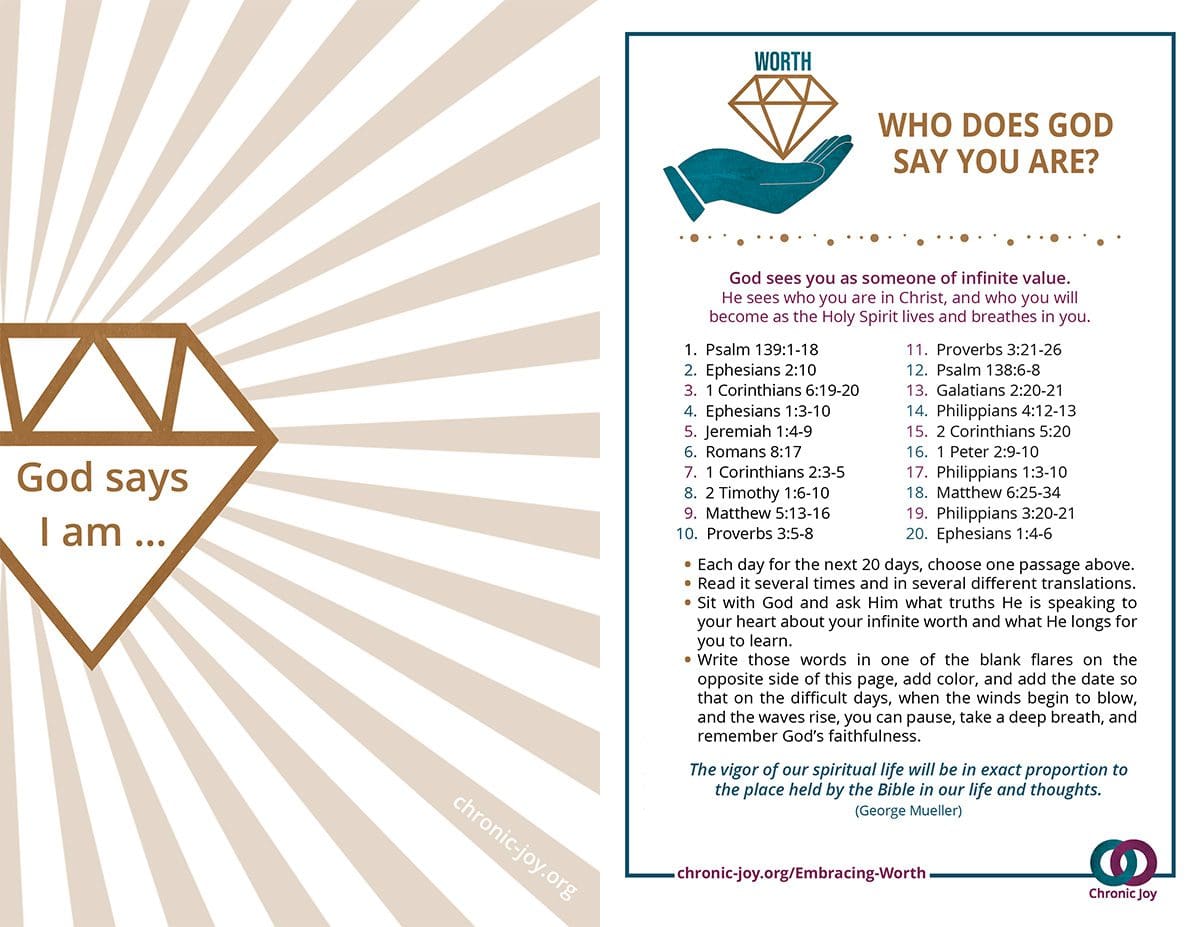 Who does God say you are?
God sees you as someone of infinite value. He sees who you are in Christ, and who you will become as the Holy Spirit lives and breathes in you.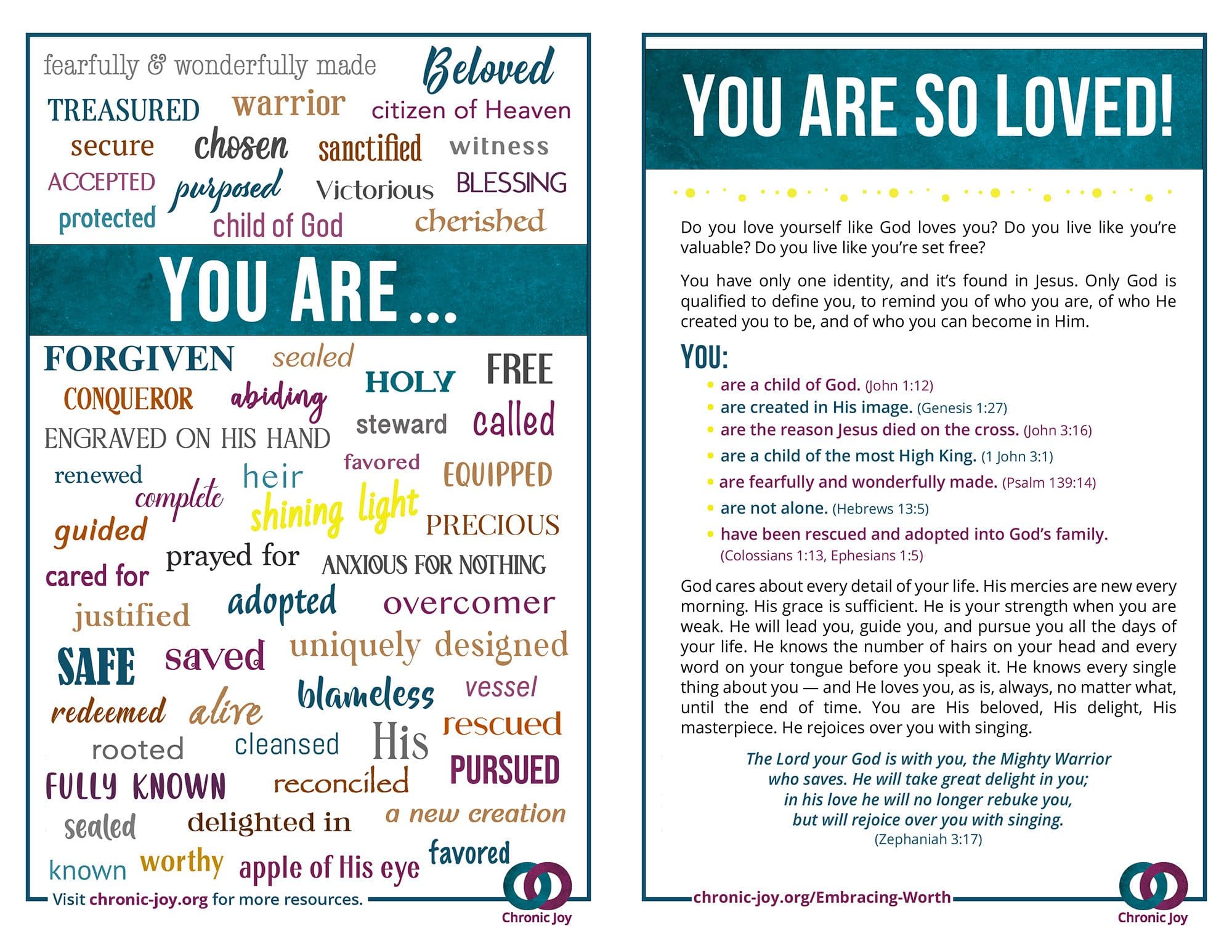 You Are So Loved
Do you love yourself like God loves you? Do you live like you're valuable? Do you live like you're set free?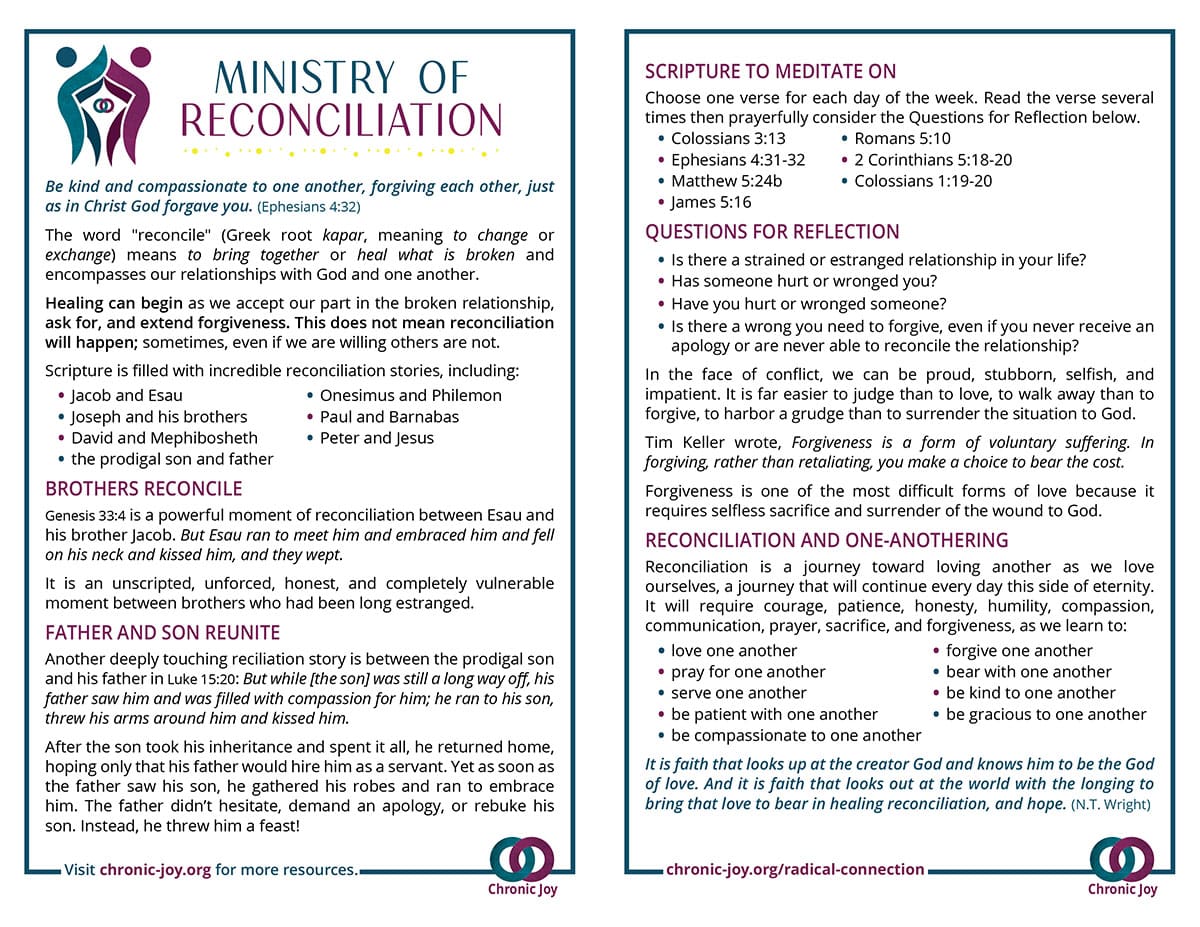 Ministry of Reconciliation
Reconciliation is the process of restoring broken relationships, of building something new from the tender soil of forgiveness.
Embracing Worth Testimonials
The Holy Spirit breathes through this work. Cindee writes from an experience of one who lives with chronic pain as well as one who lives alongside as a care-giver.  She brings this heart to Embracing Worth as a deepening guide to the reader.  But it must be said that Embracing Worth relates to everyone: not only as encouragement for those who may be living with chronic illness, or as one who walks besides, but to all of us living in this world. Embracing Worth is God's desire for us all. Cindee's personal reflections are offered so honestly and deeply, opening a path for others to be as honest and deep in their own responses. The prompts and questions Cindee offers here, supersede any kind of "prescribed" response. Rather they create an inner dialogue, a deepening quest to know ourselves as individuals and as a people beloved.  In addition to spiritual reflection there are tangible tools to take away into your own life.
Cindee Snider Re knocks it out of the park!  Embracing Worth encourages us to battle comparison and embrace who we are in Christ through Cindee's vulnerable storytelling and inspiring studies of scripture. From Chronic Joy Ministry's Thrive series, comes this refreshing book that comforts, strengthens, and reminds of God's joy and delight. Embracing Worth is an excellent book for a group study that will inevitably produce lively discussion. I highly recommend it!
Embracing Worth is a gift, which could only be offered by someone who has intimately faced pain and loss as Cindee Snider Re has. She uses Scripture and personal testimony to shine light over the darkness of shame and hopelessness, and onto the face of Christ who understands and overcomes. This study has challenged me to confront shame head on with the truth of the gospel; that I am a cherished child of God, worthy of His love even on my weakest days.
Embracing Worthis an absolute blessing; I had goosebumps of anticipation by the time I read the forward. As I read, I thought of all the people I know who would be helped by this book, including myself. Cindee truly has a God-given gift for writing.
This wonderful resource provides a biblically-based blueprint for churches, ministry leaders, and caregivers seeking opportunities to bring hope to individuals and groups living with chronic health conditions. Embracing Worth speaks powerfully to the millions of people managing difficult physical conditions, reminding them of God's desire that we remember our worth comes from Him and transcends our physical limitations. I highly recommend it!
Embracing Worth is one of the Chronic Joy THRIVE Series.
The companion resource for this series is Grace, Truth & Time.
For a list of all THRIVE books, visit our store.