Anxiety
Seeking peace and rest for this moment.
When we have anxiety, experience fear, or feel overwhelmed, the most significant thing we can do is lean into the One who knows us completely and loves us best – the God of all comfort.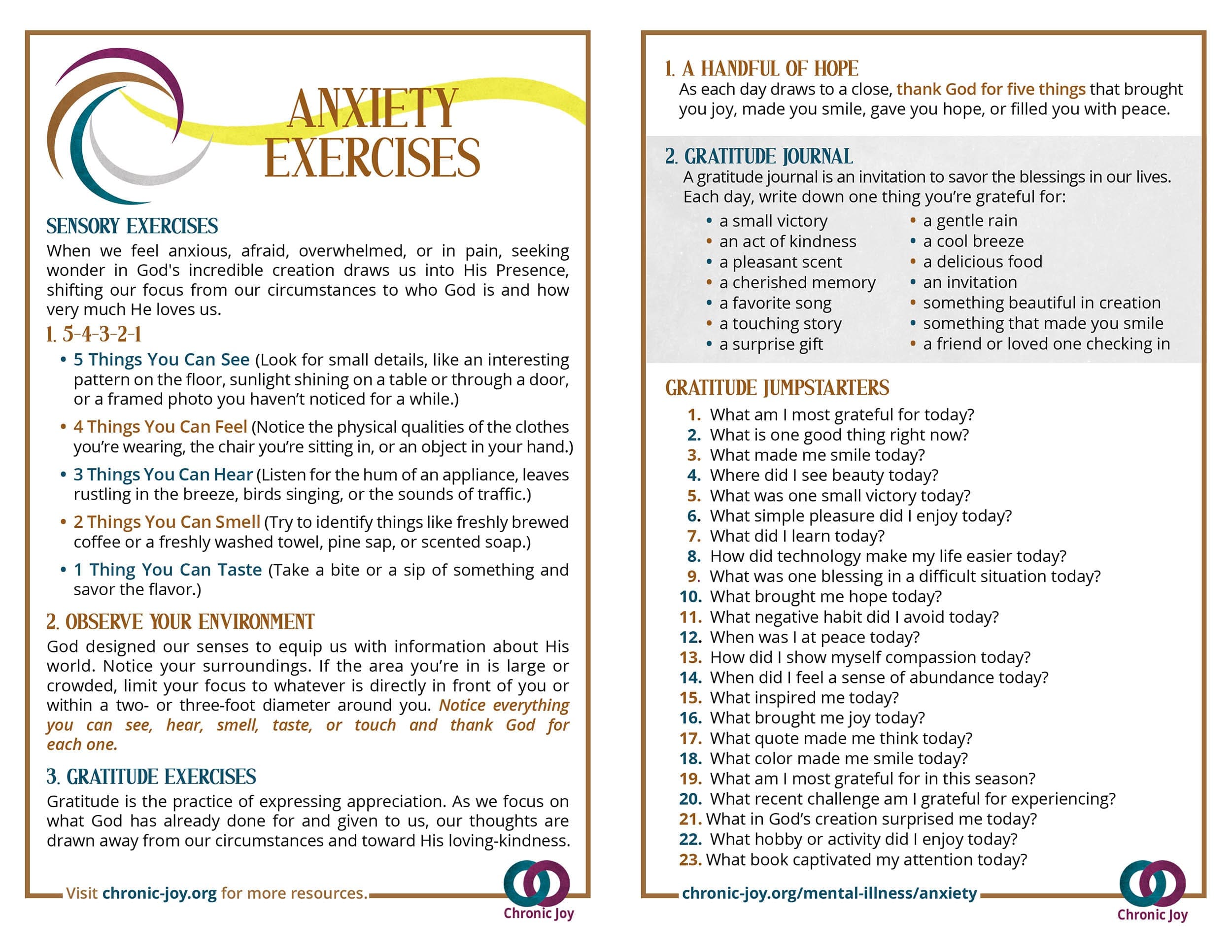 Anxiety Exercises
When we feel anxious, afraid, overwhelmed, or in pain, seeking wonder in God's incredible creation draws us into His Presence, shifting our focus from our circumstances to who God is and how very much He loves us.
…whatever is true, whatever is noble, whatever is right, whatever is pure, whatever is lovely, whatever is admirable – if anything is excellent or praiseworthy – think about such things. (Philippians 4:8)
"Some people feel guilty about their anxieties and regard them as a defect of faith. I don't agree at all. They are afflictions, not sins. Like all afflictions, they are, if we can so take them, our share in the Passion of Christ." (C.S. Lewis)
ANXIETY IS A COMMON CO-EXISTING CONDITION FOR MANY WITH CHRONIC ILLNESS
DUE IN PART TO:
•  chronic pain
•  the unpredictability of illness
•  uncertainty about the future
•  medication side-effects
•  loneliness and isolation
•  sustained loss
•  financial challenges
•  insurance issues
•  unpleasant procedures and surgeries
•  repeated hospitalizations
•  inadequate sleep
•  mobility challenges
•  strained or distanced relationships
•  job stress
•  and so much more
When we feel anxious and overwhelmed, it's easy to lose sight of God's love and faithfulness, but God gently reminds us: "To me, you are very dear, and I love you." (Isaiah 43:4 CEV)
WE ARE NOT ALONE
Remembering God's love and faithfulness (the times He has rescued us, protected us, led us, guided us, comforted us, and tenderly heard our prayers) can anchor us in truth when anxiety threatens to obscure our world, fuel our heart rate, disrupt our sleep, drive us into nausea, cause us to sweat and feel short of breath, provoke persistent tension headaches which can escalate into migraines, and sometimes even rage into panic attacks that obscure everything in their path.
SO WHAT DO WE DO WHEN ANXIETY STARTS TO SNAP AT OUR HEELS?
We can remember. God calls us to be a remembering people – to anchor ourselves in His loving kindness, to root ourselves in His faithfulness, to fasten ourselves in truth, and moor ourselves to His precious promises.
Across the generations, God has called His people to build altars and erect Ebenezers, to raise standing stones as powerful reminders that He has heard His people and is at work in their lives.
Each time God's people passed by these reminder stones, they would remember. They would tell the story to their children and to their children's children, and to anyone who saw the stones and asked, "What happened here?"
TOUCHSTONES
EBENEZER – A STONE OF HELP
In 1 Samuel 7:12, we read the story of a miraculous battlefield victory, after which Samuel "took a stone and set it up … He named it Ebenezer, saying, 'Thus far the Lord helped us.'"
Similarly, touchstones of help built from words fill the book of Psalms, telling of God's love and faithfulness across the generations. "I will utter hidden things, things from of old – things we have heard and known, things our ancestors have told us." (Psalm 78:2-3)
God's people built Ebenezers to anchor them in truth in the midst of frightening, painful, difficult, or challenging circumstances.
How many seeming disasters has God turned into blessings?
Is it possible to count how many times God's people have been graciously forgiven?
How often has God turned toward His people and heard their prayers?
How many times has God rescued, protected, and providentially provided for His people throughout the generations?
GOD CARES FOR US
God holds our tomorrows just as surely as He held our yesterdays. He knows what we will face and when, and He has promised He will never leave us. We are called to remember God's goodness, His character, and His faithfulness. Why?
"Because when pain becomes severe or sorrow becomes crushing, you can look at that memorial set in place in a time of greater strength, and you can pray, 'Oh God, thus far you have helped me, and I have every reason to believe you will continue to help me." (Joni Eareckson Tada) 
A PLACE TO BEGIN
BUILD AN EBENEZER:

… these stones shall become a memorial … (Joshua 4:7c)
We are God's precious children in whom He delights, filled with His Spirit, washed with His blood, forgiven, and redeemed. We are called to remember His faithfulness and to share those stories with others. Like the Psalmists, we can build our Ebenezers with words, touchstones of God's love, protection, provision, forgiveness, and faithfulness in our lives.
THOUGHTS TO GET YOU STARTED:
Create a list of blessings you have received from God's Hand.
List experiences or events which initially seemed like disasters, but which were really blessings in disguise.
Write about the people who have shaped, influenced, cared for, mentored, taught, protected, or selflessly loved you and the impact that had on your life.
How has God led you through a difficult situation?
How has God provided for you?
When has God protected you?
In what ways has God answered your prayers?
When have you felt called by God?
 OUR EBENEZERS ARE ANCHORS OF TRUTH 
"Let each generation tell its children of your mighty acts; let them proclaim your power." (Psalm 145:4)
We build our Ebenezers and write down our stories so that when the winds of anxiety begin to blow and the waves roll and the thunder comes, we are securely anchored in the storm.
As Monica Oullette writes, "It is through telling our stories that we encourage one another in our grief, illness and struggles … through hearing and sharing faith stories that we grow closer to one another and closer to God."
Our Ebenezers are touchstones of our faith, powerful reminders of the Presence of God at work in the lives of His people, anchors of truth in the storms of anxiety.