Depression
Longing for light in the darkness. 
Depression isn't a surprise to God and doesn't disqualify us from making an impact for the Kingdom. Hold onto hope. God is here.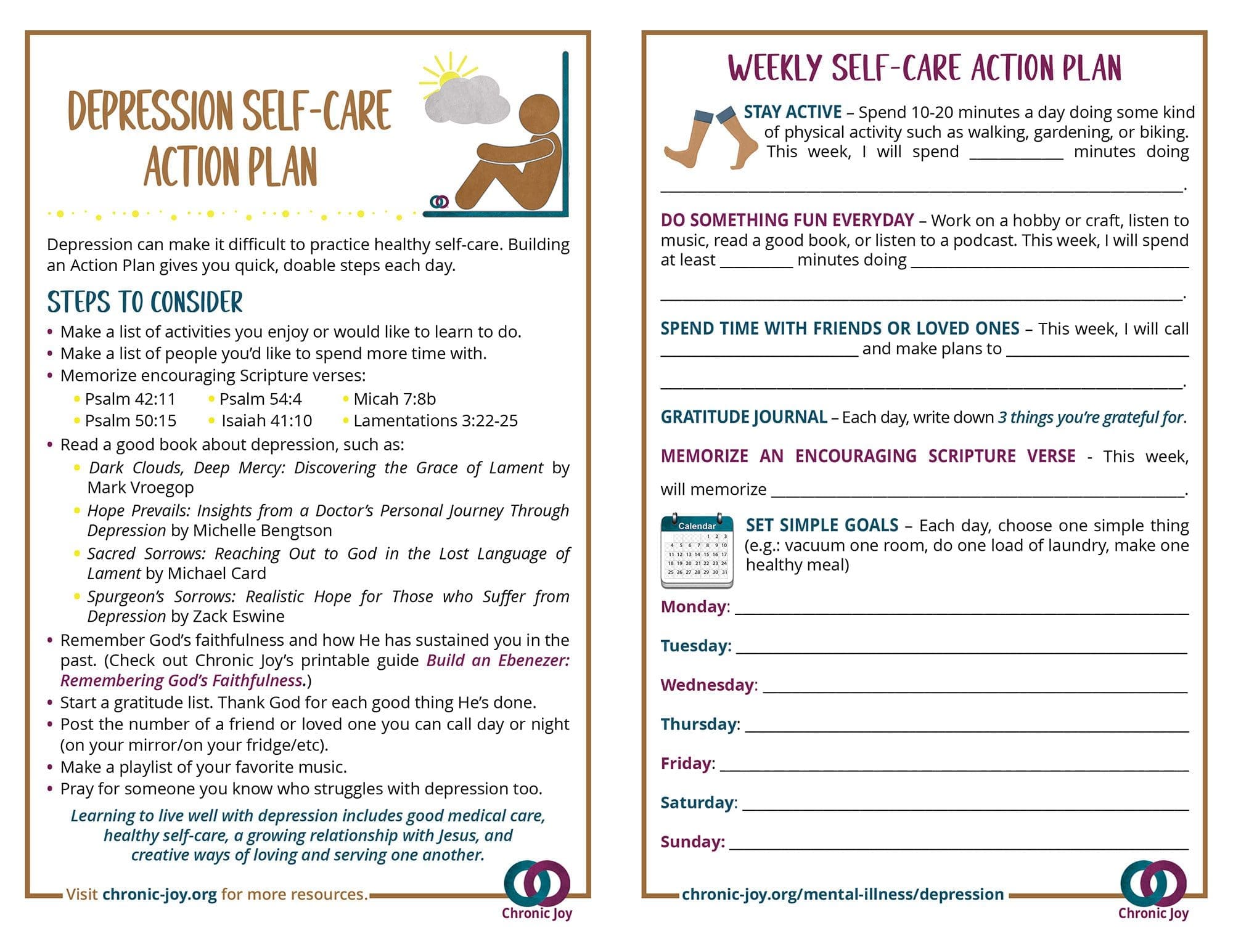 Depression Self-Care Action Plan
Depression can make it difficult to practice healthy self-care. Building an Action Plan gives you quick, doable steps each day.
 IN THE DARKNESS OF DEPRESSION
In the darkness of depression, God is with us even when we cannot feel Him. Certainly, these twelve words from Micah 7:8 are truth we can speak to our hearts when despair eclipses the light: Though I sit in darkness, the LORD is a light for me.
UNLESS YOU GO THROUGH IT YOU DON'T UNDERSTAND DEPRESSION
Michael Wilkes writes, "I thought I knew enough about depression as a pastor seeking to minister to those who had walked through it. I thought I understood their battle. Honestly, I did not have a clue, and to everyone who might read this (unless you have gone through the dark valley personally), you will never fully know what that person is feeling. … Depression isn't something that jumps on you like a mountain lion in the woods; it is more like an anaconda that slowly chokes the life out of you."
SYMPTOMS OF DEPRESSION
Feeling sad, tearful, empty, or hopeless
Angry outbursts, irritability, or frustration over even small matters
Loss of interest or pleasure in normal activities, including intimacy, hobbies, and sports
Changes in sleep (insomnia or sleeping too much)
Exhaustion, a fatigue that knocks you off your feet, requiring extra effort for even small tasks
Decreased appetite and weight loss — or increased appetite and weight gain
Anxiety, agitation, or restlessness
Thinking, speaking, or moving slowly
Feeling worthless or guilty, stuck on self-blame or past failures
Having trouble thinking, concentrating, making decisions, or remembering things
Thoughts of death, including suicidal thoughts or attempts
Physical symptoms such as chest pain, back pain, stomachaches, joint pain, or headaches
HOW PEOPLE DESCRIBE DEPRESSION
"I feel like I'm walking underwater."
"There is a pane of glass between me and everyone else."
"Everything seems like it is going in slow motion."
"It's a black hole."
"I feel like I'm suffocating and can't breathe."
I'm numb. I don't feel anything at all."
"Everything is gloomy, dark, and lonely."
"Depression can feel like a thick fog that clouds your mind, saps your energy, and distorts your reality, so you can no longer see anything good."
DEPRESSION LIKE OTHER ILLNESSES MAY NOT BE HEALED IN THIS LIFE 
"Grace relieves but does not always cure depression … Just as a man with asthma or a woman born mute will likely remain this way even though they love Jesus, so our mental disorders and melancholy inclinations often remain with us, too. Conversion to Jesus isn't heaven, but it's foretaste. Though substantive healing can come, often it waits till heaven to complete its full work." (Zack Eswine, Spurgeon's Sorrows)
"Depression is an illness that affects every part of you – body, mind, and soul." (Heather MacLaren Johnson, Psy. D.)
WHEN THE DARKNESS OF DEPRESSIONS DESCENDS  
REMEMBER WHO YOU ARE
 
You are a child of the Light of the world, a masterpiece created by God for His own great glory. When you cannot feel His Presence, stand on the truth of those who have gone before you: King David, Ruth, Jeremiah, David Brainerd, Charles Spurgeon, and Mother Teresa — and know that in spite of the depression, in the midst of the darkness, maybe even because of the anguish, God is using you and your story.
For God's invitation is: "Come to me, all you who are weary and burdened, and I will give you rest." (Matthew 11:28)
God is with us in every situation, every circumstance, every heartbeat, and every single breath. We are not alone. Ever.
COMMON MISCONCEPTIONS ABOUT DEPRESSION
There are many misconceptions about depression, but a few are of special significance to Christians.
1. DEPRESSION IS CAUSED BY UNCONFESSED SIN
What is true? 
Studies on mental illness, which include depression, reveal a frequent connection to family history, and approximately 40% of diagnoses are due to genetics rather than external triggers or sinful choice.
Chronic illness (such as diabetes, thyroid disease, and multiple sclerosis) increases risk of depression. For many, depression is no more the result of personal sin than a birth defect, cancer, or the flu.
Godly men and women in the Bible experienced depression. We consider many of these people heroes of the faith. Their laments reveal their strong and abiding faith in God in the midst of anguish and despair.
MENTAL ILLNESS IS A REAL ILLNESS LIKE OTHER PHYSICAL ILLNESSES
David Murray, author of Christians Get Depressed Too, writes, "We would never take this view (sinful cause/spiritual solution) when counseling people with cancer, strokes, broken legs, diabetes or Alzheimer's. My default position is that physical problems are most likely the result of living as fallen creatures in a fallen world. Why should our default position with brain problems be any different? Are we saying that the brain, the most complex organ in our body, is somehow exempt from the effects of the Fall? Why should we always conclude that brain disorders are the result of personal sin?" 
Charles Spurgeon said, "No sin is necessarily connected with sorrow of heart, for Jesus Christ our Lord once said, 'My soul is exceedingly sorrowful, even to death.' There was no sin in him, and consequently none in his deep depression." 
2. DEPRESSION IS THE RESULT OF WEAK FAITH
What is true?
Reputable studies link depression to physical and biological causes
Many heroes of the faith, including Martin Luther, David Brainerd, and Charles Spurgeon, bore exceptional fruit in the midst of, or maybe because of, their deep depression.
David Brainerd said:
"I was so overborne with discouragement that I despaired of doing any good, and was driven to my wit's-end; I knew nothing of what to say, nor what course to take. But at last I insisted on the evidence we have of the truth of Christianity … in some measure, and somewhat encouraged to find that God enabled me to be faithful once more." 
3. MEDICATION EXHIBITS A LACK OF FAITH IN GOD'S ABILITY TO HEAL
What is true?
"It is a dangerous and damaging misunderstanding that often leads people, especially Christians, to view medication as a rejection of God and His grace rather than a provision of God and His grace." David Murray, Christians Get Depressed, Too
For someone suffering from severe, recurring depression, anti-depressants are no different than medications for thyroid disease, bleeding disorders, or asthma.
"Grace relieves but does not always cure depression … Just as a man with asthma or a woman born mute will likely remain this way even though they love Jesus, so our mental disorders and melancholy inclinations often remain with us, too. Conversion to Jesus isn't heaven, but it is foretaste. Though substantive healing can come, it often waits till heaven to complete its full work." Zack Eswine, Spurgeon's Sorrows 
THE MOST IMPORTANT THINGS TO REMEMBER
You matter.
God is here, present in every moment, every heartbeat, and every breath. He always graciously gives us enough light for the very next step.
We long for light in the darkness — and the Light of the world is here, Immanuel, "God with us."
Joy is here too, tucked into every difficult, numb, overwhelming, and aching moment of darkness, just waiting to be discovered.
Lastly, Sarah Robinson writes, "[God] isn't afraid of my depression. He doesn't shrink from the darkness. God doesn't lose patience with my pain."
Dear Loving Father,
Right now, despair envelops me. Hopelessness makes me think I'll never smile or be happy again. It's as if there is a high humidity in my heart that leaves me gasping for breath, sapping my energy, draining me of motivation for things I normally enjoy. I'm stumbling in the dark, afraid I'll fall, without anything to light my path. I'd have to stand on tiptoe and reach way up just to touch bottom —
…. but I still believe in You, Father, or else I wouldn't voice these feelings to You.
Penetrate my darkness with Your light. Eclipse my weakness with Your strength. Replace my pessimism with joy and with a deeper trust in You that generates hope for the future. Keep reminding me of who You are, what You have done for me in the past, and what You have promised for my future —
… and somehow, please redeem this pain.
Use it to wean me of self-sufficiency so I serve You in a way that can only be explained by the words, "God did it!" Let others see Your power working in, for, and through me so You, rather than I, get the credit for anything I might accomplish.
Father, I have nowhere to look but up — show me why that is a great place to be. In Jesus' name, Amen.
Additional Resources
Discover meaningful ways to express the darkness and despondency that are hiding the light you long to see and feel. Often when we write our story in creative ways it can provide insights and hope that we may have otherwise missed.