Printables •

Devotionals
Downloadable Hope!
Chronic Joy printable devotionals are an invitation to nurture and grow your spiritual life. Experience the fresh grace of God and take one gentle step with one of our thoughtfully written and beautifully designed, FREE printable devotionals, and there are always more coming. Step in, check back, download a little hope today.
PRINTABLE DEVOTIONALS – READY FOR YOUR PRINTER
Bookmark the page and check back often!
Abide in Me: Independence, Chronic Illness and Dependence on the Lord
When you're struggling with any loss of independence in your life, turn your heart toward the Lord. Remember that all of us, even people who are not chronically ill, are truly dependent on God for everything -- and abiding in Him is the secret to producing fruit.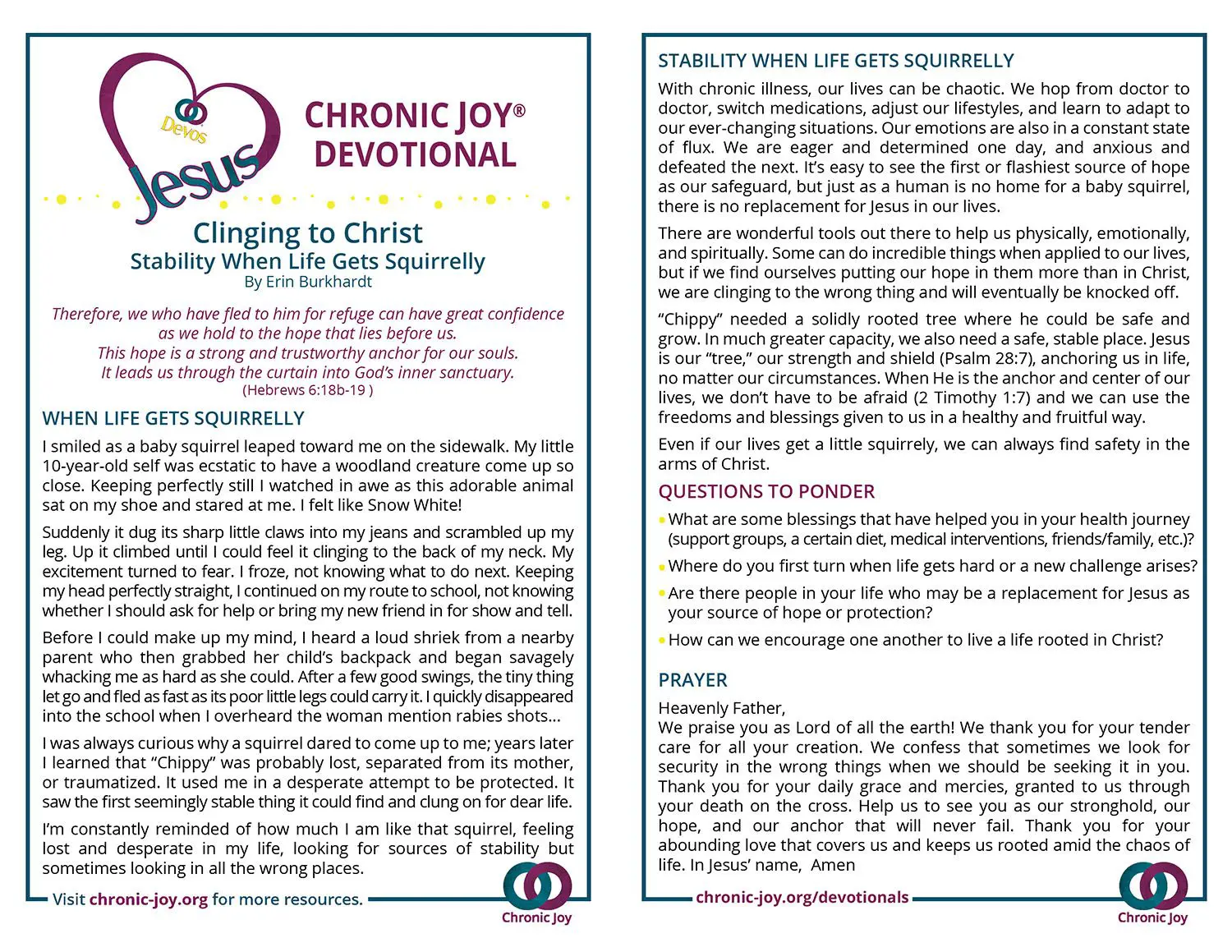 Clinging to Christ - Stability When Life Gets Squirrelly
When life creates chaos and challenges arise, to whom do you turn? This world offers many possible solutions to our struggles, but only Jesus offers the stability we need to grow and thrive in the life God has given us.
Finding Hope in A Wishful World
It's a difficult time for humanity. Recent events have made the world desperate for security, looking for hope in all kinds of places when it can only be found in Christ.
For Such a Time as This: Your Unique Qualifications
What if your unique hardships/trials enable you to encourage others as they move along in their life?
The Gift of Choosing Gratitude
A life of gratitude does not come from material things or fleeting emotions, but by choosing a faith-filled life trusting in God's promises. While circumstances can be difficult, the hope of eternity can move us to be grateful here and now, knowing what is to come is greater than anything here on earth.
Grieving & Hope Devotional
There are times in our lives to mourn and grieve, but it is so important not to lose hope. For those of us who know Jesus, we cling to an everlasting hope. Grief is something we must work through, and it cannot be rushed.
Gratitude through Prayer
Gratitude can be a challenging concept when chronic illness is our constant companion. Being with family and friends is a gift, but it is also a drain on already low energy reserves.
Healing Whispers
Wherever you are most comfortable, talk or write to God anything that you're able to express. Be honest and don't worry about being articulate. God is a reader of the heart. His healing whispers may comfort you as you pray and read His word.
In the Emergency Room: God Brings Beauty from Trials
Chronic illness can feel like you're in a never-ending cycle of medical crises, going from one emergency to the next. It makes us wonder why God allows such things to happen. Chronic illness is painful, but pain can be turned into unexpected beauty.
Leaving Hope Behind
Hope is a gift from God (and what a precious gift it is!), but the biggest gift of all will be the day when we no longer have a need for it. We will leave hope behind and move forward into eternity to recognize the glorious fulfillment of all our earthly hopes.
Never Alone: God's Unending Mercies
Christ understands everything we go through because he lived it first. While it might be difficult to see small pieces of joy during chronic illness, God's mercies truly are unending.
My Complicated Glasses • A Prayer
Rest. I want to rest for just a moment, but my mind can't stop. What is this quiet place where You have invited me? It isn't the absence of sound and activity but an awareness of the small. Lord, You are here in this moment, in this space – sacred yet simple.
Simple Silence: A Quiet Place to Rest
Are you also feeling those anxious mind-racing thoughts that threaten to pull your heart down? Our Lord Jesus has called us to lay the weight down and find His quiet rest.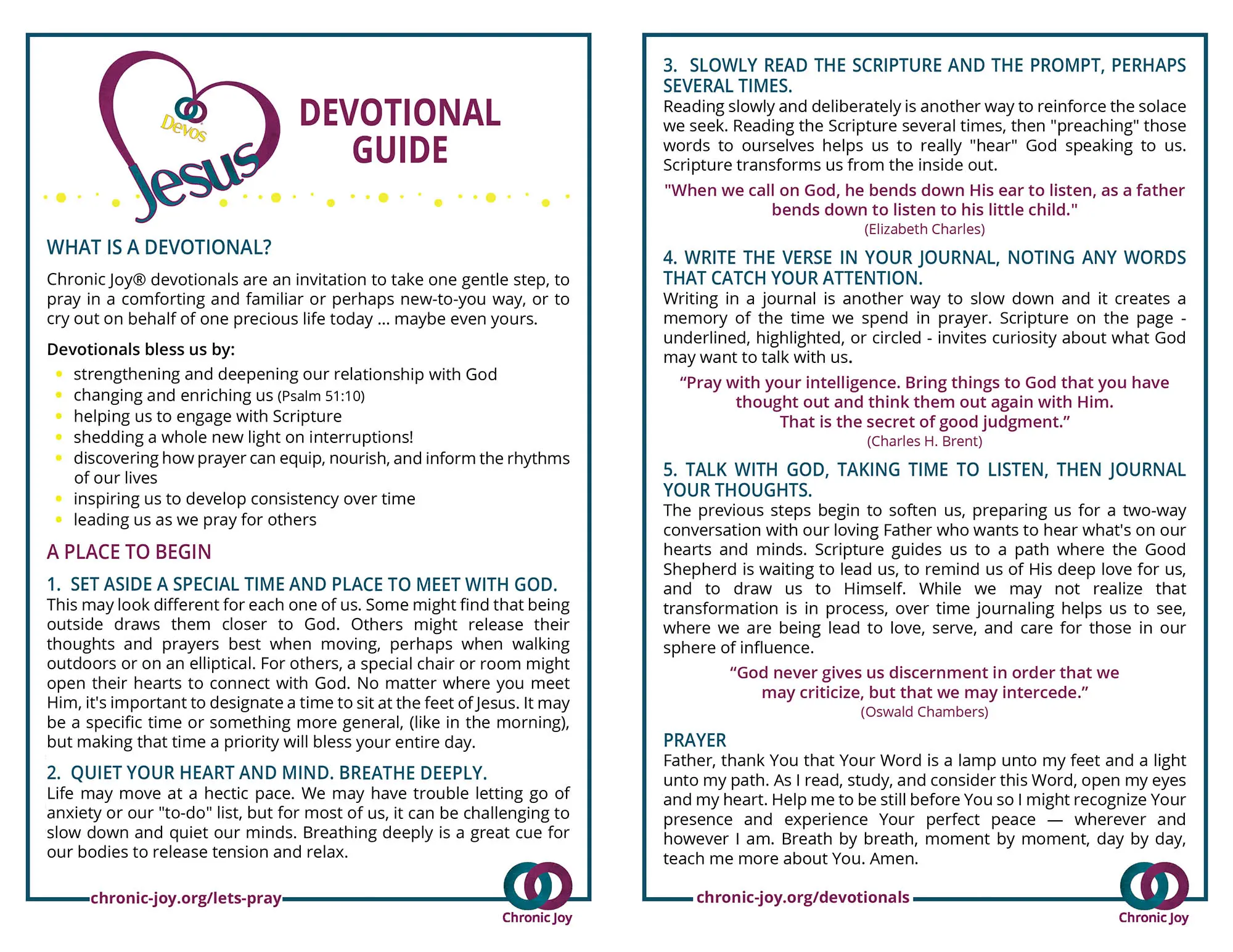 Devotional Guide
Chronic Joy® devotionals are an invitation to take one gentle step, to pray in a comforting and familiar or perhaps new-to-you way, or to cry out on behalf of one precious life today … maybe even yours.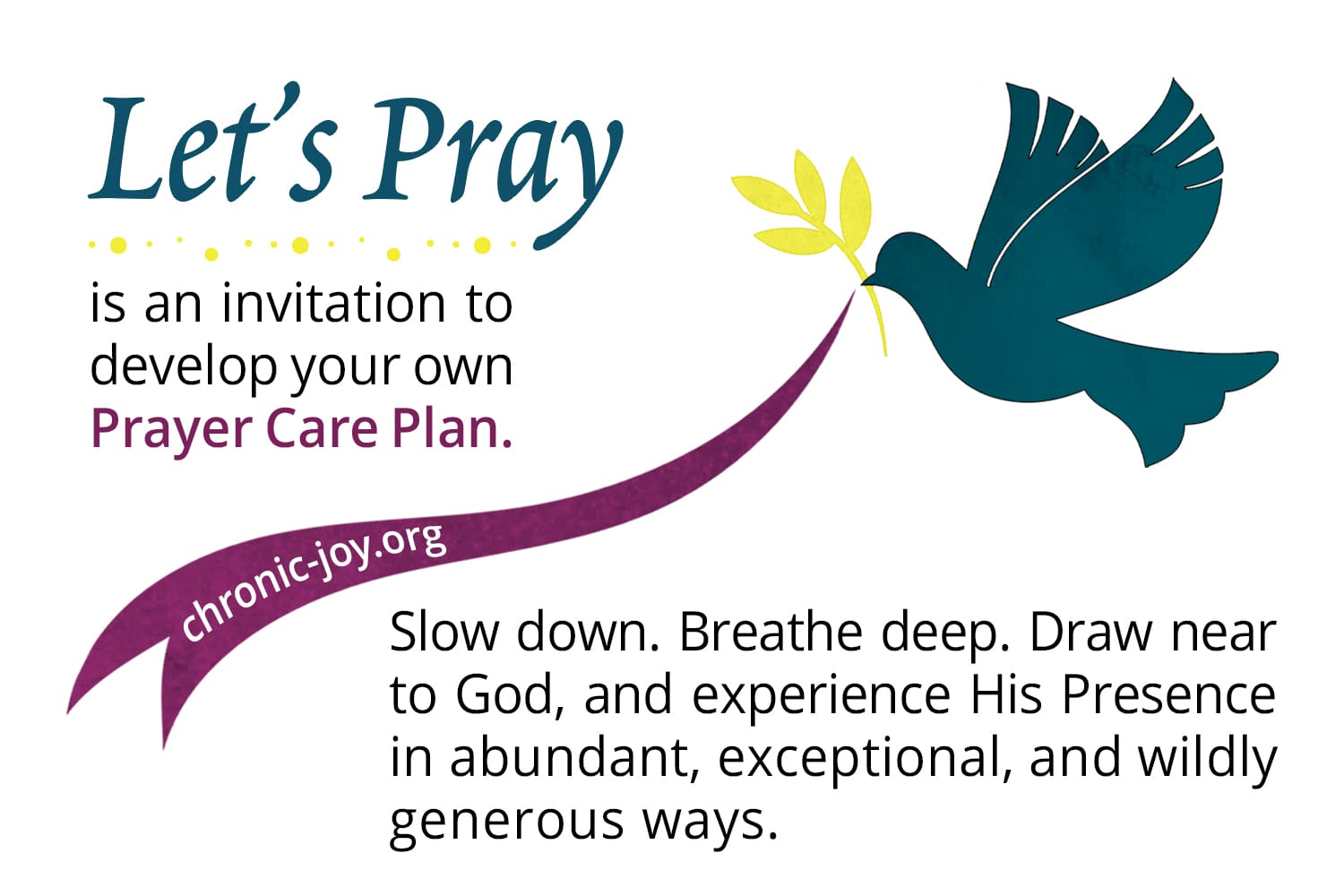 Let's Pray
Prayer is a precious invitation to simply be with Jesus.
Slow down. Breathe deep and draw near to God, experiencing His Presence in abundant, exceptional, and wildly generous ways.