In kintsugi, the bowl's brokenness becomes its beauty.
For the sake of Christ … I am content with weaknesses, insults, hardships, persecutions, and calamities. For when I am weak, then I am strong.
(2 Corinthians 12:10)
BROKEN POTTERY AND KINTSUGI
I have become like broken pottery. (Psalm 31:12) We're all like broken pottery — cracked in places, maybe even shattered on a concrete floor. The pieces no longer fit together in their intended way. Fractured and confused, we feel valueless, worn, and ashamed. We may have lost some of our shards; others are ground into dust.
However, Jehovah Rapha is the God Who Heals, the God of redemption and restoration, a God who does not hide our brokenness. No, He pulls us close, teaching us that instead of hiding our scars, we can celebrate them.
Much like the kintsugi art of repairing broken pottery with lacquer and gold, God draws attention to our places of healing. He restores us through the crimson blood of Jesus.
From our fractured places comes an invitation to offer empathy and compassion. In our woundedness, we learn to speak of hope. God fills our cracks, gaps, and missing pieces with His glory. His light shines into the darkness, restoring us with new beauty and new worth. Jesus runs toward us with open arms, singing over us, celebrating us, cherishing us, and delighting in us.
KINTSUGI AND CHRONIC JOY
Chronic Joy began out of our brokenness, lack of health, shattered dreams, and uncertain futures — those pieces of our lives that no longer fit together as we expected. Yet God knows that our scars, losses, and grief can be repaired and restored into something else completely. As time has passed, we have discerned and developed useful and helpful tools enabling us to live well amid chronic illness, mental illness, chronic pain, and disability. We are prayerfully asking God to show us how we can make those tools and resources accessible to all. Step by step, we move forward, watching God continue to fill in the cracks with beauty beyond imagining, much like kintsugi.
I have become like broken pottery.
(Psalm 31:12)
We are praying with you, for you, and over you.
QUESTIONS TO PONDER
What are the "broken things" in your story?
How has God used the brokenness in your life?
In which places have you been most deeply broken?
How might God be calling you to serve out of your broken places?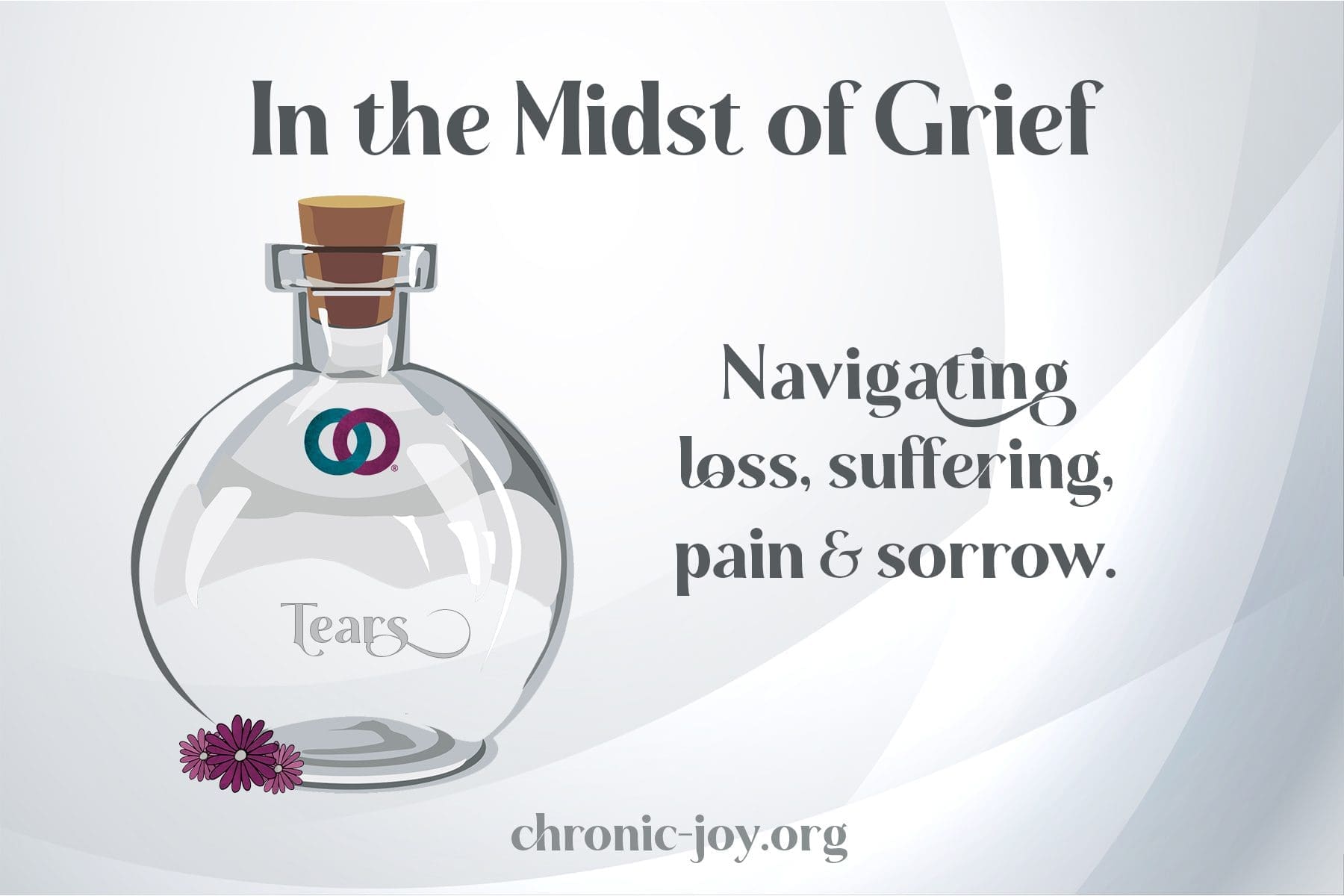 In the Midst of Grief
Navigating loss, suffering, pain and sorrow.
Grief is no stranger to those of us affected by chronic illness, pain, and suffering. While there are no rules for grieving chronic loss, there is a road map and there are fellow travelers ahead and behind us on the journey. Grief often precedes growth.
SELF-CARE
Kindness Multiplied
When we are kind and generous with ourselves, we can pour kindness and love overflowing into others. Take time and take care of you, because you are God's beloved.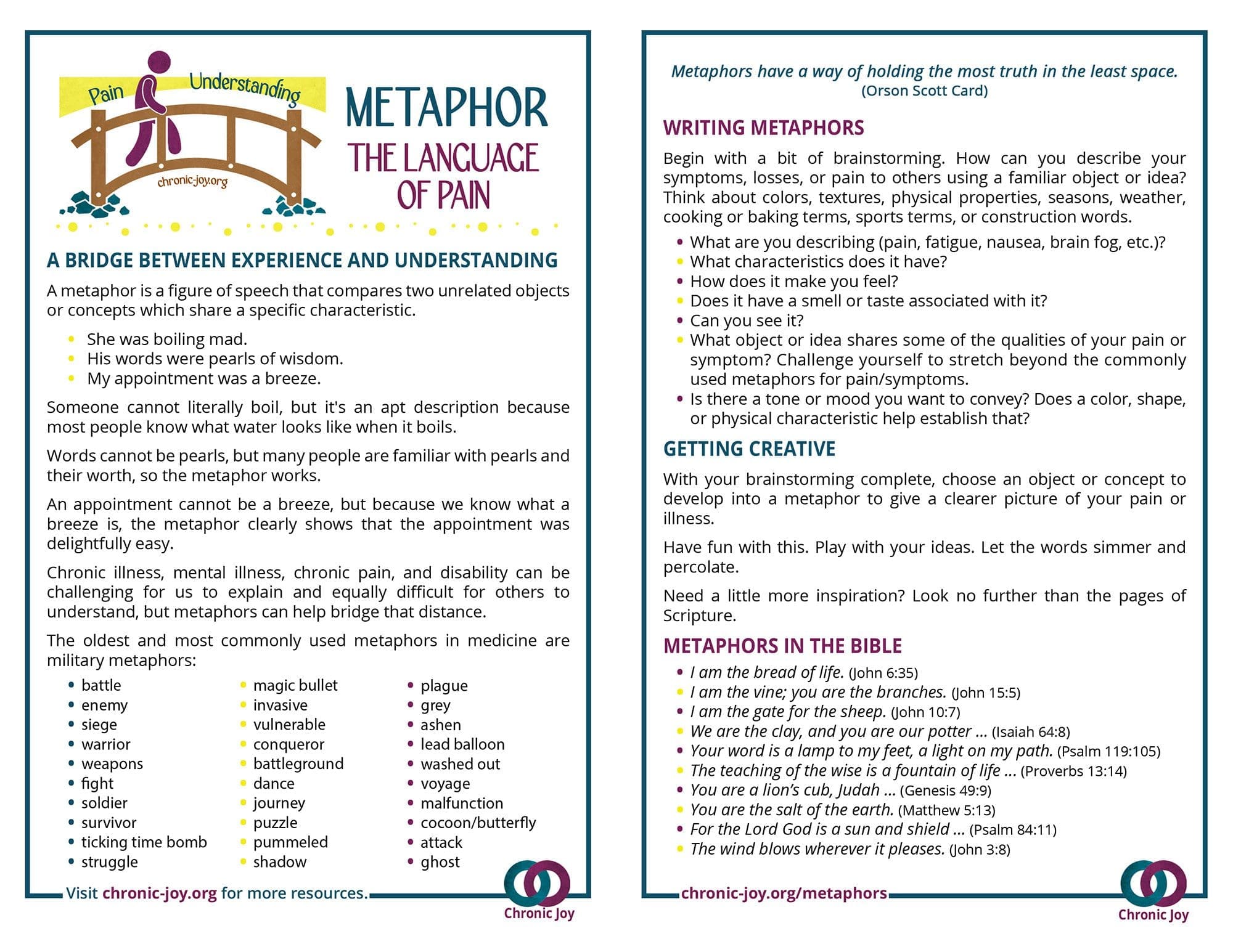 Metaphor • The Language of Pain
Chronic illness, mental illness, chronic pain, and disability can be challenging for us to explain and equally difficult for others to understand, but metaphors can help bridge that distance.
The Story Told Through Our Scars
Where we've been fractured, we can offer empathy and compassion. Where we've been wounded, we can speak of hope. And where we have been ground into dust, God's light shines bright.
Meet the Sonshine Squad & 3 Things I Like About Me
Meet each member of the Sonshine Squad then fill in the stars with words or drawings that tell others three special things about you.
SPOTLIGHT ON COMMUNITY
It is a blessing to link arms, hearts, and minds with some incredibly talented, Christ-led, mission-hearted people. Meet Laurie Glass our newest Contributing Writer. Laurie is sharing poetry and posts; and was instrumental in adding depth and breath to our Self-Care pages. Kara Plett has been sharing devotionals and wrote the new content for our marriage pages. Kara has joined our volunteer staff, bringing her love for Jesus and words to our team. Together we are better. Together, we can change the world one precious life at a time.
Laurie Glass
Chronic Joy® Staff Writer
Laurie has a Master's Degree in Christian Counseling and is the author of Coping with ME/CFS. Many of her poems and articles have been published in print and online. She won the Open Medicine Foundation poetry contest in 2019. Laurie loves to use her gift of writing to encourage others.
Kara Plett
Chronic Joy® Staff Writer and Prayer Team
Kara and her husband Conrad live in Calgary, Canada, where she was a teacher for 28 years. She loves the Word of God and encourages others through her devotional writing. Kara felt led to write a book of devotionals (Searching for Sea Glass) when her journey with chronic illnesses pressed her into God's arms of love more deeply. She prays that her journey and refinement will encourage you in your walk with God.