Greater Joy
GREATER JOY
Joy, as defined by the dictionary, is a feeling of great pleasure and happiness. Yet, this definition wasn't helping my understanding of King David's greater joy than those who have abundant harvests. So I looked further.
"Joy," according to Theopedia: An Encyclopedia of Biblical Christianity," is a state of mind and an orientation of the heart … something or someone that provides a source of happiness … something that is deep within and doesn't leave quickly … Joy is given by God and something that He wants us to have…" (emphasis mine).
To experience greater joy, I discovered, I needed to understand that joy is actually about who I'm seeking, rather than what I'm seeking.
In this season rife with "abundance" (an excess of gifts, debt, expectations, obligations, and the list goes on), I have the perfect opportunity to refocus, to seek first my Heavenly Father, whose love is sufficient and abundant, far greater than western-culture excess, which pales by comparison.
Yet how can I have greater joy when I am simply unwell again?
My year-long journey in joy has lead me to simple, yet hard choices.
HOPE
First, I must be willing to hope. This can be a difficult choice, but a single step helps me to take the next and then the next, for hope is a tiny seed that must be nurtured and watered, plus spend lots of time in the Son.
PURPOSE
I've had to learn that my purpose isn't defined by what I do, don't do, can do, or can't do. Instead, through His great exhale, God breathes life and purpose into the very fibers of who I am. The Holy Spirit living in me makes my purpose clear – to love God with all my heart, soul, mind, and strength and to love others as I love myself.
WORTH
I continue to learn that worth is not a measurement stick. It's not about how much I accomplish or how well I do anything. Worth is given to me by the One who says, You are my beloved and I delight in you, I am pleased with you. I don't need to measure up to any other expectations, including my own.
JOY
Finally, my journey led me to joy. To taste greater joy in the midst of what previously drove me into survival mode came through seeking beauty in small moments. These moments are the gifts right before my eyes, but they are also the ones I can easily miss.
Hope. Purpose. Worth. Joy. I have been led full circle.
"You have given me greater joy," has become my refrain of gratitude to the Father for the gift of His Son. Joy in the presence of Jesus – Emmanuel – God with us, always.
THERE IS NO GREATER JOY

!
This month I encourage you to lean into your own JOY STORY. It may be just beginning – a single step of hope, but it will lead you straight into the Father's waiting arms.
I love that hope is part of joy! For as God sows seeds of hope, purpose, worth, and joy into us day by day, we experience a deeper love for Him and a deeper connection with others.
THERE COULD BE NO GREATER JOY!
Prayer
Direct me, O Lord, in all my doings with your most gracious favor, and further me with your continual help — that in all my work begun, continued, and ended in you, I may glorify your holy name, and finally, by your mercy, obtain everlasting life; through Jesus Christ my Lord.
Amen.
---
*The Divine Hours: Prayers for Autumn and Winter ©Phyllis Tickle
We are:
Praying for our community to experience a deeper sense of God's love.
Praying for each of you to take the next step on your

Joy Journey

.
Thankful to our Heavenly Father for sowing seeds of hope, purpose, worth and joy into the fibers of our beings.
Praying for those experiencing difficult circumstances.
Praying over the prayer requests received from our community.
Prayer is the heartbeat of Chronic Joy Ministry. We are honored and blessed to pray with and for you.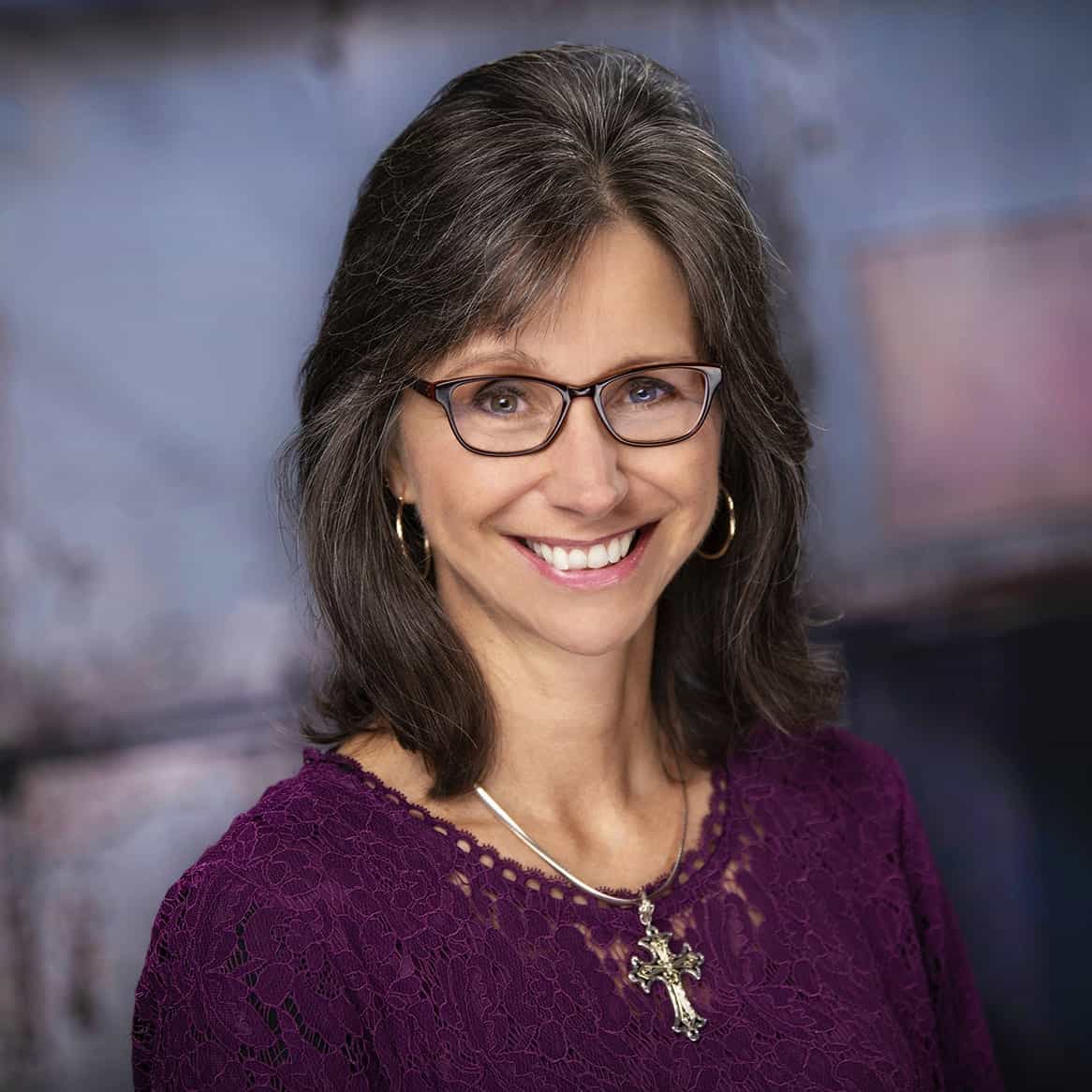 Pamela Piquette
Executive Director and Co-Founder of Chronic Joy®
Pamela, a leader and a visionary following God's call to inspire those affected by chronic illness, mental illness, and chronic pain, believes that every precious life impacted by illness is both vital and purposed.
Pamela is a wife of more than 35 years, the mom of three married children, and a grandma of six. She is diagnosed with Ehlers-Danlos, chronic migraines, and many other chronic conditions. She enjoys baking sourdough bread, hot tea, being outdoors, and reading (almost always more than one book at a time).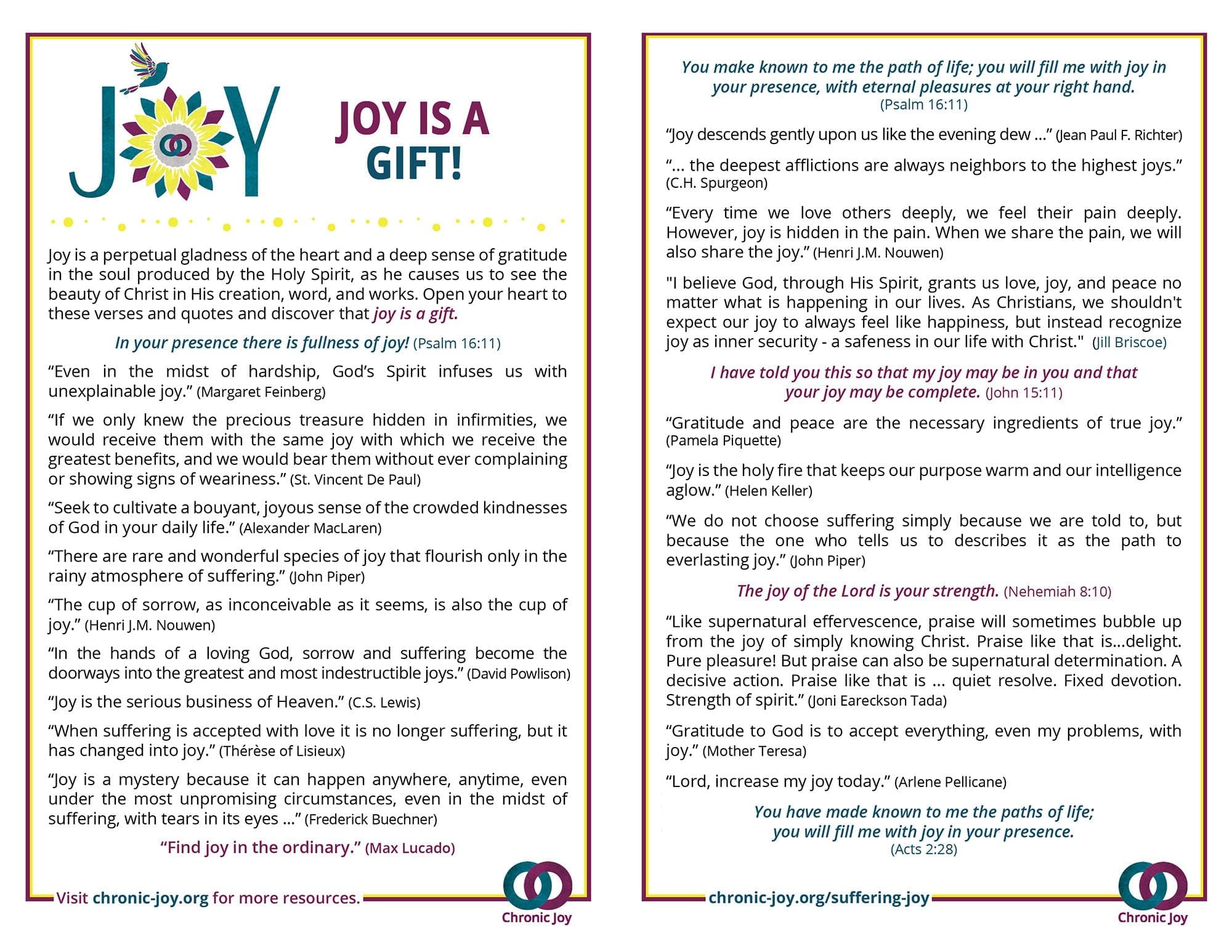 Joy is a Gift
Joy is a perpetual gladness of the heart and a deep sense of gratitude in the soul produced by the Holy Spirit, as he causes us to see the beauty of Christ in His creation, word, and works. Open your heart to these verses and quotes and discover that joy is a gift.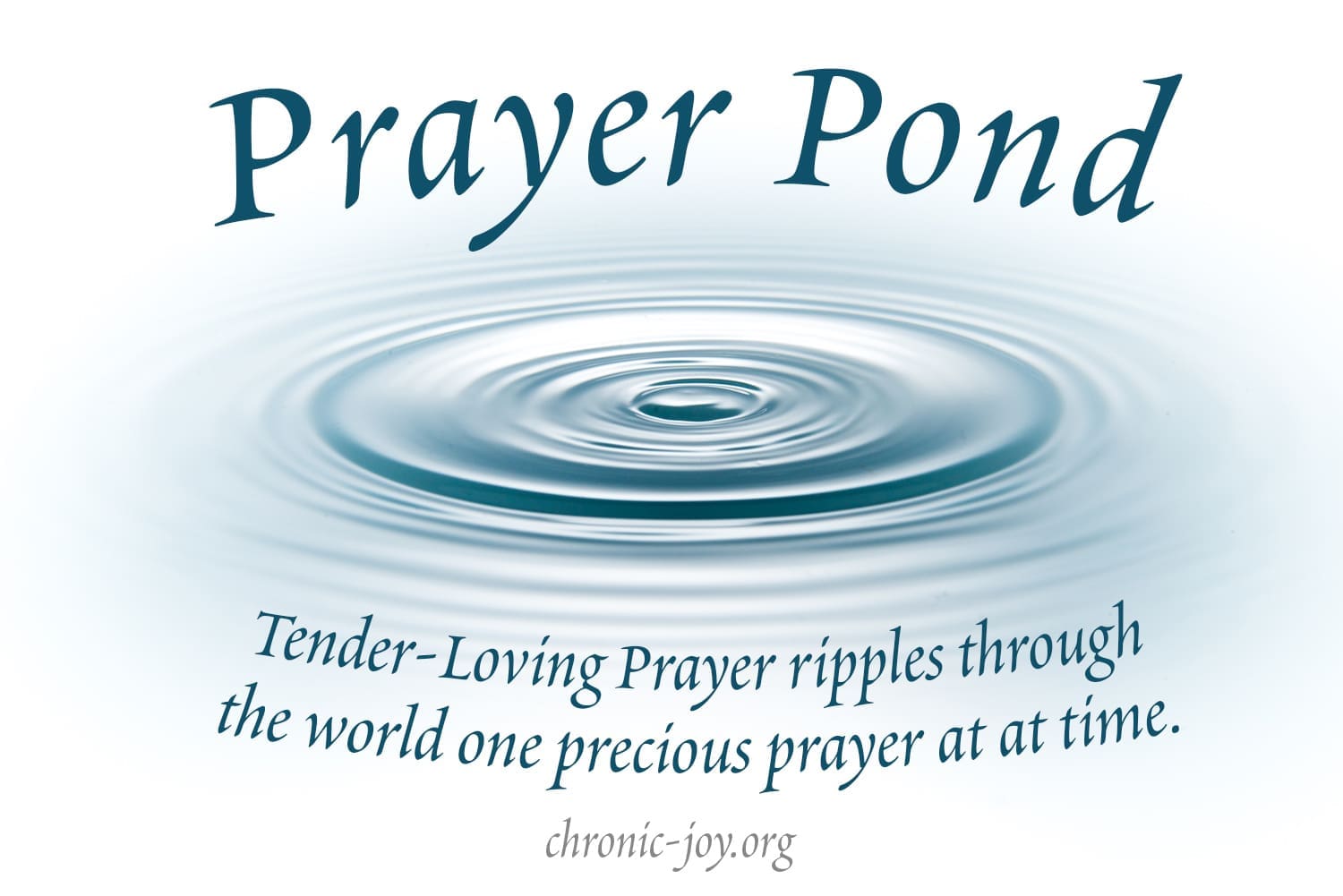 Prayer Pond
You're invited to the Prayer Pond, your safe harbor. This is where you can share your prayer requests, updates, and shouts of praise. Whether a request, praise, lament, suffering, loss, hope, grief, or joy, each prayer ripples far beyond this day and the boundaries of our world. #PrayItForward by praying for others.