KALEIDOSCOPE OF ILLNESS
Chronic illness entered my life slowly. Each new illness – one more geometric shape twisted into the kaleidoscope lens of my life – was hardly noticed. It all seemed almost "normal" somehow.
As a child, three colored shapes represented fear, anxiety, and strange bouts of "flu." After I married, "female issues" twisted into view. This included serious complications after the delivery of my middle child (a one-in-500 chance of this condition occurring.). Then my youngest repeatedly insisted that she wanted to be born much too early – at 35 weeks she entered the world and life in the NICU. Migraines suddenly burst into color as I embarked on my life as "super-mom." Each child added pops of color to our collective kaleidoscope as unusual diagnoses began demanding more immediate attention. Over time, our remarkable pediatrician noticed a pattern that could not be ignored. Chronic illness had spun into view.
Just before the pediatrician referred us to a specialist, I grew gravely ill during routine treatment for a sinus infection. Following this explosion of color, the kaleidoscope again twisted. Then it slowly focused, revealing an underlying rare genetic illness.
Looking back, I understand that what once felt almost familiar and "normal" was anything but. Recently, one of my specialists very gently reminded me, "Pamela, there is no cure."
While it is sometimes hard to hear as we continue to band-aid my most problematic symptoms, truth is the necessary foundation for hope. Dr. Michelle Bengston says, "God will use even the difficult situations in life, those that don't go how we expect or hope, for our good."
THE KALEIDOSCOPE OF ILLNESS HIGHLIGHTS ONE PRECIOUS LIFE AT A TIME
While I wouldn't have chosen to walk through illness and suffering, I'm grateful for the gifts. Illness has softened me and grown my compassion, gentleness, and kindness. It's led me where I never dreamed I'd go – into full-time ministry.
In 2016, Cindee Snider Re (my best friend and now ministry partner) and I founded Chronic Joy, a 501(c) 3 non-profit, global resource ministry. This faith-based mission exists to bring radical hope and compassionate change to all those affected by chronic illness, mental illness, chronic pain, and disability.
When I look at the dynamic patterns in the kaleidoscope lens in reverse, my attention is drawn back to each pop of color in the design. In the lens of ministry, the dynamic and ever-changing patterns represent the diverse and immense worldwide impact of chronic illness. In other words, it is a kaleidoscope of illness. However, when I look at the patterns in reverse, as the pattern shifts, I see each shape twisting into place – each a single, precious life affected by chronic illness.
KALEIDOSCOPE OF ILLNESS AND GOD-DESIGNED COMMUNITY
Sowing seeds of hope, purpose, worth, and joy is a foundational principle of Chronic Joy. We understand firsthand how lonely and isolating it is to live with chronic illness. Also, we understand the devastation of continued and sustained loss, of what we now call "chronic grief."
We were designed to thrive together in community, not live life in isolation. So, our hearts are compelled to equip all those affected by chronic illness with tools, resources, and community rooted in Jesus Christ.
Often the first step is to share the stories of our illness, "For story is where hope begins. Stories connect us, tearing down walls and shattering isolation." (Cindee Snider Re)
Our FREE printable, Writing the Story of Your Illness, asks helpful questions. It also guides you in collecting your ideas to tell others or to begin to write about your journey.
AN INVITATION TO GET INVOLVED AND BE PART OF OUR COMMUNITY
We invite you to visit our website today. Discover the at-your-fingertip resources. Share awareness tools. Request a free book through our Gift of Hope program. Discovering Hope: Beginning the Journey Toward Hope in Chronic Illness is the first book in our Thrive Study Series and details a practical and tangible way to broaden our vision of community.
Perhaps you are a bit weary. Come. Sit. Rest by our Prayer Pond and toss in your prayer requests and praises. Then #PrayItForward to lift other requests in communal prayer.
Our hope, prayer, and focus are to provide accessible, easy-to-use, faith-based educational tools and resources.
You're invited to cultivate, strengthen, and build community. Friend-Raising starts with story – with our why: why we give, serve, pray, and invest our time, talents, and resources in the mission and ministry of Chronic Joy®. The best part is that you only need a few good friends to start! It's all about relationship.
There is hope, Friends, in this kaleidoscope of illness. There is always hope, and it begins one precious life at a time.
May the God of hope fill you with all joy and peace as you trust in him, so that you may overflow with hope by the power of the Holy Spirit. (Romans 15:13)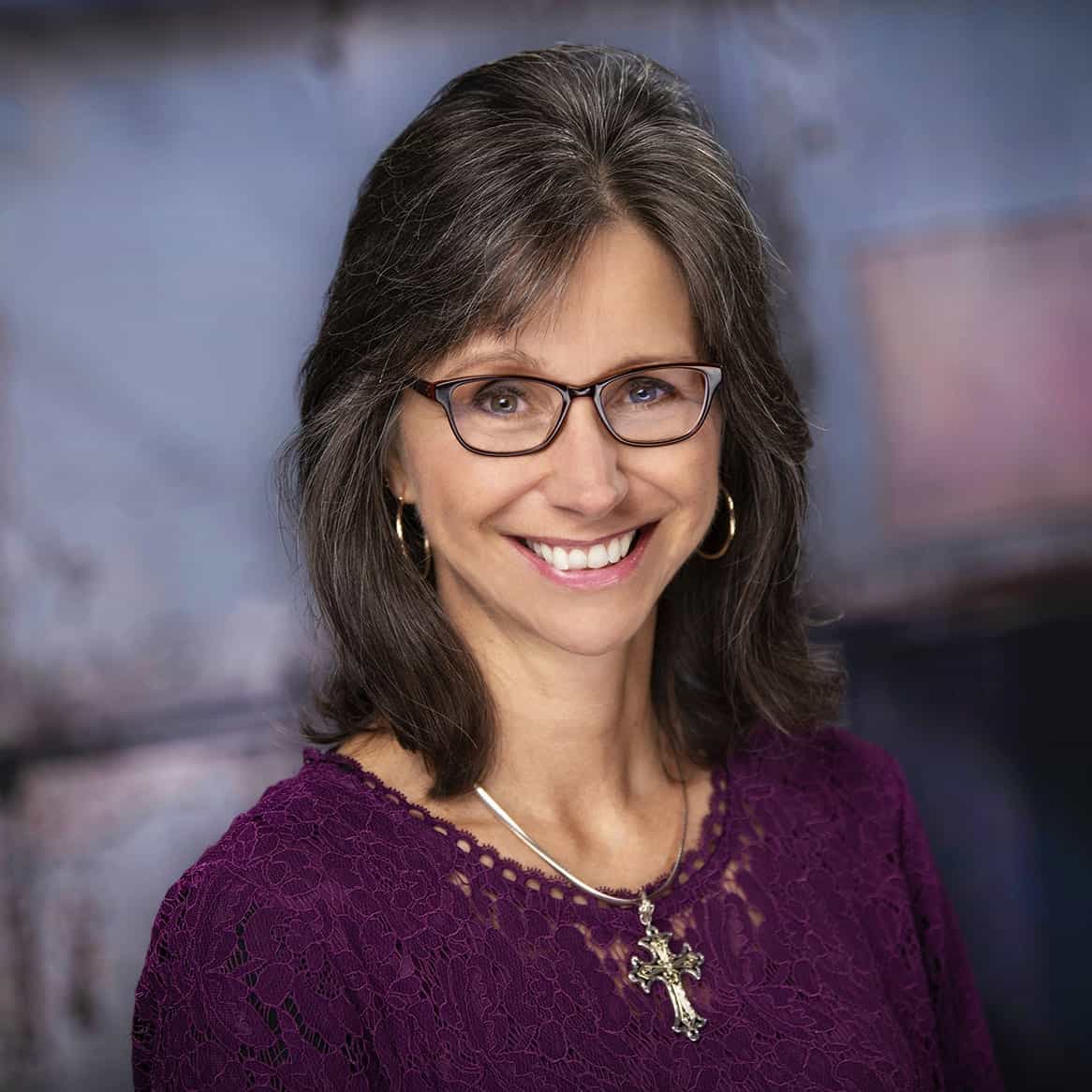 Pamela Piquette
Executive Director and Co-Founder of Chronic Joy®
Pamela, a leader and a visionary following God's call to inspire those affected by chronic illness, mental illness, and chronic pain, believes that every precious life impacted by illness is both vital and purposed.
Pamela is a wife of more than 35 years, the mom of three married children, and a grandma of six. She is diagnosed with Ehlers-Danlos, chronic migraines, and many other chronic conditions. She enjoys baking sourdough bread, hot tea, being outdoors, and reading (almost always more than one book at a time).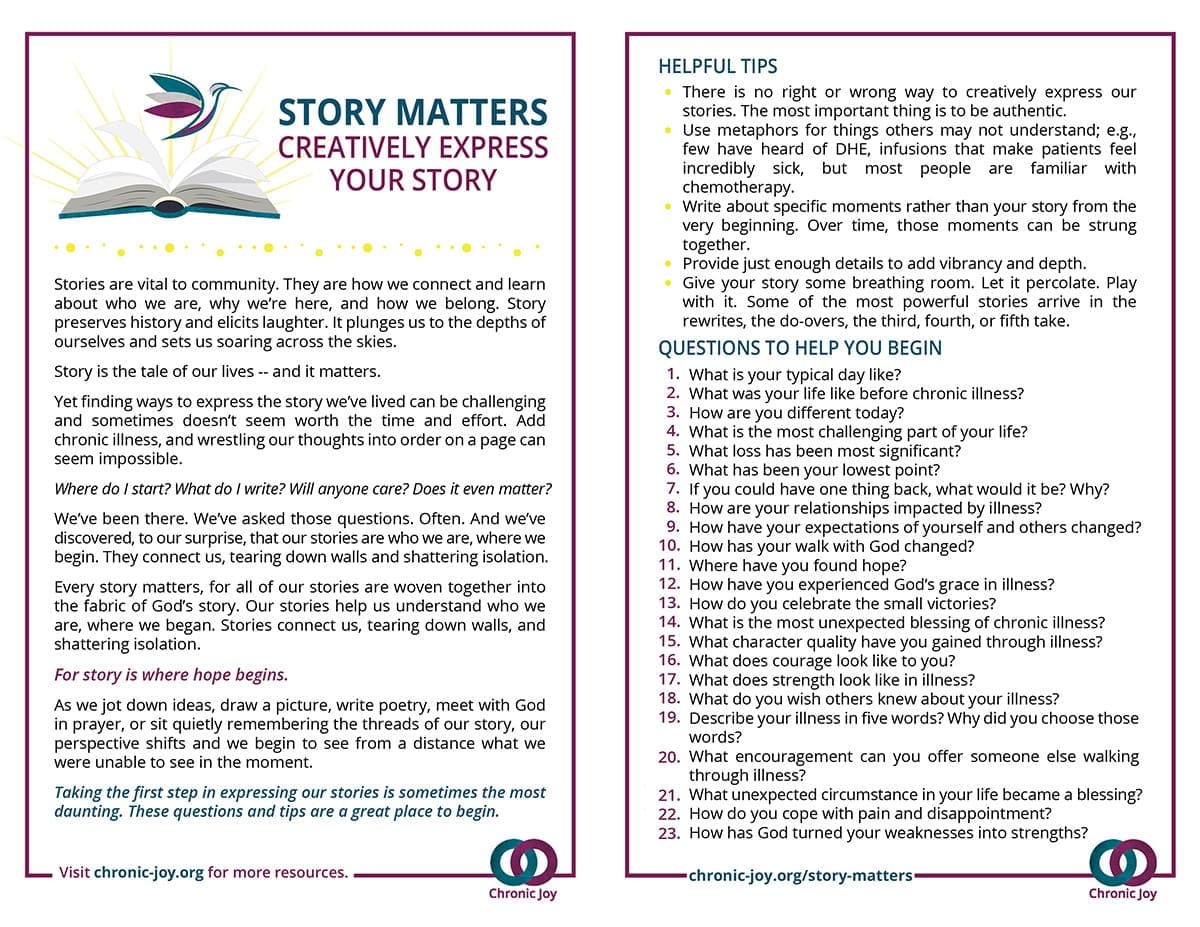 Story Matters
Creatively Express Your Story
We can feel isolated and powerless when living with chronic illness, but what if your story begins to bridge the gaps?  What if your story offers a glimmer of hope to someone standing at the edge of hopelessness?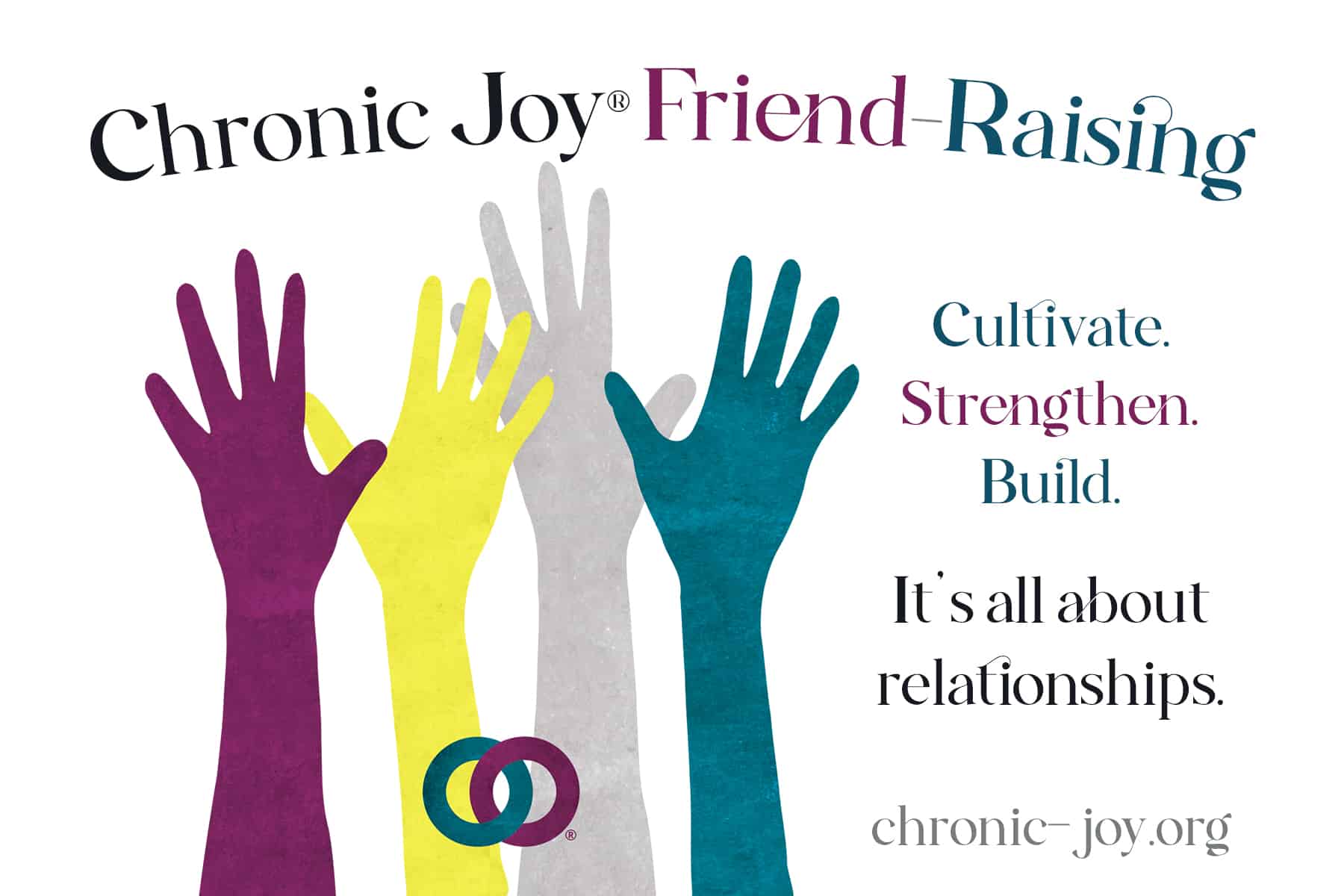 Friend-Raising
Cultivate. Strengthen. Build.

Friend-Raising starts with story – with our why: why we give, serve, pray, and invest our time, talents, and resources in the mission and ministry of Chronic Joy®. The best part is that you only need a few good friends to start! It's all about relationship.