I NEED TO TALK ABOUT PRAYER (AND HEALING)
Dear God, please heal my brother from his sickness. In Jesus' name, Amen.
How many of us have prayed a prayer like this?
How many of us have seen that prayer answered?
If you're anything like me, the answer is, "Not as often as I would like!"
Illness is real and it impacts lives. Prayer seems to offer us hope for physical healing, and yet we often find that hope crushed. It is for this reason that praying for healing can be a sensitive topic.
It's easy to become disillusioned about prayer – and it's easy to want nothing more to do with it.
I feel your pain – but if prayer is so important that it can crush our dreams, it is something we cannot ignore. 
WHAT IS PRAYER?
This is a post about Christian prayer as outlined in the Bible, where we see that:
PRAYER IS A RESPONSE
There are many responses to sickness and tragedy. Some people throw themselves into their work, and others seek out a listening ear. Many Christians pray. In a situation where it's easy to feel hopeless, wordless, and paralyzed, prayer can:
Give us something practical to do
Offer us hope that has nothing to do with medical advances
Give us words ("I'll pray for you." or "Let me pray now.") when there is nothing else to say
Yet as a response to someone else's illness, praying for healing can also be frustrating. This is because:
Prayer doesn't always result in physical healing.
It can seem silly or childish to talk to someone who's not there.
It can be difficult to talk about, because it's an abstract concept, and like every part of our faith, there is an element of mystery.
PRAYER IS A TASK
Although prayer is a response to illness – that is, it is a reaction – it is not an optional one. If we call ourselves children of God, then we need to pray. Why? 
PRAYER REVEALS WHERE WE PUT OUR HOPES
If we believe God is all-powerful, then we must ask Him for healing. After all, we must set our hopes on something, and prayer is a way to place our hopes on God. Whenever I no longer feel the need to ask God for healing, it's always because I have placed my hope in something else, whether that's a new treatment or simply time. Yet as Christians, we have no choice. We must place our hope in God, first and foremost. 
PRAYER WAS DEARLY PAID FOR
It is exciting to be able to talk to the living God. Let's never lose sight of that! It's an immense privilege and blessing – one that was paid for by the blood of Jesus. We pray at a price, and because of this, prayer never ceases to be a sacred act. As such, it cannot be overlooked, forgotten, or discounted. 
PRAYER IS NOT DEPENDENT ON US
In one sense, prayer is something that we do. We are the ones who physically sit down, or close our eyes, or speak aloud, or form a prayer to our Heavenly Father in any number of other ways. Yet in truth, prayer is not something that we do at all.
The outcome is not dependent on us – and there is nothing we can do to ensure our prayers are answered exactly how we want them. If our loved one dies, even though we pray for recovery, it is not our fault. If our loved one is healed miraculously and the doctors are stumped, it is not our doing.
God uses our prayers. Our prayers do not use God. This is freeing! 
THE PHYSICAL ACT OF PRAYING IS HARD
It's all very well for us to know we should pray. Many of us as Christians, want to pray. We long to speak with our heavenly Father. We desire to place our hopes for healing in Him. Nevertheless, praying is hard. Why is this?
The bottom line is that we are human. Praying for healing is difficult because:
Like most skills, it doesn't come naturally to us. We have to learn how to pray. Even the disciples recognized this, asking Jesus to "Teach us how to pray" (Luke 11:1).
It requires perseverance. Chronic illnesses last a long time (often a lifetime). Praying continually for that many years (like maintaining any habit or relationship – and prayer is both) will not be easy.
It demands concentration. If you're like me, sometimes it can be hard enough to focus on a friend at church when I'm talking to them in a busy room. How much harder is it to concentrate on a person who is not physically present? Add the very real concerns which surround caring for an ill person into the mix and distraction abounds!
Prayer is difficult. Praying for healing is hard. No matter how much we love Jesus or desire to live like Him, maintaining a prayer life is rarely easy – but it is worth fighting for, both today, tomorrow, and for the rest of our time on this earth.
WHAT ABOUT BIBLE VERSES THAT PROMISE IMMEDIATE HEALING?
This is a complex question and one I struggled with for many years. Here I will simply leave you with some observations:
Some people in the Bible were healed by prayer. Many were not, yet this lack of physical healing did not cause their faith to crumble.
Biblical context is crucial – and sometimes we don't know that context, but the original readers did, so we can learn from their responses.
Many of my objections and frustrations drifted away the first time I tried leaving my ego at the door before reading those "troublesome" Bible passages.
Am I looking for a magic word or a quick fix when I read passages about prayer? If so, is that the sort of God I want to worship? Am I looking for God or a "wish-granting factory?"
There are many passages I still find difficult, but I try to treasure them for what they tell me about God and His character, compared to what I want them to do for me.
HOW DO YOU PRAY FOR HEALING?
When we sit down to pray for something as big (and as sensitive) as healing, we are suddenly beset with all kinds of questions. Is there a special formula to use? How long should our prayers be? Is it unspiritual to pray for (physical) healing?
These are all legitimate questions, and the best way to answer them is to look at the prayer Jesus prayed in Gethsemane.
IT'S OK TO PRAY CONTRADICTORY PRAYERS
In Gethsemane (Luke 22), Jesus prayed for two things:
Take this cup from me.
May your will be done.
It turns out that in God's perfect plan, He could not have both these prayers answered as He wished. Jesus (part of the plan since before the creation of the world) knew this – but He prayed them anyway, and in doing so, permits us to pray them too.
Please heal my loved one.
Please glorify Your name.
It is right and good to pray for relief from pain for others or ourselves, but because we do not know how God is to be glorified in the specific instances of our days, we need to pray contradictory prayers. 
WE MUST PRAY BIGGER PRAYERS
Physical healing is important, but it is not everything. While Jesus wept in Gethsemane, He took the time to pray for the eternal souls of those around Him. Many of His disciples came under threat by the authorities, their physical lives in danger, yet in the moments before His death, Jesus prayed (John 17) that they would:
My prayers are not big enough! Are yours?
THIS IS WHY I PRAY
Prayer is always personal.
GOD DID NOT HEAL MY MUM
For over fifteen years, I have prayed for healing for my mum, begging God for respite from her many chronic illnesses. Other people have prayed too. My mum has been surrounded by prayer for over forty years, yet she has not been healed. On the contrary, her illnesses have worsened.
I don't understand why. 
GOD DID HEAL MY SISTER  
When my sister was seventeen, the doctors found a brain tumor. She was in the hospital for three months and had over ten different operations. When the surgeons went in for the last time, they couldn't find the tumor. They couldn't believe it, but we could.
My sister had been miraculously healed.
We had been praying for only ten weeks.
Her recovery was long and slow. We wanted her home before Christmas. I was dry and exhausted. I was sick of it all. In fact, I had even half given up praying.
One day, I could take it no longer. I sat down and I begged God to bring her home on the day before Christmas Eve. The next day, the doctors told us she definitely wouldn't be able to come home before Christmas.
Yet she came home. For the second time, God answered prayer — miraculously.
I don't understand why. 
I KNOW THE GOD WHO HEALS
What can I say? What encouragement can I give? God does what is best according to His glorious purpose. Do I always like His purpose? Definitely not. Does that mean His purpose is wrong or cruel? Absolutely not!
I have a hard time remembering this, but I know it is true.
We do not need to know the outcome of our prayer before we pray, we simply need to know whether the one we pray to is trustworthy.
That is what makes the prayer worth it.
The one we pray to is trustworthy.
LET US PRAY.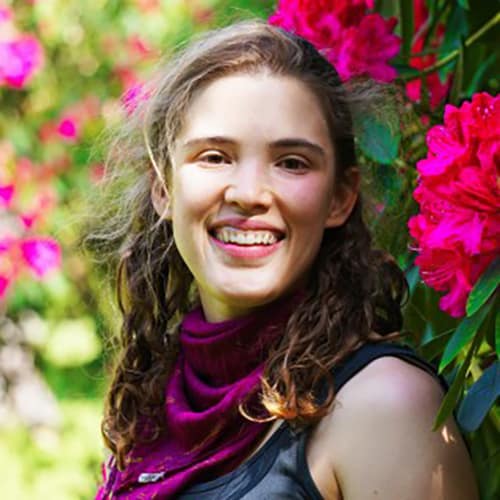 Emily J. Maurits
Chronic Joy® Contributing Writer
After working for several years in the public health sector, Emily is now studying theology. She believes we are all called to love suffering people because that's what Jesus did. She is passionate about equipping and encouraging others to do just that and founded www.calledtowatch.com for the family and friends of those with chronic illnesses. As well as uncovering God's presence in the chaos of life, she enjoys reading, running, and writing. Check out her memoir Two Sisters & a Brain Tumour.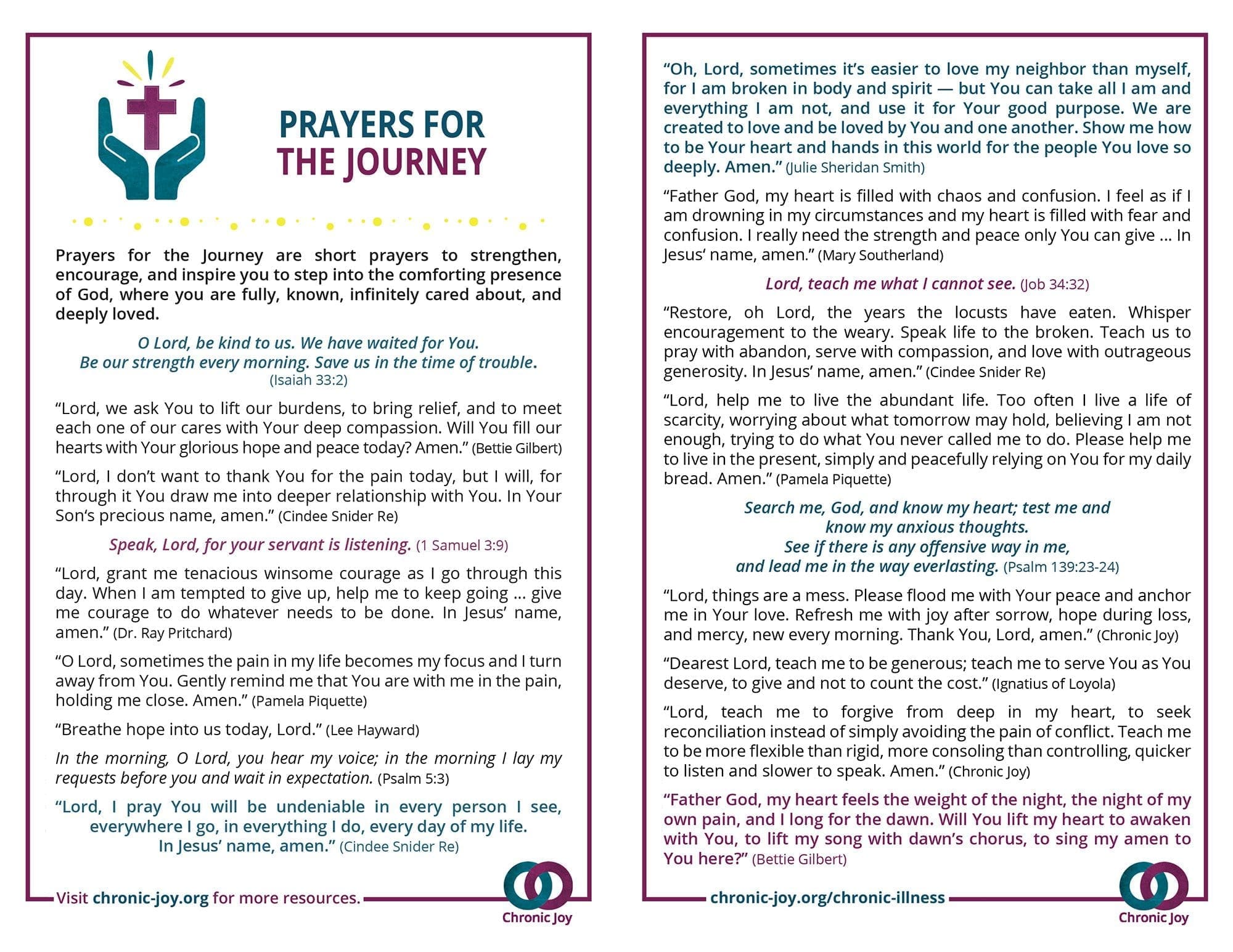 Prayers for the Journey
These short prayers can strengthen, encourage, and inspire you to step into the comforting presence of God, where you are fully known, infinitely cared about, and deeply loved.