MARRIAGE BLESSINGS AND ILLNESS
Wives, submit to your own husbands, as to the Lord. For the husband is the head of the wife even as Christ is the head of the church, his body, and is himself its Savior.
Husbands, love your wives, as Christ loved the church and gave himself up for her, that he might sanctify her, having cleansed her by the washing of water with the word, so that he might present the church to himself in splendor, without spot or wrinkle or any such thing, that she might be holy and without blemish. (Ephesians 5:22-23, 25-27 )
My husband, Will, and I recently celebrated our 18th wedding anniversary. I look back with gratitude on the years we have shared together, and I thank the Lord for the blessings that we have experienced in our marriage affected by chronic illness.
I will never forget the wedding card given to us by a dear family that I babysat for as a teenager. In the card, they wrote, "We pray that God will bless your marriage such that it will be an example of Christ and His church." Their prayer was a wonderful, biblical prayer. Little did I know how clearly God would answer that prayer!
MARRIAGE BLESSINGS EVEN WHEN DISABLED AND HOMEBOUND
When we married in 2002, I already had a chronic illness. At that time, I was still able to attend college, and after graduating I was able to work a part-time job. However, less than two years after getting married, my health deteriorated to the point that I became disabled and homebound.
Suddenly, I needed my husband to do basic personal tasks and household chores that I had been able to do on my own. I needed his help with cooking, cleaning, laundry, and shopping. And I needed his help with transportation and maneuvering my wheelchair. There were even times when I needed help with personal care.
And he was always faithful to help me.
Each day, Will sacrifices his comfort in order to care for my needs and perform mundane household chores. As he faithfully serves me, he is an example of the sacrificial love of Christ. He shows me a small reflection of the great love that Christ showed me when He gave Himself on the cross for my sins. It is an incredible gift to be reminded day after day of the love of Christ through my husband's service to me.
My husband has a high calling to display the love that Christ has for the church. I, too, have been given a high calling. As I respect and submit to my husband, I have the privilege of displaying the beauty of the church submitting to Christ. It is an honor to respect and submit to my husband as to the Lord.
MARRIAGE BLESSINGS – CHRIST AND THE CHURCH
Will and I are certainly not perfect, but I hope and pray that our marriage is a lovely picture of the gospel to those who see us. If our marriage can give a glimpse of the beauty of the gospel to a watching world, and if our marriage brings glory to the Lord, then all the difficulties of marriage with a chronic illness are more than worth it!
Marriage is a picture of Christ and the church. A godly marriage proclaims the gospel to the world. A chronic illness in marriage does not mar that picture. It can, in fact, enhance the picture of the gospel!
How have you seen the gospel put on display through a marriage affected by a chronic illness? If you are in a marriage affected by a chronic illness, how does your marriage portray a picture of the gospel?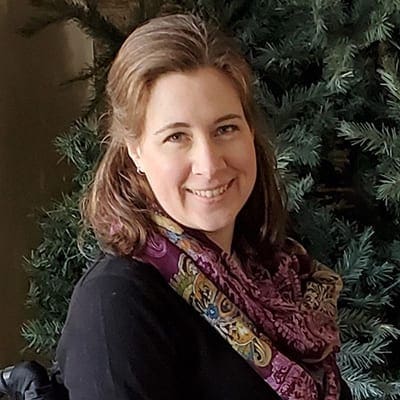 Rachel Lundy
Rachel Lundy is a wife and mother of four children. She lives with dysautonomia, a condition that leaves her fatigued and mostly homebound. She writes at cranberryteatime.com about life with a chronic illness and the hope and joy she has in Christ.
Lessons from Biblical Couples
Marriage is a gift, a holy weaving of two very imperfect people into one through a lifetime of difficult, beautiful, exasperating, and amazing mountain-top moments of God-ordained sanctification.