Blessed are the peacemakers, for they will be called children of God. (Matthew 5:9)
MER

RY

CHRISTMAS!
Peace sometimes feels elusive, especially at this time of year. It's something we talk about, long for, pray over, and seek out, yet too often we can still feel bankrupt of peace. Do not be anxious about anything, but in every situation, by prayer and petition, with thanksgiving, present your requests to God. And the peace of God, which transcends all understanding, will guard your hearts and your minds in Christ Jesus. (Philippians 4:6-7)
Peace, it seems, arrives on the heels of gratitude. When we thank God for who He is, what He's done, and all He's given us, the floodgates of peace swing wide as God's peace rushes over us, filling each crack and crevice, mending every broken piece, and smoothing over the missing shards.
We have hand-picked a gift of beautiful free tools for you this season:
For the Littles in our community, we've included:
If you're looking for a little hope this season, check out Called to Hope and An Infusion of Hope for Caregivers.
If you're searching for joy,  Joy Is A Gift might be just what you're looking for.
And if you're curious about how you might connect with others in the new year, What Are Your Grace Gifts? might be the perfect place to start.
OUR PRAYER FOR YOU THIS CHRISTMAS
Dear Heavenly Father, thank You for Your peace that surpasses all understanding. Thank You for Your unfailing love and abounding grace. Fill our hearts this Christmas with Your perfect peace, the peace You give to us, not as the world gives, but as only You can. Let us love You, and by beautiful extension, love one another. Let us learn to rest in Your presence and Your peace. Nourish our souls with the immeasurable love of Your Son until the day of His return. In Jesus' name, amen.

May mercy, peace, and love be yours in abundance. (Jude 1:2)
Promise of Abundant Peace
God's peace is altogether different from the peace of the world, because God's peace is not a gift, it's a Person, God's own Son, Jesus, the Prince of Peace. God's peace is abundant, unspeakable, generous, plentiful, extravagant, lavish, expansive, affectionate, and never ending.
SUICIDE PREVENTION
Hold on to possibility every day.
Are you thinking about ending your life? Reach out for support. Are you concerned about a friend or loved one ending their life? Ask. Listen. Love. Pray.
Note Starters for Difficult Relationships
Difficult people are often overburdened, hurting, and under-encouraged, leading to impatience, anxiety, loneliness, short tempers,  depression, and emotional isolation. If we're honest, we are all difficult people sometimes.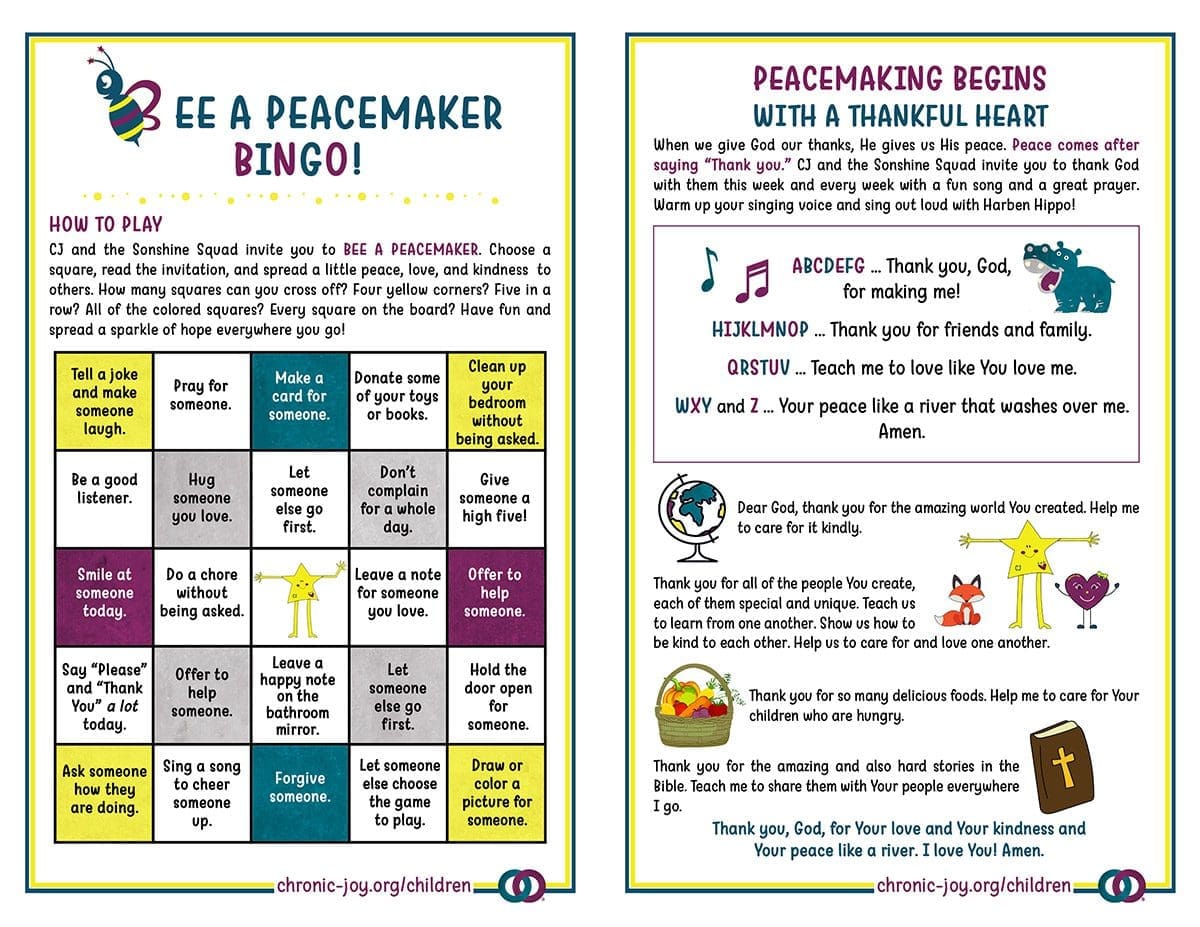 Bee a Peacemaker Bingo
CJ and the Sonshine Squad invite you to Bee a Peacemaker. Choose a square, read the invitation, and spread a little peace, love, and kindness with others. How many squares can you cross off?  Have fun and spread a sparkle of hope everywhere you go!
What is a Peacemaker?
A peacemaker is kind like Sachi, a good listener like Calliope, honest like Percy, gentle like Fendi, patient like Henry, and a good forgiver like Gilead.
HOW CAN I BE A PEACEMAKER TODAY?
I can take turns and invite others to play.
I can apologize when I've been unkind to somebody.
I can sit with a friend who is sad or having a bad day.
I can love Jesus with my whole heart and pray for those who are unkind to me.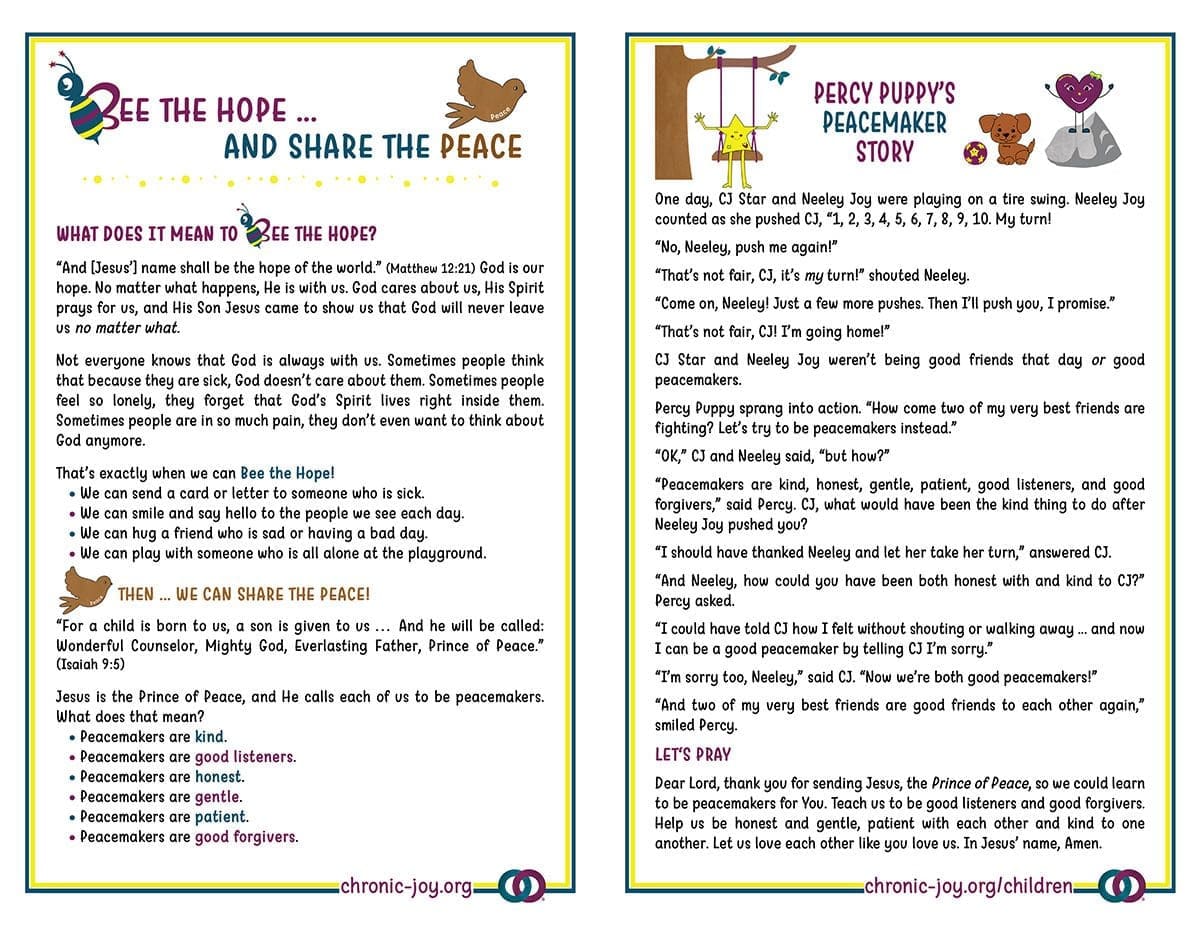 Bee the Hope ... And Share the Peace
God is our hope. No matter what happens, He is with us. God cares about us, His Spirit prays for us, and His Son Jesus came to show us that God will never leave us no matter what.
Can you give $10?
... the cost of s'mores for a small gathering?
Extending compassion begins one precious life at a time.
Thank You!
Your generosity is making a difference every single day in the lives of those affected by chronic illness, mental illness, chronic pain, and disability!