We put our hope in the Lord. He is our help and our shield. In him our hearts rejoice, for we trust in his holy name.
 Let your unfailing love surround us, Lord, for our hope is in you alone. (Psalm 33:20-22 NLT)
A JOURNEY OF DISCOVERY
 We are on a journey of discovery and we invite you to come along. It is with great excitement that we announce our new audio version of the book Discovering Hope: Beginning the Journey Toward Hope in Chronic Illness by Cindee Snider Re, one of our co-founders.
Next on our journey of discovery is our desire to make our website more accessible. This includes broadening our perspectives, choosing the simple kindness of including one another, opening doors, and removing barriers.
Kindness plays a big part in accessibility. Today, we offer you creative ways to show kindness every day.
JOURNEY OF DISCOVERY: HOPE
FREE AUDIO BOOK
Hope is a difficult and challenging idea to define. Emily Dickinson is famous for a picturesque poem on the topic ("'Hope' is the thing with feathers"), hundreds of books have been written about it (Googling "books on hope" calls up twenty-four pages of links!), and the Bible contains some 180 hopeful verses. It is certainly something we long for and desire to understand.
Hope is, also, elemental to the ministry and mission of Chronic Joy. Not only do we personally yearn for it, but we also believe it can ignite us all to thrive. Discovering Hope is an intimate, personal Bible study created especially for those affected by chronic illness, mental illness, chronic pain, and disability — but it will bless anyone who desires a deeper relationship with God.
Wrestle, laugh, learn, and celebrate as you listen to this powerful, practical, and insightful 10-chapter study. No matter how dark the days, how wild the storm, how deep the valley, or how long the winter, there is always hope. Listen FREE TODAY!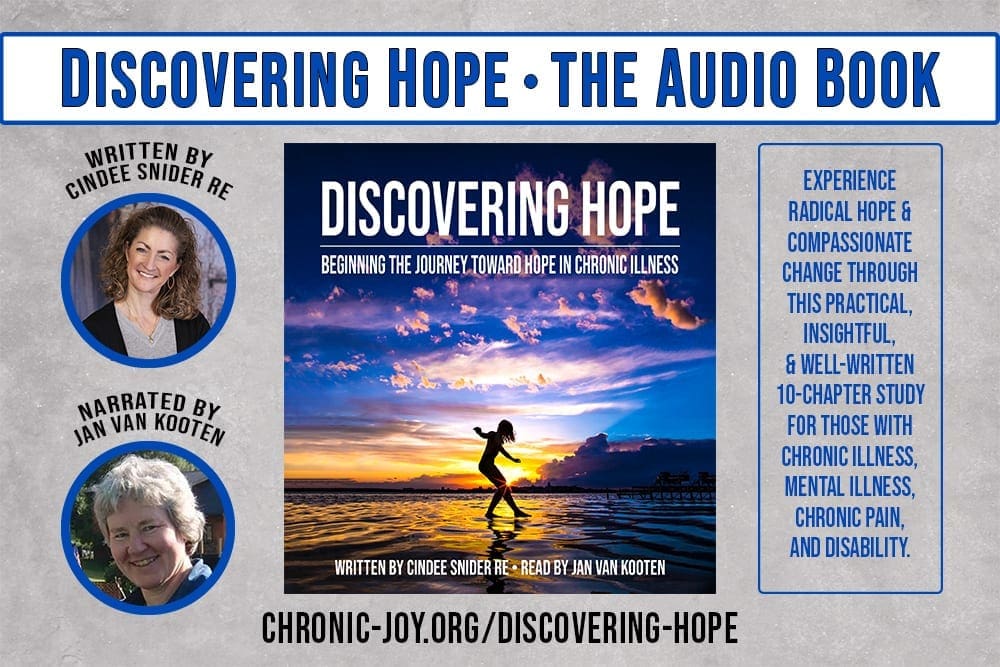 JOURNEY OF DISCOVERY: ACCESSIBILITY
One definition of accessibility is the quality of being suitable or adapted for use by people with disabilities. Yet accessibility means so much more than being wheelchair friendly.
Being accessible is all about removing barriers and taking steps to be more inclusive for a wide range of needs. It means that we extend a warm and compassionate welcome to each person as if they are an honored guest.
A.W. Tozer wrote, The love of Jesus is so inclusive that it knows no boundaries.
We've all experienced the pain of what it's like to be on the outside looking in, wanting to be seen, wanting to be included, wanting to have a close friend, wanting to be part of a dynamic and caring community.
JOURNEY OF DISCOVERY: KINDNESS
What if that pain opens a door for us to notice others who are on the fringe, to extend the kindness of a smile, a kind word, or a compassionate welcome? When we include others, we break down barriers and open doors that we wished would have been opened for us.
When we pass on the gift of kindness, the joy is multiplied for both the giver and the receiver, because God's Spirit stirs within us his fruit of joy, chronic joy, in the midst of chronic illness. The gift doesn't have to be large to be impactful.
Our Pass It On → Kindness page has many helpful resources to give you more ideas of how to show kindness to others. But that's not all. There is also a place to submit your own ideas of ways to share kindness.
JOURNEY OF DISCOVERY: NEW ACCESSIBILITY TOOL
Did you notice this symbol on the right side of your screen? Meet our new accessibility tool!
Would it be easier if there was more contrast or less color? Is it difficult to find the words that are also links? Click on the symbol to make these changes and so many more, and you'll find this tool on every post and page.