LIKE VIEWING A LIVE POEM, UNFOLDING IN SEASON-TIME
Each morning I open the blinds covering all my windows. The light looks in and I look out.
Whichever window I happen to be nearest shows an ever-changing view of various trees.
Watching them is like viewing a live poem, unfolding in season-time.
Out one window I watch my burr oak and cedar elm kelly up. Out another is the mountain laurel which last year sheltered two broods of baby cardinals (Last week I saw a mama cardinal return to the nest!). Out the north window, I am keeping an eye on my redbud, which still has not bloomed – but out the south window, my dad's redbud has. It's barely purple.
My mom believed the Lord sent her redbud trees as a confirmation of His goodness. So when the house next door came available two years ago and its redbud was in bloom, I knew it was a sign that my dad should move. It was his first move in forty-seven years.
I check on his redbud every day, both in person and through the window. I write poems about it, about the nest hidden in its branches, even though I've never seen a bird emerge from it. I write about my redbud too, which last year got fat green leaves but no pink blossoms, as promised.
Not yet.
TRY IT
Look out a window. Write what you see. Write what you don't see but know is true. Arrange your words into a poem.
SUBMISSION GUIDELINES
You can view our Submission Guidelines here. When submitting a poem, please complete the release form on our Permissions page. Along with your release form (and your submission, of course), include a brief bio and headshot as well as links to your website and social media.
We look forward to reading your poems!
A POEM TO GET YOU STARTED
Most poems I write are inspired by other poems. A word or phrase or an image makes me think of something I wish to write about. When the words won't come, I often imitate a poem like this one.
THE PURPLE PEACH TREE
Su Tung P'o (1037-1101), translated by Kenneth Rexroth
Timidly, still half asleep, it has blossomed.
Afraid of the teeth of the frost, it was late this year.
Now its crimson mixes with the
Brilliance of the cherries and apricots.
Unique, it is more beautiful than snow and hoar frost.
Under the cold, its heart awoke to the Spring season.
Full of wine, sprawling on the alabaster table,
I dream of the ancient poet who could not distinguish
The peach, the cherry and the apricot, except by their
Green leaves and dark branches.
POETRY JOURNAL
Even when you don't feel like writing a poem, you can always journal about one. All you need is a pencil and paper (or a computer, if you prefer to be able to read your own writing).
Read the poem.
Jot down what you notice, what you like, what you don't, what questions you have, and one way in which the poem speaks to your soul.
Read the poem again, aloud (if you didn't the first time).
Is anything bubbling up? Do you feel a poem stirring? If so, write it. If not, congratulate yourself anyway because you wrote today by journaling.
Here's an example I did for "The Purple Peach Tree" – which I discovered in an anthology called Poems About Trees from the Everyman's Library Pocket Poets series, edited by Harry Thomas. Best airport bookstore purchase ever!
I've never heard of this tree, but it sounds similar to Texas' flowering spring trees. On Ash Wednesday, I saw a redbud in full purple buds beside several other still-leafless trees. Was it "half asleep?"
When trees are late to bloom, people are often sick of winter – but the poet reminds us of the beauty of "snow and hoar frost" (just not as beautiful as this tree).
Is the tree "Full of wine, sprawling on the alabaster table" or is the poet? If the tree, then maybe there is still a bit of alabaster snow. If the poet, then maybe the table has a white cloth. Who knows?
The fact that the "ancient poet" distinguished trees not by their flowers or fruit but by their leaves shows careful observation.
I want to write more tree poems, all as grounded in detail as this one.
You can blossom even if you are afraid.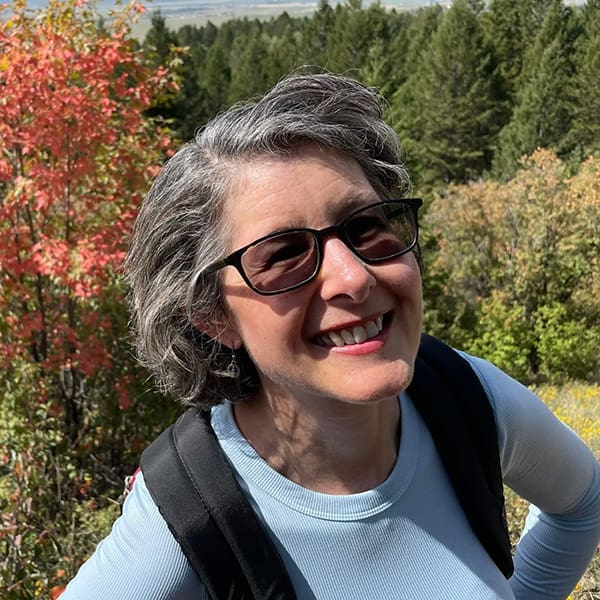 Megan Willome
Chronic Joy® Contributing Writer