Anxious fear brings depression, but a life-giving word of encouragement can do wonders to restore joy to the heart.
(Proverbs 12:25)
ANXIETY AND DEPRESSION TOOLS 
Did you know that Chronic Joy® has developed and curated a wide-range of tools and resources to equip and inspire you to live well and thrive in the midst of anxiety and depression?
Anxiety and depression are part of being human in a fallen and broken world. Rhett Smith, a licensed therapist with a Master of Science in Marital and Family Therapy and a Master in Divinity from Fuller Theological Seminary, writes, "Part of being human is that we get anxious. No human can opt out of experiencing anxiety. It visits all of us at varying times in our lives, and to varying degrees."
Too often, we also feel shame for experiencing these very human emotions. But "[t]here is righteous anxiety," writes Jon Bloom, "like Jesus' in Gethsemane Matthew 26:38-39, Paul's for the churches 2 Corinthians 11:28, and parents' godly concerns over the spiritually dangerous influences their children will face in the world … The Bible gives us warrant to feel anxious concern … What keeps these anxieties from turning sinful is when we, like Jesus and Paul, translate our fear-fueled concerns into prayer requests, weaving them with thanksgiving for graces we've received from God and all the promises he's made to us 2 Peter 1:4, and give them over to God."
ANXIETY CAN MOVE US TO BE MORE LIKE CHRIST
Bloom continues, "Instead of adding shame to already challenging emotions, we begin to ask, 'What are you up to, God? What is it You are wanting to teach me? Where are you in my anxiety and depression?'"
Because if these are God-given, Biblically-experienced, human emotions like anger or joy or excitement, doesn't that mean they ultimately have a distinct purpose in our lives?
Josh Weidmann writes, "… our anxiety can actually move us to be more like Christ—growing us in dependence on God and helping us relinquish our will and yield to his … God is not the author of anxiety, but he is sovereign over it. If my stress and fear push me closer to Christ, I'll relish the fact that God loves me enough to use my anxiety to draw me closer to him."
ANXIETY AND DEPRESSION QUESTIONS
What if the question is: Who do we trust?
What if anxiety and depression are the very things that draw us into closer relationship with God and greater dependence on Him? And what if anxiety and depression are what actually cultivate a deep and abiding trust God?
Is it possible that God is drawing us back to Himself through our anxiety and depression?
While there are no easy answers to these questions, Chronic Joy's practical, easy-to-use, faith-based resources are a life-giving first step. May they encourage you as you continue your journey seeking to thrive in the midst of anxiety and depression.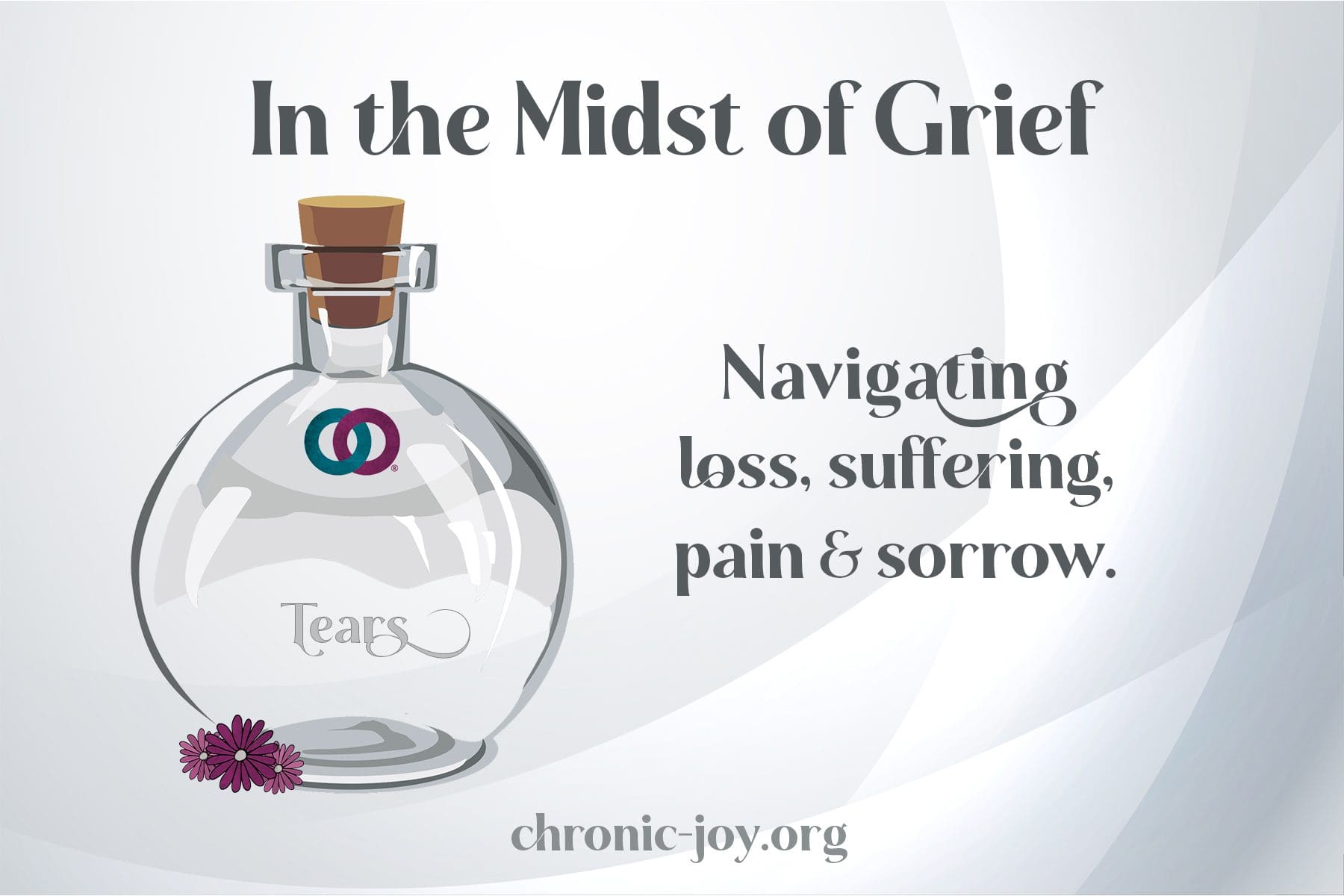 In the Midst of Grief
Navigating loss, suffering, pain and sorrow.
Grief is no stranger to those of us affected by chronic illness, pain, and suffering. While there are no rules for grieving chronic loss, there is a road map and there are fellow travelers ahead and behind us on the journey. Grief often precedes growth.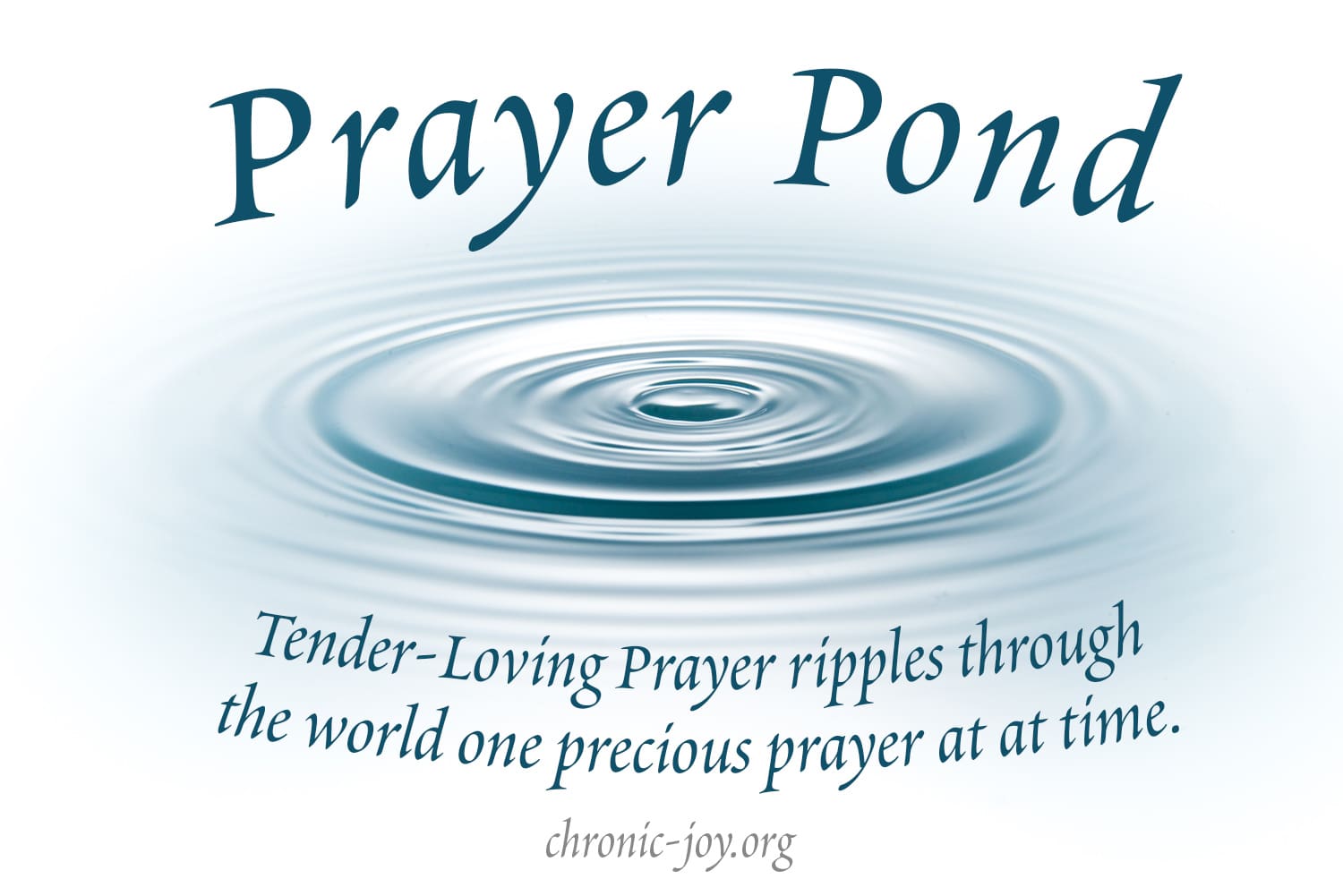 Prayer Pond
You're invited to the Prayer Pond, your safe harbor. This is where you can share your prayer requests, updates, and shouts of praise. Whether a request, praise, lament, suffering, loss, hope, grief, or joy, each prayer ripples far beyond this day and the boundaries of our world. #PrayItForward by praying for others.
Awareness
Chronic illness, mental illness, chronic pain, disability, and caring for a loved one with illness impacts every aspect of life – faith, families, finances, friendships, education, hobbies, employment and marriage.