INTRODUCING AUDIO BLOGS
We're excited to be stepping into audio to make our resources more accessible and inclusive. At a time when our world feels even more isolated and lonely, listening to a real voice read the words of a post might be the only voice someone hears that day. As we record the posts, you'll notice a sound symbol at the top of the page. Just click and listen! 
VOICES OF CHRONIC JOY
The Voices of Chronic Joy are a dynamic, compassionate, and caring community of volunteers who felt the gentle nudge of God and stepped in. They invest their time and talents in this exciting and deeply needed offering of audio blogs. Whether visually impaired, struggling with exhaustion and fatigue, or simply needing to hear a real voice to break up the quiet of your day, we pray that audio blesses and encourages you. In addition to audio blogs, we plan to add audio to many of our webpages in the coming months.
Visit chronic-joy.org today to check out our audio blogs. Then check back often to hear what's new. We invite you to Pass It On and invite others to listen too.
YOU GET MAIL!
Besides audio blogs, #PenToPaper is near and dear to Chronic Joy, and a tangible, practical way to encourage one another. From the beginning, we've sent postcards and notes of encouragement to our community. Each packet includes an inspiring flat card, helpful guides, encouraging tips, and blank back flat cards inviting recipients to reach out and #PayItForward with a little #PenToPaper of their own. Mailings are specially designed with our community in mind.
Yearly, we mail more than 5000 packets for men, women, teens, young adults, and children across the United States, United Kingdom, Canada, and even to Australia. Each month, our #PenToPaper grows, and with each mailing, we learn a little bit more.
Did you receive our latest #PenToPaper packet? If not, it's FREE! Sign up today: You Get Mail!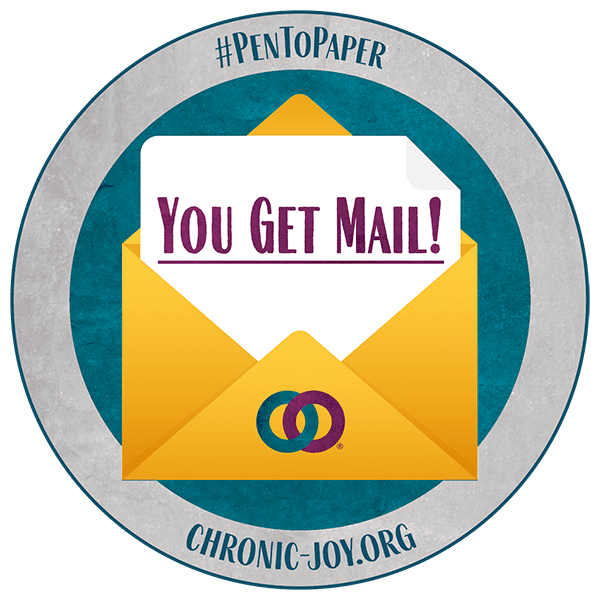 You Get Mail!
Sign up to receive free, professionally designed and printed, old-school, #PenToPaper snail mail throughout the year. When you include your birthdate, we'll send a special mailing to celebrate you! Safe & Secure. Sign-Ups for: Adults, Teens & YA, Children & Tweens.
$6
✨ WHEN YOU GIVE...
SPEAK LIFE each month to one precious person who needs to know they are thought of, cared about, and prayed for with a beautifully designed #PenToPaper snail mail packet.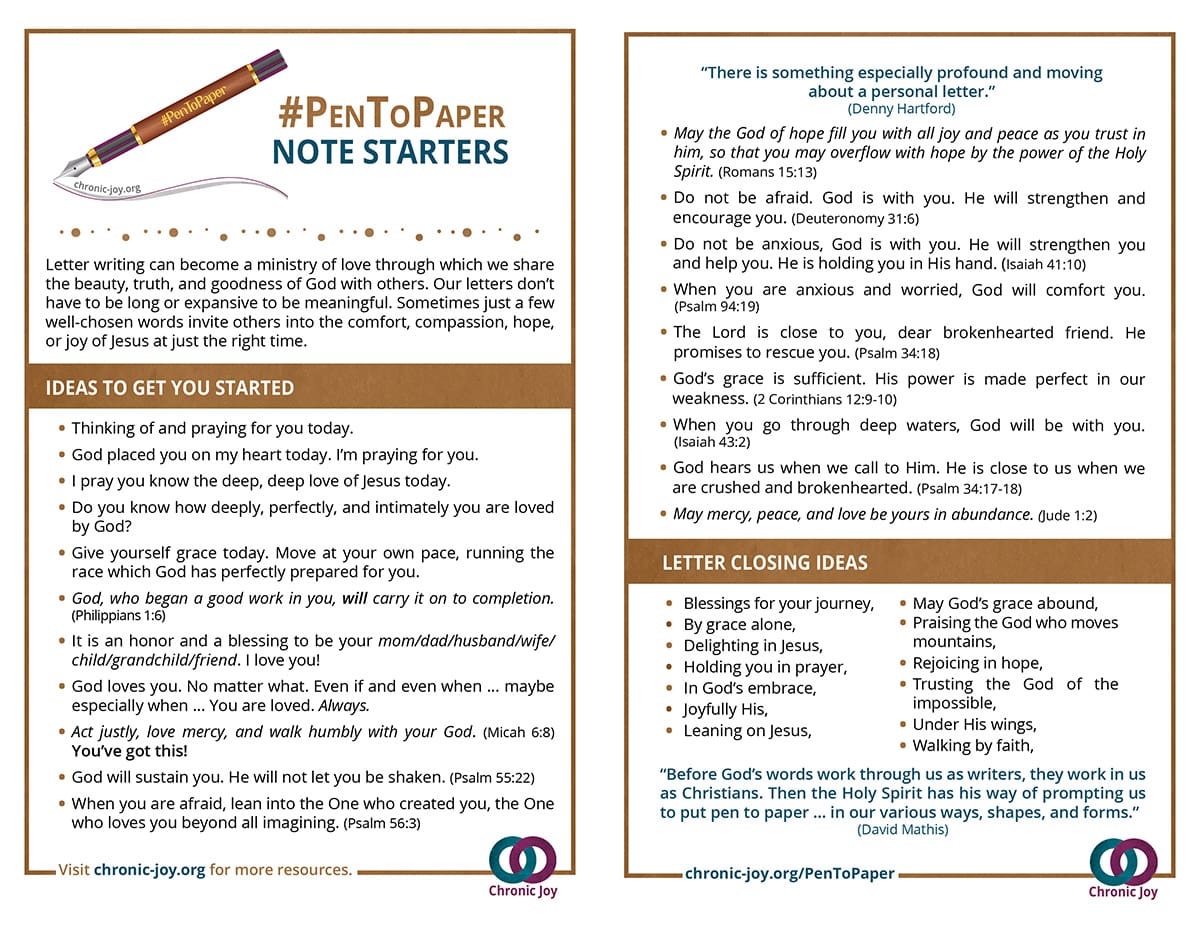 Note Starters
Sometimes all we need to get us started are a few words. Include these short prayers in a notecard or email, or send them in a message or text to a friend or loved one.