LORD OF CREATION
Do you ever feel that this world, our world, is spinning off its axis?
If you have received an email or card mailed to you this month from the Chronic Joy Prayer Pond, you might have received this verse included with your note:
"The Lord of hosts is with us; the God of Jacob is our refuge." (Psalm 46:7)
It is a verse that has been on repeat in my heart through these many weeks of turmoil. While the world seems to be spinning out of control, my health has felt its own version of earthquakes, famine and pestilence. Where is the future in any of this? Are we doomed beyond repair? Are we wounded beyond healing?
No, Scripture has told us that "We are more than conquerors through him that loved us," Romans 8:37 so there must be a refuge for us within our Lord of all the Heavens.
And that is the key. Jesus himself gave us his promise and his perspective, spoken in the very prayers included here this month:
"Father, I want those you have given me to be with me where I am, and to see my glory, the glory you have given me because you loved me before the creation of the world." (John 17:24)
The plans of our Father in Heaven have been set in motion even before the creation of the world. Jesus will bring us, those He loves, into HIS glory. He has shown himself strong for us. We are in this world, our Father's creation, awaiting the fullness that will come through the glory of Jesus.
Will you join us in praying this month? When we are weak, when this creation feels so shaky, He is still our refuge and our strength.
PRAYER #1
He was chosen before the creation of the world, but was revealed in these last times for your sake. (1 Peter 1:20)
Dear Father
Thank You for sending Your son to this world for our sake. Thank You for revealing Him to us, for showing us just how deeply You love us. From before the creation of the world You were planning the way to bring us into Your grace and love. Help us to open our heart to receive You today. Help us to let You draw near to us in these places where we are so needy. We long to love You as You have loved us.
In the name of Your son, Jesus, we pray,
Amen.
PRAYER #2
Lord, be gracious to us; we long for you. Be our strength every morning, our salvation in time of distress. (Isaiah 33:2)
Dear Lord,
Thank You for giving us such precious prayers in the midst of Your own Word that we can offer up to You. Truly, our hearts do long for You. In the places of our distress we are crying out for salvation from You, our only sure help. Thank You that we can cry out for those we love, and ask for YOU to be their strength also. As we face the morning, we are so amazed by Your gracious gifts to us.
In the name of Jesus, we pray,
Amen.​
PRAYER #3
The Son is the image of the invisible God, the firstborn over all creation . . . He is before all things and in Him all things hold together. (Colossians 1:15-17)
Dear Lord Jesus,
Thank You that from the beginning of time, YOU have been over all creation. When we look around this world, we feel so small and insignificant in our homes and our towns. And yet, YOU are the one holding all things together, even our very lives. Help us to see the value that You have placed upon us. Help us to know that every prayer matters to You. We worship You, our holy Lord.
In the name of our Lord Jesus we pray,
Amen.​
PRAYER #4
Father, I want those you have given me to be with me where I am, and to see my glory, the glory you have given me because you loved me before the of the world. (John 17:24)
Dear Lord Jesus,
Thank You for praying for us and for asking the Father to bring us to be with You. Thank You for making the way open so that we could see Your amazing glory. Oh Jesus, what an awesome thought: You want us to know the very love that You and Your Father shared before the world was created. Remind us of the depth of Your prayers, even as we are praying for our loved ones. Help us to embrace Your glory and Your presence among us today.
In Your name we pray,
Amen.
Bettie Gilbert
Chronic Joy Contributing Writer
You can find Bettie blogging from her home in the far north suburbs of Chicago at bettiegsraseasons.com. She is walking forward with Jesus in the middle of her pain and weakness from multiple chronic illnesses. The beauty of nature as well as her family (including nine young grandchildren) are Bettie's joys. She and her husband have been married for over 40 years and take great delight in their weekend coffee breaks together.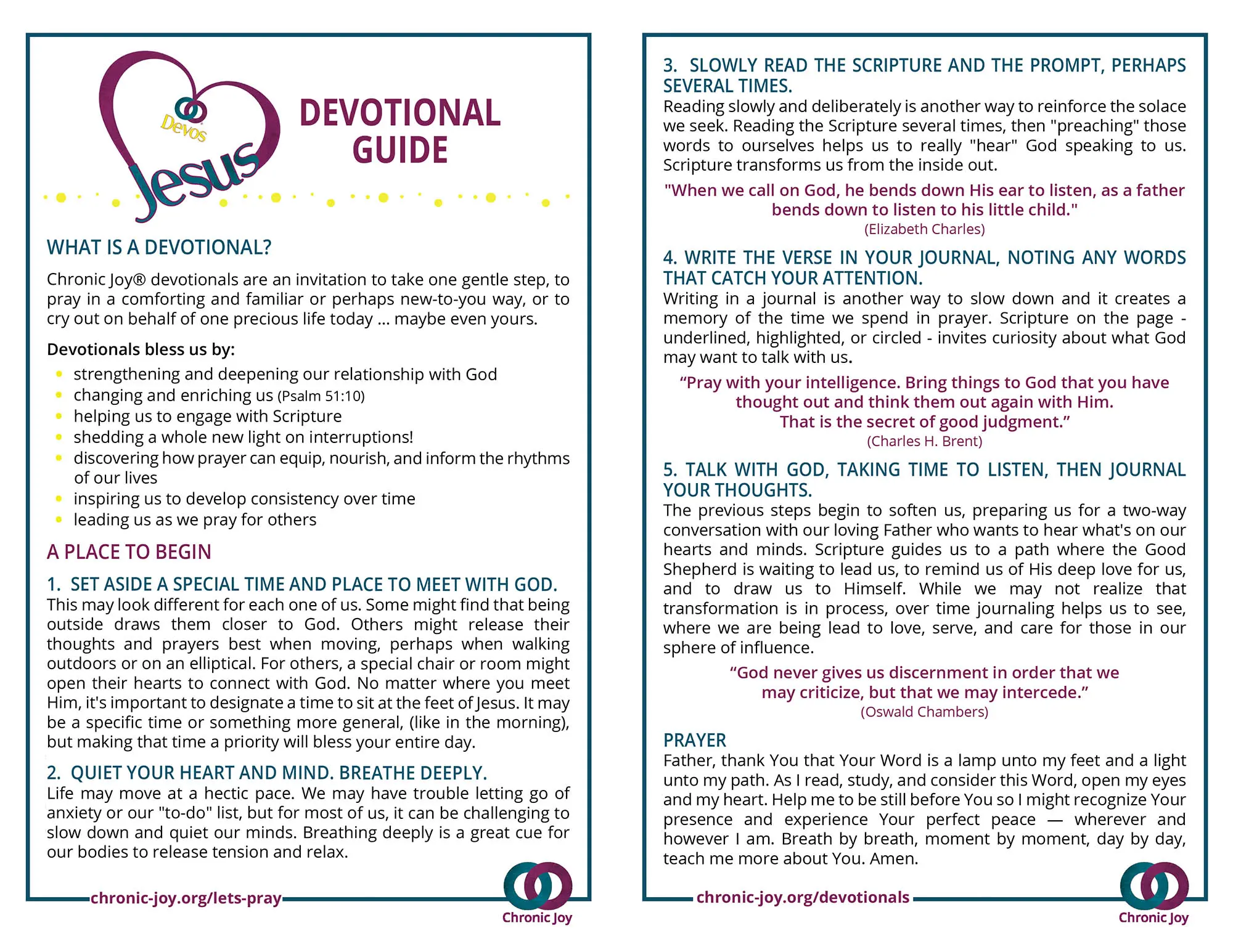 Devotional Guide
Chronic Joy® devotionals are an invitation to take one gentle step, to pray in a comforting and familiar or perhaps new-to-you way, or to cry out on behalf of one precious life today … maybe even yours.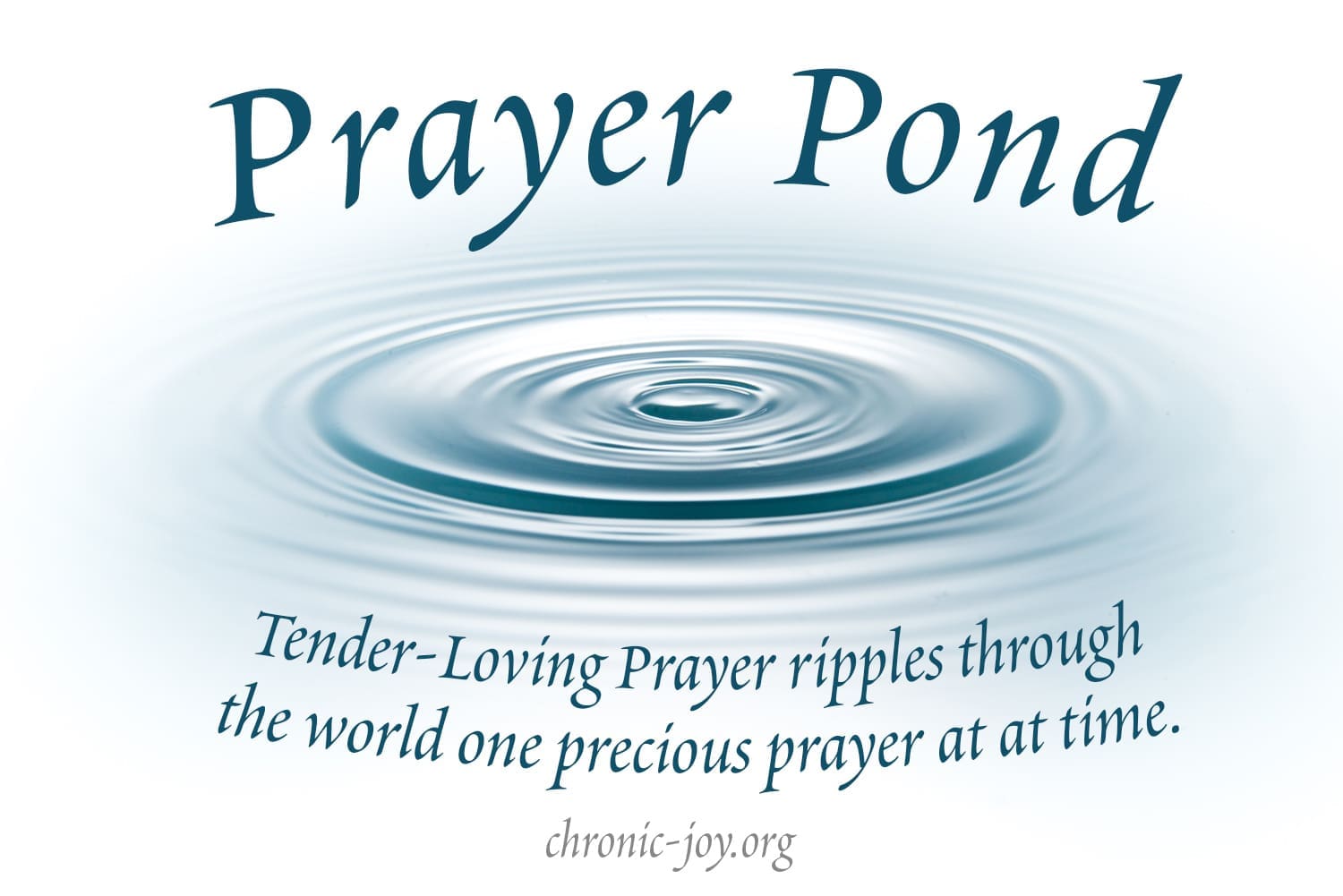 Prayer Pond
You're invited to the Prayer Pond, your safe harbor. This is where you can share your prayer requests, updates, and shouts of praise. Whether a request, praise, lament, suffering, loss, hope, grief, or joy, each prayer ripples far beyond this day and the boundaries of our world. #PrayItForward by praying for others.