​
COLORS AFFECT EMOTIONS
COVID restrictions have kept us home, no visitors allowed. Prairie winter snow and deep freeze temperatures removed the option of outdoor activities. Other than my husband's three days each week at work in essential agricultural retail, we are inside. He decided it was a good time to paint the interior of the house.
I have been feathering this nest since we moved in August 2019. Now those feathers are changing color. I have chosen blues and aquas, shades of the seas and skies. The tones surround me with a cocoon of comfort, taming anxiety, opening a way to sink into much-needed peace.
WE ASSOCIATE COLORS WITH FEELINGS
How often have you heard people talk about feeling "blue" or being so angry they "saw red"?
John Sterling said, "Colors answer feeling in man; shapes answer thought, and motion answers will."
Colors have often stirred poets as these poems from Robert Frost and Wallace Stevens show:
Robert Frost: Nothing Gold Can Stay
Nature's first green is gold,
Her hardest hue to hold.
Her early leaf's a flower;
But only so an hour.
Then leaf subsides to leaf.
So Eden sank to grief,
So dawn goes down to day.
Nothing gold can stay.
Wallace Stevens: Disillusionment of Ten o'Clock
The houses are haunted
By white night-gowns.
None are green,
Or purple with green rings,
Or green with yellow rings,
Or yellow with blue rings.
None of them are strange,
With socks of lace
And beaded ceintures.
People are not going
To dream of baboons and periwinkles.
Only, here and there, an old sailor,
Drunk and asleep in his boots,
Catches tigers
In red weather.
THINK ABOUT HOW COLORS AFFECT EMOTIONS
This month I'd like you to think about how colors affect or describe your emotions. You might want to explore what color might sound or taste like. You might even like to try to write an acrostic poem, with each line starting with the first letter of a chosen color, as I did in the three short poems below.
Blue
bring back days of
less turmoil, more peace
unusual calm, adrift
every night in waves of blue
Yellow
yearning for tranquility
even as these yellow walls
leave me set on edge, a
live wire twitching
over-stimulated
waiting for rest
Green
growth comes
right on schedule
every time
even when in our impatience we
never see His plans
YOUR TURN: HOW DO COLORS AFFECT YOUR EMOTIONS?
Take some time to be still. You can look at color with your eyes wide open or closed in imagination. Allow your thoughts to wander. Write what you see and/or what you feel. We'd love for you to share where this prompt led you.
SUBMISSION GUIDELINES
You can view our Submission Guidelines here. When submitting a poem, please complete the release form on our Permissions page. Along with your release form (and your submission, of course), include a brief bio and headshot as well as links to your website and social media.
We look forward to reading your poems!
Karin Fendick
Chronic Joy® Staff Writer and Prayer Team
Karin is a handmaiden of the Lord, saved by grace, a worshiper, a poet, a broken heart, a lover of words, His work in progress on the Potter's wheel. She is hungry for truth and amazed by love. After five years in Africa, Karin and Rick (her beloved husband of twenty years), are back in rural Canada where chronic pain drives her to the feet of Jesus. She is powered by prayer, love, and many cups of strong coffee. She is the author of From Ashes to Glory (A Psalm a Day).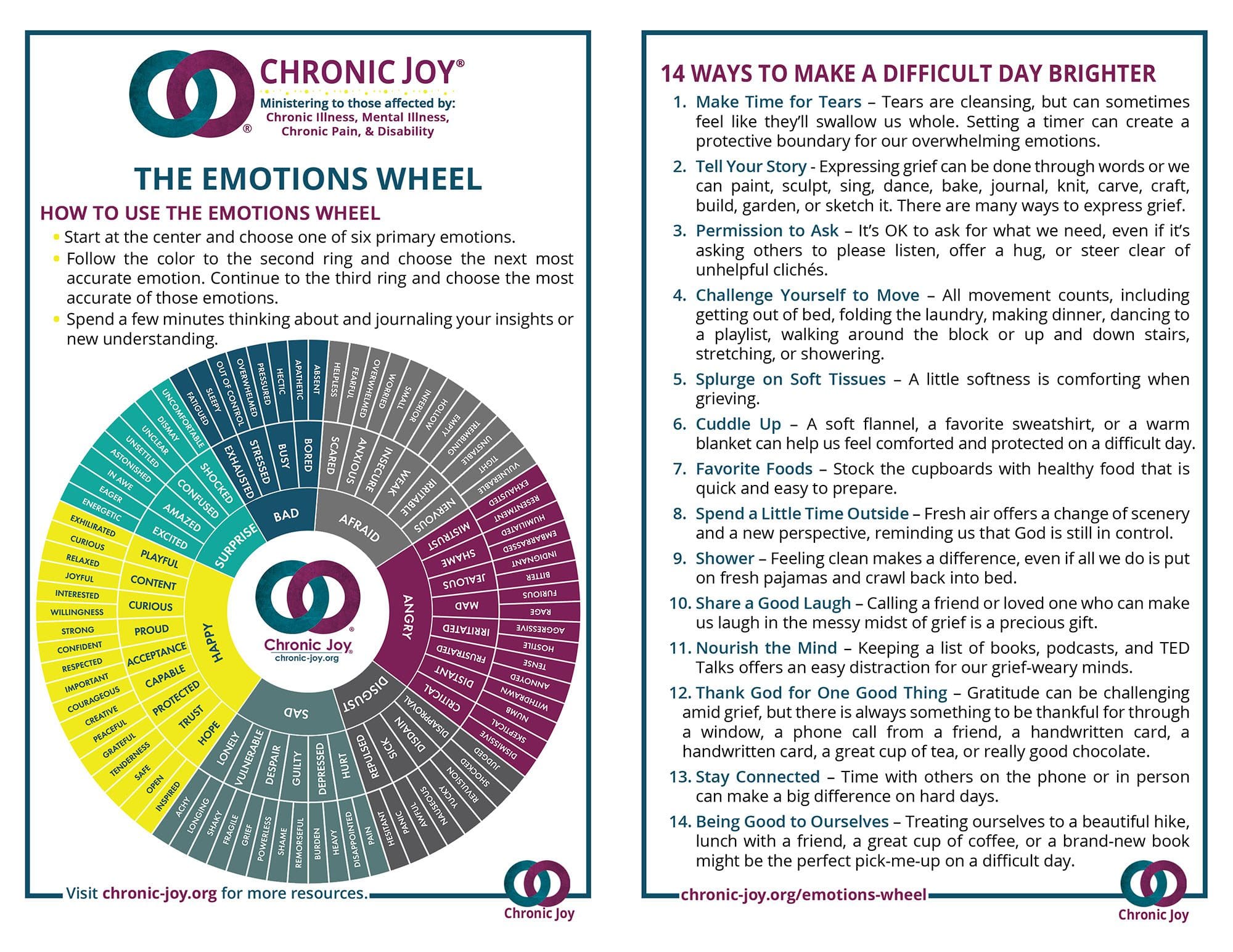 Emotions Wheel
God created us with a complex range of emotions which can be difficult to identify and explain. The Emotions Wheel is a tool designed to grow our emotional intelligence, thus strengthening our relationship with God as well as our compassion and empathy for others.