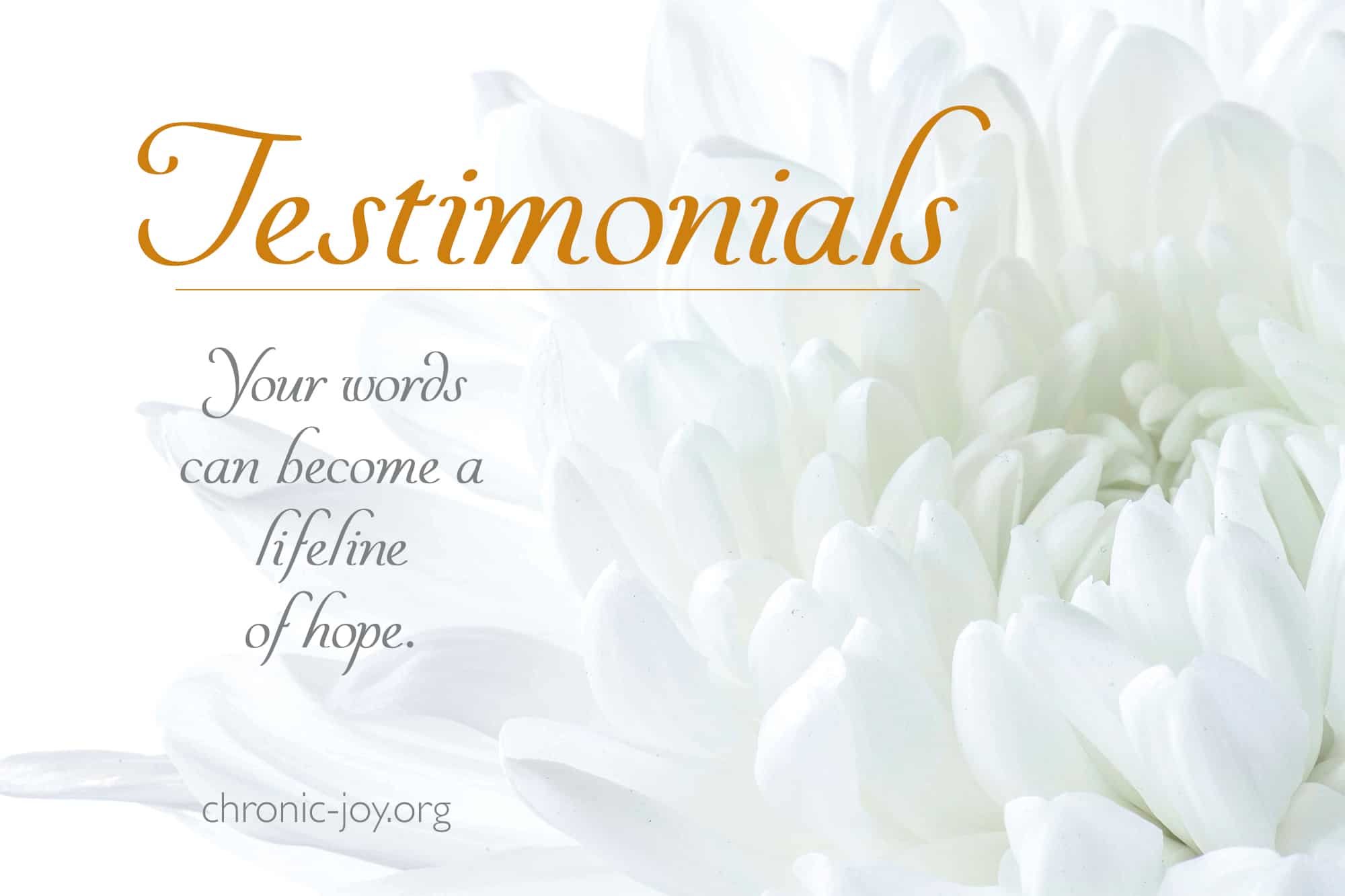 Testimonials
Your words can become a lifeline of hope.
Your words can be a lifeline of hope for all of us on this challenging journey through chronic illness. Has Chronic Joy® made a difference? Let us know — and extend a lifeline to someone today!
"… grab the promised hope with both hands and never let go. It's an unbreakable spiritual lifeline, reaching … right to the very presence of God where Jesus, running on ahead of us, has taken up his permanent post as high priest for us …" (Hebrews 6:18-19)
Your words matter. This journey through chronic illness is difficult, isolating, and lonely. We need one another. Your words could change the trajectory of someone's life today. Be a lifeline.
Tell us:
How Chronic Joy® has ministered to you
Where you've found hope
How you've learned to serve
Why you give
The resources you love
How you've been touched by prayer
Where you've experienced the life-giving love of Jesus
Hebrews 6:18-19 reminds us to "grab the promised hope with both hands and never let go. "
Why? "It's an unbreakable spiritual lifeline, reaching … right to the very presence of God …"
There is no better way to love one another than to share your precious story of hope with one another – to be the Body of Christ here on earth.
Your story matters. Let your words become a lifeline of hope today.
How has Chronic Joy blessed
you?
I really have no words to express how I feel about your ministry and the kind words that you have sent to my sons.  I am sharing your ministry with so many people who truly need the encouragement and support that you provide and share so freely.
Thanks so much for the wonderful birthday card, blessings and prayers.
I just wanted to get in touch to say thank you so much for sending me some more beautiful cards which I have already used to bless others. I live in the UK so I am so thankful that you send these to me and they bring me great joy along with information you include. May God bless you all, working tirelessly to help people disabled like me.
I wanted to first thank you so much for the joy and peace you have brought me as I get back on my feet with chronic illness. I wanted to let you know your love and kindness has meant so much to me.
I was part of the living hope conference [Diamonds 2019] and [Pamela] your sessions were awesome. You have a gift for speaking and I was sad when your session time was up! Thanks for being a blessing.
Thank you so…so…much for all you are doing. We [ Stoney Church] are so excited about this opportunity to study Jesus' words in such a dynamic way [Chronic Joy Thrive Series]. I pray God will bless this outreach.
In short, I simply cannot find words to adequately express my gratitude to Jesus, to you, and to your your ministry.  We truly are blessed abundantly!
I have lived with chronic pain for many years. With our Lords love and through your ministry, I am very 'hopeful' about my future. I will continue to follow your website and pray for those individuals who live with chronic pain.
Our daughter leaned to me during your presentation and whispered how you used all the words we do to describe her days. Her tears came from the point when you talked about being a burden. She so connected with that even though we reassure her that she is never a burden; it is still hard not to feel that way. … We really appreciate that you stood in front of so many and gave a face and words to invisible chronic illness.
I just found you on Twitter today, and am so thankful for God dropping your information in my lap.
This ministry inspired me to create a small group ministry in my church for chronic illness and caregivers. And now I'm in seminary!
I know I am not on my own, that people are here for me, that people understand and care!
You might wonder why I am requesting books [Discovering Hope]. Because surely I want to help my people who are suffering for information in Kenya. … I thank God because I have received the books and I promise that I am going to use them and help my people.