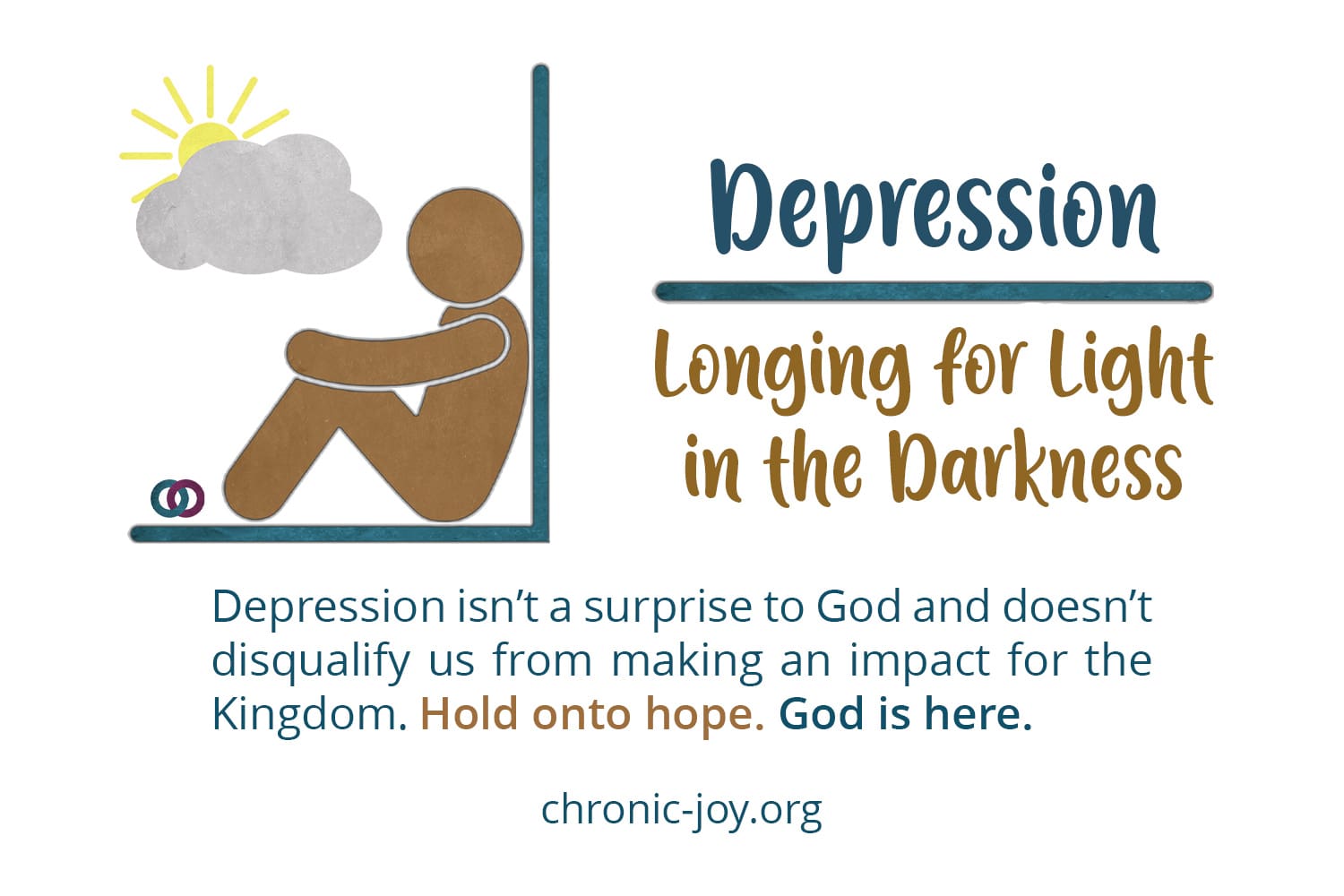 Depression Practical Tools
Longing for light in the darkness. 
Depression isn't a surprise to God and doesn't disqualify us from making an impact for the Kingdom. Hold onto hope. God is here.
HOW TO SEEK LIGHT IN THE MIDST OF DEPRESSION
Who do we trust?
What if depression is what draws us into closer relationship with God and greater dependence on Him? And what if depression helps us cultivate a deep and abiding trust God?
Is it possible that God is drawing us to Himself through our depression?
While there are no easy answers to these questions, Chronic Joy's practical, easy-to-use, faith-based resources are a life-giving first step. May they encourage you as you continue your journey. There is hope. There is always hope.
DEPRESSION PRACTICAL TOOLS • FREE PRINTABLES
Depression Self-Care Action Plan
Depression can make it difficult to practice and implement healthy self-care. Building an Action Plan gives you quick concrete steps each day.
Build An Ebenezer
Remembering God's Faithfulness
God's people built Ebenezers, touchstones of help, to anchor them in truth in the midst of frightening, painful, difficult, or challenging circumstances.
Depression Self-Care Action Plan
Depression can make it difficult to practice and implement healthy self-care. Building an Action Plan gives you quick concrete steps each day.
DEPRESSION PRACTICAL TOOLS: 3 THINGS TO REMEMBER 
1.  FAITH IS NOT A FEELING
Depression often makes us question whether or not God is faithful. Yet even when we cannot feel His Presence, even when we doubt His love, or question His faithfulness, God remains steadfast and true.
"If we are unfaithful, He remains faithful, for He is not able to deny Himself.!" (2 Timothy 2:13)
2. REMIND YOURSELF OF WHAT IS TRUE
Depression can make it difficult to think straight. Reminding ourselves of what is real and what is true gives us solid ground to stand on.
"Finally, brothers and sisters, fill your minds with beauty and truth. Meditate on whatever is honorable, whatever is right, whatever is pure, whatever is lovely, whatever is good, whatever is virtuous and praiseworthy." (Philippians 4:8)
3.  SPEND TEN MINUTES A DAY IN NATURE
There are so many benefits of stepping out into creation:
Decreased cortisol levels
Increased self-esteem
Decreased depression
Increased serotonin levels
Decreased stress
Increased mental focus
Increased desire to interact with others
"But ask the beasts, and they will teach you; the birds of the heavens, and they will tell you; or the bushes of the earth, and they will teach you; and the fish of the sea will declare to you. Who among all these does not know that the hand of the Lord has done this? In his hand is the life of every living thing and the breath of all mankind. (Job 12:7-10)
7 WAYS TO HELP A LOVED ONE
1.  LISTEN WITHOUT OFFERING ADVICE
"There is a time to be silent and a time to speak." (Ecclesiastes 3:7b)
 
2.  OFFER YOUR HELP IN SPECIFIC WAYS
Such as: "I'm at the grocery store. Is there anything I can pick up for you?" or "I know things are overwhelming right now, what can I take off your to-do list?"
"… serve one another humbly in love." (Galatians 5:13)
 
3. RESEARCH CARE AND SUPPORT OPTIONS
Help your friend create a list of mental health providers, support groups, books, websites, and podcasts. Offer to help your loved one navigate insurance, fill out medical forms, and schedule appointments.
 "Carry each others burdens, and in this way you will fulfill the law of Christ." (Galatians 6:2)
4.  KEEP INVITING YOUR FRIENDS AND LOVED ONES
Remind them that it's OK if they have to cancel at the last minute. Tell them that you care and that you're not going anywhere.
"Therefore, my beloved brothers and sisters, be firm, immovable, always excelling in the work of the Lord, knowing that your labor is not in vain in the Lord." (1 Corinthians 15:58)
5.  CREATE A LIST OF EMERGENCY CONTACTS
Create a list of crisis hotlines, emergency response services, and friends or loved ones who will answer a call day or night. Hang it in a prominent and visually-accessible place — and make a copy for yourself.
"When you go through deep waters, I will be with you. When you go through rivers of difficulty, you will not drown. When you walk through the fire of oppression, you will not be burned up; the flames will not consume you." (Isaiah 43:2)
6.  ENCOURAGE YOUR FRIEND OR LOVED ONE
Send an "I'm thinking of you!" email. Call or text every few days. Remind them in many ways of how much they matter and how much you care.
"The eternal God is your refuge, and underneath are the everlasting arms." (Deuteronomy 33:27)
7.  INVITE YOUR LOVED ONE TO DEVELOP A DEPRESSION SELF-CARE ACTION PLAN
Help them identify and practice healthy self-care. Building an action plan provides quick, concrete steps each day. Our free printable makes it easy.
THE MOST IMPORTANT THINGS TO REMEMBER
You matter.
God is here, present in every moment, every heartbeat, and every breath. He always graciously gives us enough light for the very next step.
We long for light in the darkness — and the Light of the world is here, Immanuel, "God with us."
Joy is here too, tucked into every difficult, numb, overwhelming, and aching moment of darkness, just waiting to be discovered.
Lastly, Sarah Robinson writes, "[God] isn't afraid of my depression. He doesn't shrink from the darkness. God doesn't lose patience with my pain." 
TAKE CARE OF YOU
It can be difficult to see the light when our days seem filled with darkness. Sometimes it means taking small steps and choosing to believe that light exists even when we cannot see it. While self-care may not seem important to us, it is important to God. We are important to God.
GOD'S FAITHFULNESS
God is in this hard, lonely place with us. Remembering His faithfulness and prayerfully looking back, asking Him to show us where His care and provision brought His hope or made a way, can sustain us when our hope is running thin.
PRACTICAL TOOLS • ADDITONAL RESOURCES
Discover meaningful ways to express the darkness and despondency that are hiding the light you long to see and feel. Often when we write our story in creative ways it can provide insights and hope that we may have otherwise missed.
Dear Loving Father,
Right now, despair envelops me. Hopelessness makes me think I'll never smile or be happy again. It's as if there is a high humidity in my heart that leaves me gasping for breath, sapping my energy, draining me of motivation for things I normally enjoy. I'm stumbling in the dark, afraid I'll fall, without anything to light my path. I'd have to stand on tiptoe and reach way up just to touch bottom —
…. but I still believe in You, Father, or else I wouldn't voice these feelings to You.
Penetrate my darkness with Your light. Eclipse my weakness with Your strength. Replace my pessimism with joy and with a deeper trust in You that generates hope for the future. Keep reminding me of who You are, what You have done for me in the past, and what You have promised for my future —
… and somehow, please redeem this pain.
Use it to wean me of self-sufficiency so I serve You in a way that can only be explained by the words, "God did it!" Let others see Your power working in, for, and through me so You, rather than I, get the credit for anything I might accomplish.
Father, I have nowhere to look but up — show me why that is a great place to be. In Jesus' name, Amen.