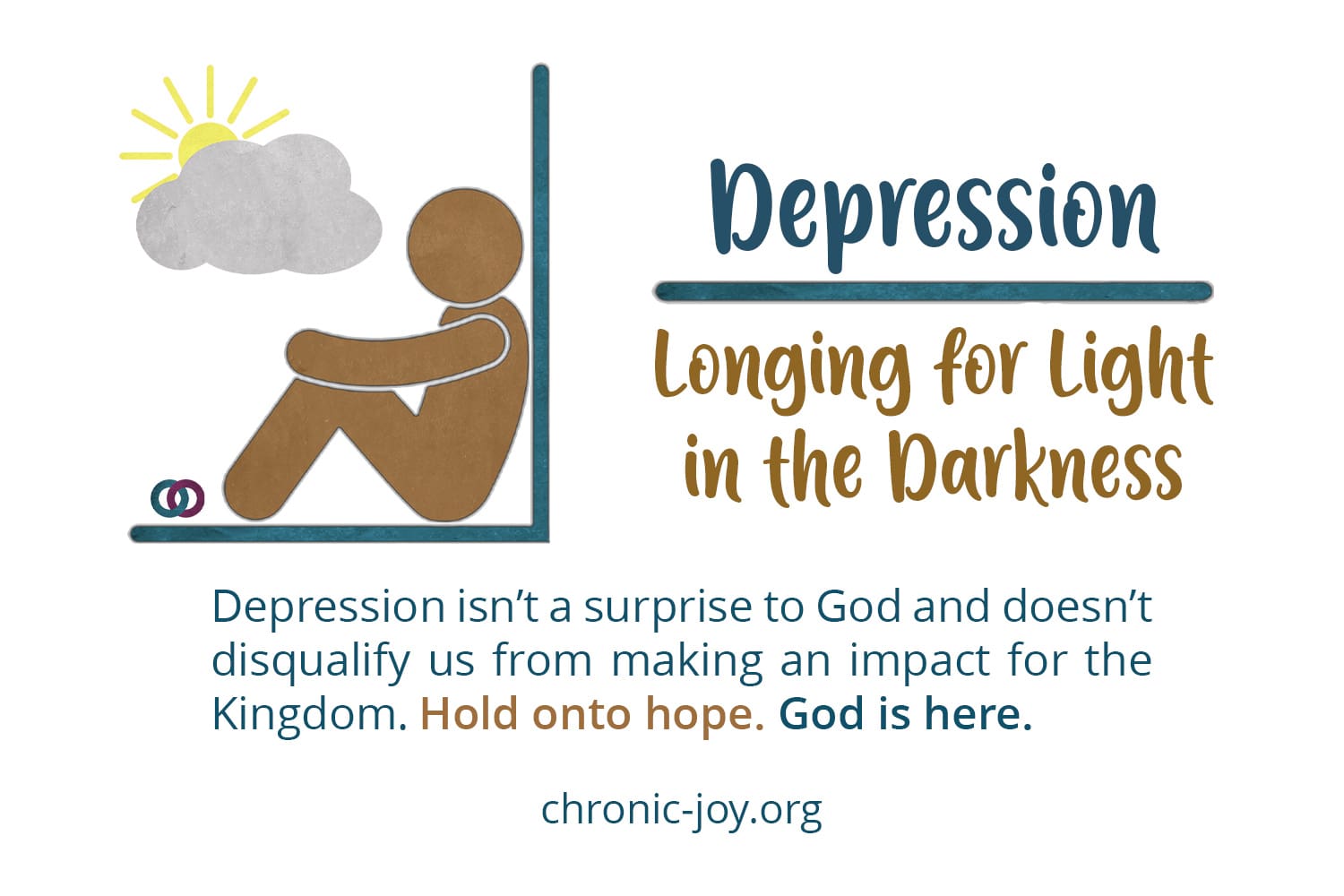 Depression Posts, Books & More
Longing for light in the darkness. 
Depression isn't a surprise to God and doesn't disqualify us from making an impact for the Kingdom. Hold onto hope. God is here.
Depression Self-Care Action Plan
Depression can make it difficult to practice healthy self-care. Building an Action Plan gives you quick, doable steps each day.
In this journey of loving someone with depression, if there's one thing I'd leave you with, it is this: never stop looking for beauty.
Spurgeon's Sorrows: Realistic Hope for those who Suffer from Depression
Zack Eswine
Fresh insights about Charles Spurgeon's recurring battles with depression and the remedies that sustained the great 19th century British preacher.
Spurgeon is quoted concerning the nature and complexity of depression, and strategies for relieving it that he found helpful. The author uses Spurgeon to show how God's Word sustains in the midst of depression.
When the Darkness Will Not Lift: Doing What We Can While We Wait for God–and Joy
John Piper
Even the most faithful, focused Christians can encounter periods of depression and spiritual darkness when joy seems to stay just out of reach. It can happen because of distressing circumstances or hereditary and other physical causes.
John Piper aims to give some comfort and guidance to those experiencing spiritual darkness. Readers will gain insight into the physical side of depression and spiritual darkness and what it means to wait on the Lord in a time of darkness.
The Amazon buttons are affiliate links, which means if you click on the link and purchase the item, Chronic Joy will receive an affiliate commission.
Dear Loving Father,
Right now, despair envelops me. Hopelessness makes me think I'll never smile or be happy again. It's as if there is a high humidity in my heart that leaves me gasping for breath, sapping my energy, draining me of motivation for things I normally enjoy. I'm stumbling in the dark, afraid I'll fall, without anything to light my path. I'd have to stand on tiptoe and reach way up just to touch bottom —
…. but I still believe in You, Father, or else I wouldn't voice these feelings to You.
Penetrate my darkness with Your light. Eclipse my weakness with Your strength. Replace my pessimism with joy and with a deeper trust in You that generates hope for the future. Keep reminding me of who You are, what You have done for me in the past, and what You have promised for my future —
… and somehow, please redeem this pain.
Use it to wean me of self-sufficiency so I serve You in a way that can only be explained by the words, "God did it!" Let others see Your power working in, for, and through me so You, rather than I, get the credit for anything I might accomplish.
Father, I have nowhere to look but up — show me why that is a great place to be. In Jesus' name, Amen.
Even More
Discover meaningful ways to express the darkness and despondency that are hiding the light you long to see and feel. Often when we write our story in creative ways it can provide insights and hope that we may have otherwise missed.