CRAFTS, YARN ARTS & MORE
Creativity is engaging with God at the intersection of faith and vulnerability.
Creativity is an act of courageous vulnerability, intentional noticing, and patiently listening as we explore God's extraordinary call to create.
CREATIVITY & VULNERABILITY ARE TWO SIDES OF THE SAME COIN
"There is nothing much more vulnerable than sharing your creative gifts with the world …" (Angela Winter)
Creativity is an invitation to take off our masks, climb over our protective walls, open our clenched fists, and bravely show up. It is especially so when we feel that we have nothing to offer or little control over the outcome.
Bravely showing up is astonishingly vulnerable and wildly creative, and it often blossoms into fresh opportunities for prayer.
"The nature of God's Spirit is to create. Making us in His image, the Creator placed creativity within us …" (Juliet Adekambi)
WHAT IF, instead of focusing on specific or desired outcomes, we intentionally stepped into creativity? Could we express our loss, hope, pain, joy, faith, prayer, illness, and grief in courageous and Spirit-led ways?
TO CREATE IS TO NAME
"To love is to call by name, and so open wide the gates of creativity." (Madeleine L'Engle)
In Genesis 2:19, God brought every animal of the field and every bird of the air to Adam to name. To name is to recognize the enigmatic creativity of God.
Naming is personal, intentional, and deeply respectful of dignity.
In the beginning, God created … (Genesis 1:1)
A PRAYER FOR CREATING
Creator God, thank you for every detail of creation and every neural impulse – for every hue and shade and vibration, every texture and scent. Thank you for seasons and cycles, for ecosystems and astronomy.
You make, so we make.
There are so many incredibly talented people in the world. Who am I? What are You calling me to try? How are You calling me to step out in faith?
How am I called to create?
Make me a vessel, Lord. Shield my heart from the lies of comparison and teach me to steward well this precious gift of time. Use my hands, my feet, my words, my voice, and my mind for Your glory, Lord. Amen.
A PRAYER FOR ARTISTS
Bless the creators, O God of creation,
who by their gifts make the world
a more joyful and beautiful realm.
Through their labors
they teach us to see more clearly
the truth around us.
In their inspiration
they call forth wonder and awe
in our own living.
In their hope and vision
they remind us
that life is holy.
Bless all who create in your image,
O God of creation.
Pour your Spirit upon them
that their hearts may sing
and their works be fulfilling.
Amen.
Simple Crochet Bookmarks
Would you like a quick project to bless someone and use up those bits of yarn left after bigger projects? Try these simple bookmark patterns: Heartfelt Windows and Flowers Abloom!
Dancing Diamonds
Using four basic stitches, you can crochet this lovely face cloth in an hour or so. Crocheting is relaxing and brings joy as you see your creation take shape.
Cheerful Carousel
Crocheted in the round, this easy face cloth takes less than an hour of your time. Think of how the recipient will enjoy your creation and give thanks.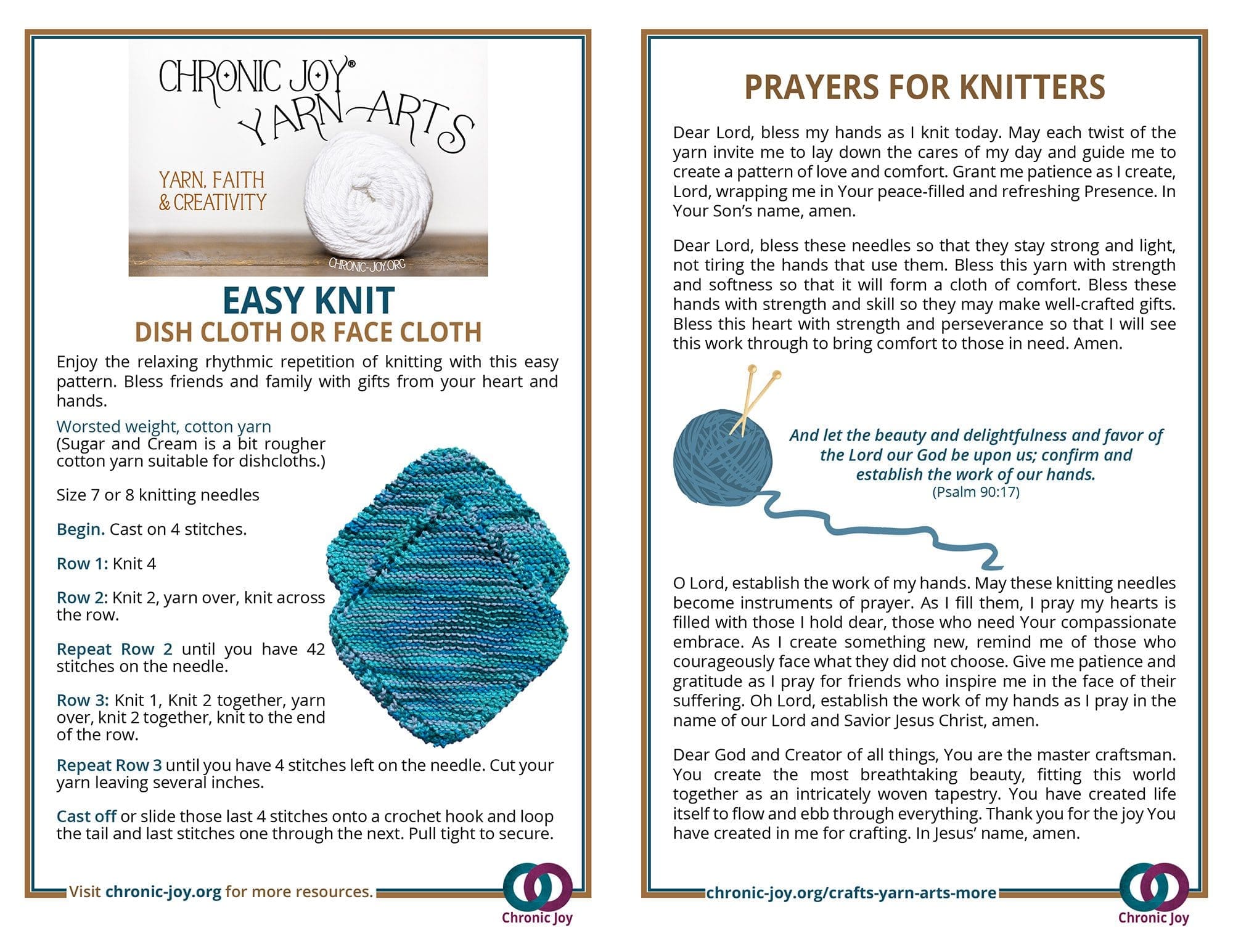 Easy Knit Dish Cloth or Face Cloth
Enjoy the relaxing rhythmic repetition of knitting with this easy pattern. Bless friends and family with gifts from your heart and hands.
As we create, we connect with God, our Creator! We get to spend time with Him – a place of peace, and hope, a place where time gets lost.
I thought my creative days were done. My heart soared as I found expression for thoughts and creativity that had felt locked inside.