CHILDREN & TWEENS
Chronic illness impacts millions of children worldwide.
A chronically ill child or tween affects each family and every family member differently. Often a child's development, behavior, self-awareness, independence, daily routines, recreational activities, and education are affected, as are those of parents and siblings. Yet illness can also be an unexpected catalyst toward growing compassion and resiliency, and a deeper, more foundational faith.
Our Children's Program grew from a desire to care for our Littles and Tweens in tangible ways. It began with a whimsical notecard and printable stationery designed by one of our Creative Contributors to encourage children who may be hospitalized, homebound, or just having a tough time. Offering a kind word to a child affected by chronic illness reminds them that they are not alone. They are thought of, cared about, and lifted in prayer.
Our CJ Star notecards and stationery are a wonderful opportunity for Littles and Tweens to hand write notes and letters to others who are affected by chronic illness, sharing the kindness and compassion of Jesus. Letter writing is almost a lost art, but through our #PenToPaper program, we hope to rekindle it!
Therefore encourage one another and build each other up, just as in fact you are doing. (1 Thessalonians 5:11)
Our hope is to build helpful and easily accessible resources for parents and children as they climb the challenging mountain of chronic illness, mental illness, chronic pain, and/or disability. Through our Pass It On program we invite you to share books, blogs, podcasts, websites, and other resources that you've found helpful, inspiring, or encouraging.
Children
Be Honest. Be Silly. Be Brave. Be Kind.
Jesus loves you exactly as you are! He loves you when you're honest and when you're kind, when you're sad and when you're tired, and even when you're angry. Jesus loves you exactly as you are, because He made YOU exactly as you are, and He never, ever makes a mistake.
Tween Chronic-lers of Joy
Laugh. Learn. Create. And shine the light of Jesus.
Grab your friends and your siblings, and laugh together, learn together, play together, create together, and get to know Jesus a whole lot better together. Explore new things. Discover fun activities. And learn to live your very best life in the love, truth, and amazing grace of Jesus.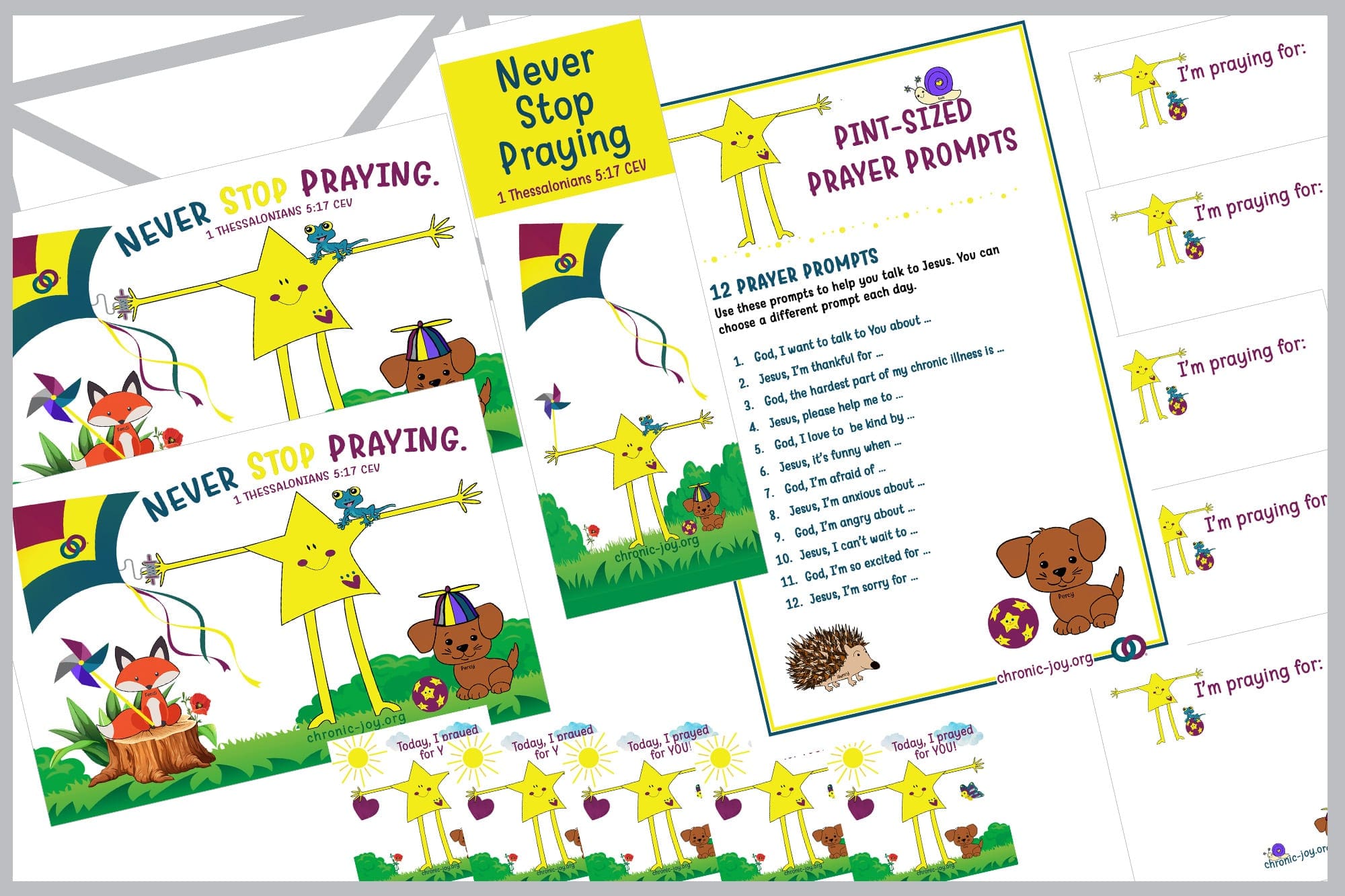 Kids Get Mail!
CJ Star and the Sonshine Squad want kids to know just how much they are loved by Jesus. Bright, engaging characters bring laughter, whimsy, and a bright spot of sunshine to even difficult days. Parents, SIGN-UP your child (and their siblings) today. It's safe and secure.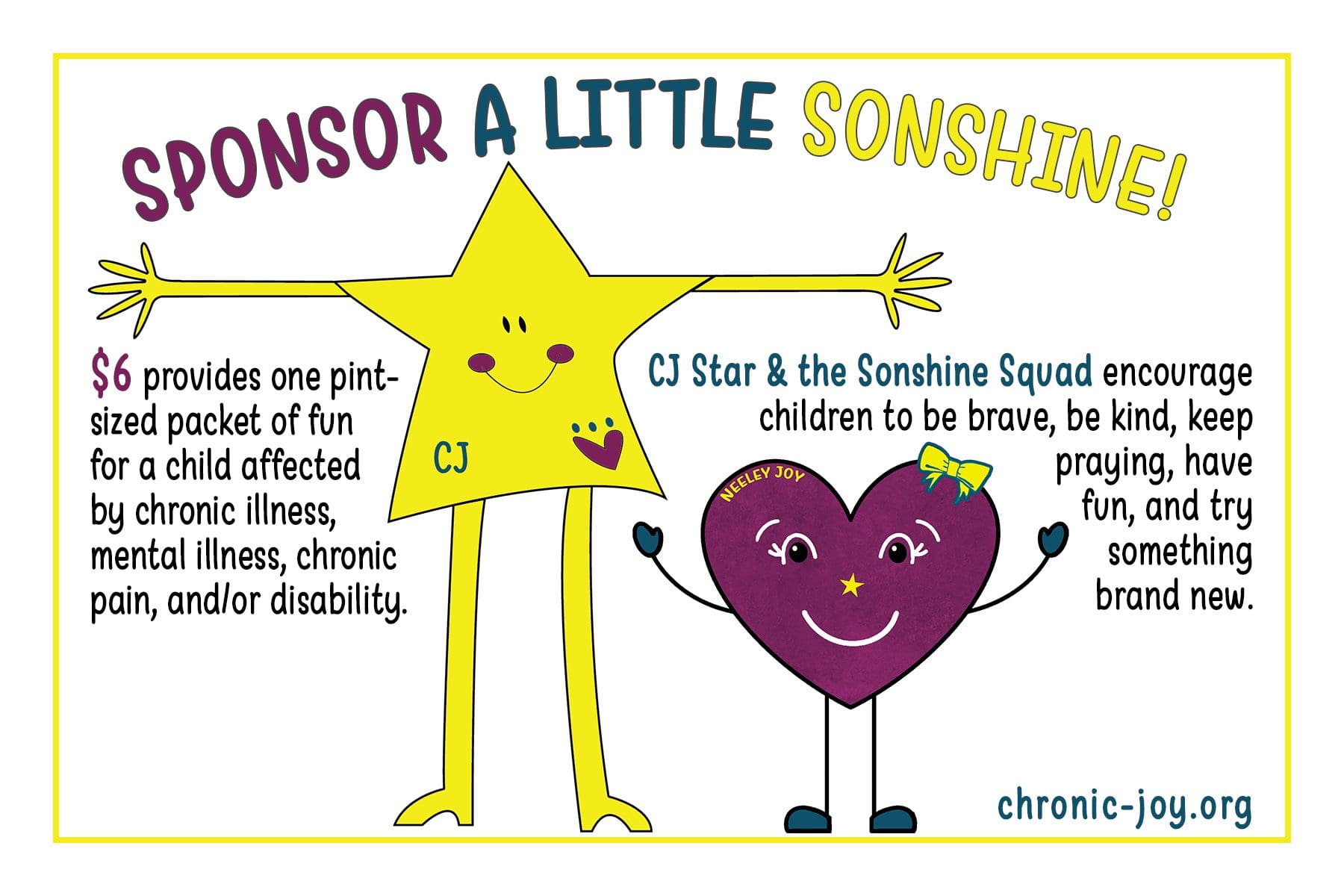 Sponsor A Little Sonshine!
Join Chronic Joy in sending packets of pint-sized fun to kids around the world affected by chronic illness, mental illness, chronic pain, or disability. CJ Star and his winsome Sonshine Squad encourage our Littles to be brave and kind, to have fun, keep praying, and try something new.
⭐️  Donate $6 – One fun-filled envelope for one precious Little
⭐️  Donate $12 – Exciting  and engaging activity sheets
⭐️  Donate $50 – Shareable stickers for our Littles and their friends

Prayer for Children, Tweens & Parents
Chronic illness is hard. Finding and/or being a part of a community when you and/or your children live with chronic illness, mental illness, chronic pain, or disability can be even more challenging.
We invite you to the Prayer Pond, a safe harbor, where you can share your prayer request, praise, lament, suffering, loss, hope, grief, or joy. Each prayer ripples far beyond today and the boundaries of this hurting world.
We often we hear, "Prayer is the least I can do," yet really, prayer is the most we can do … always and in all situations, and every time.