"When it comes to learning the language of prayer, there is no better classroom than the Psalms." (Amanda Bible Williams)
God placed a rich and precious prayer book at the heart of His Word for His people. The Psalms are filled with raw honesty, calm reflection, and deep wisdom – words we can pray to God when we cannot find our own, and words God can speak through when we long to hear His voice.
The Psalms teach us not only what and how to pray, but they invite us into God's Presence just as we are.
5 REASONS TO PRAY THE PSALMS
 1. THE PSALMS TEACH US TO PRAY.
The Psalms are God's Word, given to His People, to be spoken, sung, and prayed back to Him — and they were the prayer book of His Son, Jesus.
"It would not be difficult to arrange all of [the Psalms] according to the petitions of the Lord's Prayer, and thus to show how the Psalter is entirely taken up in the prayer of Jesus." (Dietrich Bonhoeffer)
2. THE PSALMS VOICE THE FULLNESS OF THE HUMAN EXPERIENCE.
The Psalms reveal our deepest hurts and longings, our anxious and angry struggles, hidden shame and guilt, our genuine thanksgiving, and our joyful praise. They teach us what it means to be fully human in an honest, intimate relationship with our powerful, mysterious, and intimately-loving God.
3. THE PSALMS TEACH US TO TRUST GOD.
In the Psalms we see that God is good, faithful, sovereign, and undeniable. Regardless of the outcome, whether our circumstances change or not, God is God and He is in full control.
4. THE PSALMS TRAIN US TO BEAR THE CROSS.
The Psalms "teach and train us to bear the cross … so that the affections which are the bitterest and most severe to our nature, become sweet to us, because they proceed from [Christ]." (John Calvin) 
5. PRAYING THE PSALMS MOVES US FROM ME TO WE. 
Praying the Psalms unites us with one another throughout the world and across time. These sacred words have been spoken, sung, read, and studied millions of times by millions of people in more than 689 languages.
HOW TO PRAY AND WRITE PSALMS
The Psalms articulate the full spectrum of human emotion, and nearly every time and season of life. Almost one third of them are songs of lament, which:
Articulate what is wrong
Speak honestly about what is wanted or needed
Express implicit trust in God and His faithfulness, even when the outcome is unknown, even if the circumstances do not change
Faith doesn't preclude us from wrestling with anguish, illness, anxiety, pain, or suffering. Those emotions can and often do co-exist with worship, joy, laughter, and praise.
THE BOOK OF COMMON PRAYER
The Book of Common Prayer, published in 1892, divides the Psalms into morning Psalms and evening Psalms. Consider praying two Psalms a day for the next five months, one to begin the day and another to complete it.
As you pray through the Psalms, note the verses you connect with. When you're ready to write, pull out your list, and you're all set to write your own psalm.
QUESTIONS TO THINK ABOUT AS YOU PRAY THE PSALMS 
What emotions are you feeling?
What do you want or need from God?
Where have you experienced God's help in the past?
What has caused you pain?
How has God blessed you?
What are you celebrating?
How is your relationship with God?
How are your relationships with others?
What are you grateful for?
HOW TO WRITE A PSALM OF PRAYER
What is your favorite Psalm? Why?
When did you choose it?
What was happening in your life at the time?
Have you ever considered writing your own Psalm?
Howard Vanderwell asks, "If the psalms of Scripture breathe out of the anatomy of the psalmist's soul, as Calvin says, then why can't our own psalms do much the same?"
A PLACE TO BEGIN
Choose a Psalm as your template. If you have a favorite psalm, turn to it. If not, open your Bible to Psalm 61.
Read the Psalm slowly. Savor the words. Notice the phrases. If possible, read it in several translations. (You can read 30 versions at Bible Hub and 223 versions in 73 languages at Bible Gateway.)
Read the Psalm out loud. Listen to the poetry.
Who is speaking?
What is being spoken about?
What do you feel?
Where do you connect with the Psalm?
What words or phrases catch your attention?
Pray about the emotions you feel, your current situation, the people involved, healing, and/or resolution.
Now write your own psalm. Write the first line of your favorite Psalm or of Psalm 61. Personalize it with the details of your current circumstances. Continue line by line until you've completed the Psalm.
Read your personal psalm back to God.
NEED A LITTLE MORE INSPIRATION?
Read Psalm 16 by author Karin Fendick, from her book, From Ashes to Glory: A Psalm a Day.
PSALM 16
You suffered through
all that I can imagine
every tear, drizzle
or deluge
each prick of pain, jagged
sharp and raw
You felt it, carried it
before I noticed
and You whisper low
into my cloud
"come, let's talk about it
I'll take that from you"
why then do I sit reluctant
almost afraid to release what I
never needed
let it go
Your hands far more
capable than mine
What makes the Psalms great for prayer is that they do not hide the truth from God. They give honest voice to what is actually going on in our minds and hearts. Rev. Ron Rolheiser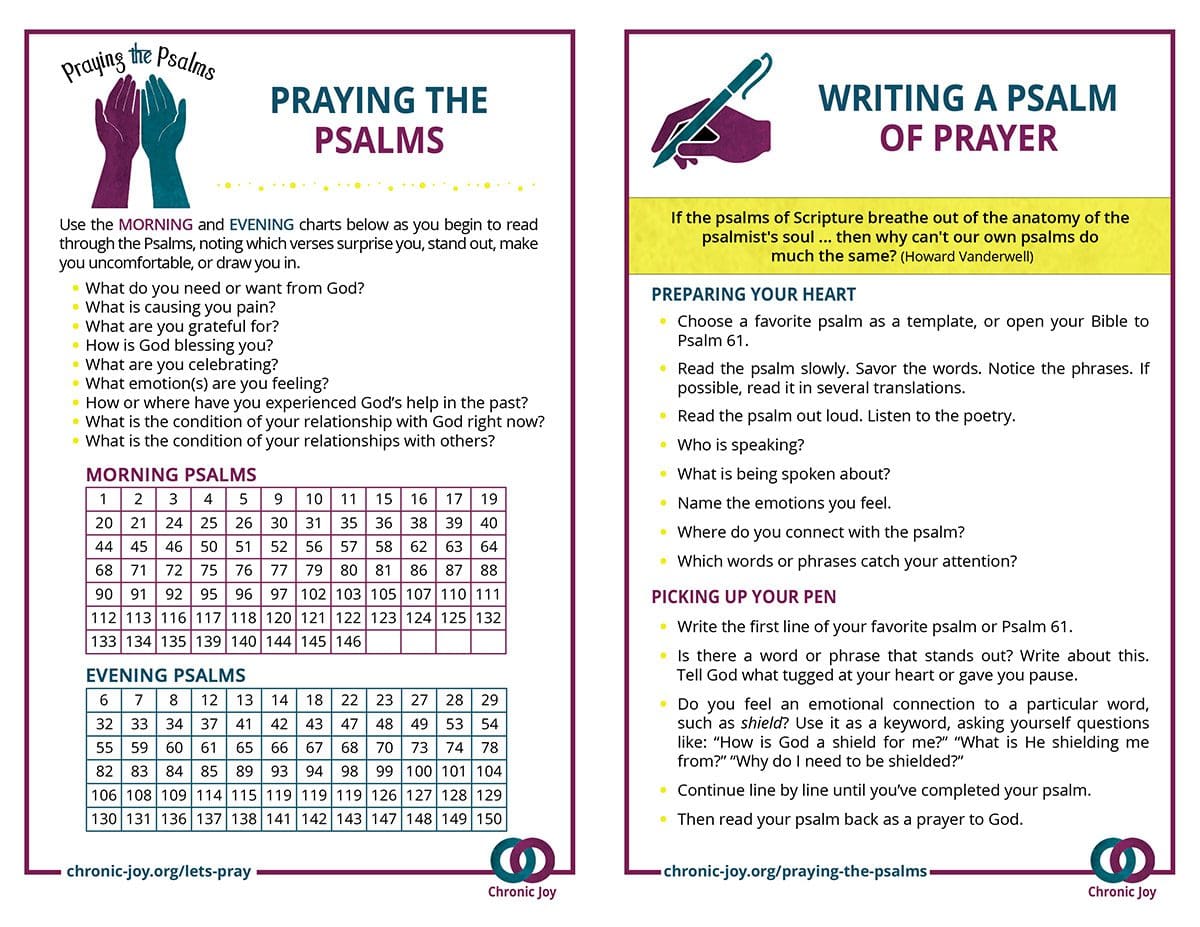 Praying & Writing the Psalms
What is your favorite Psalm? Why? When did you choose it? What was happening in your life at the time? Have you ever considered writing your own Psalm?
HOW TO PRAY & WRITE PSALMS
The Psalms invite us into prayer just as we are. Timothy Keller writes, "There are other prayers in the Bible, but no other place where you have an entire course of theology in prayer form, and no other place where you have every possible heart condition represented, along with the way to process the situation before God."
Use the tables on this free printable to help you keep track of which Psalms you've read, and the questions to get you thinking as you write your own psalm (or psalms) of prayer to God.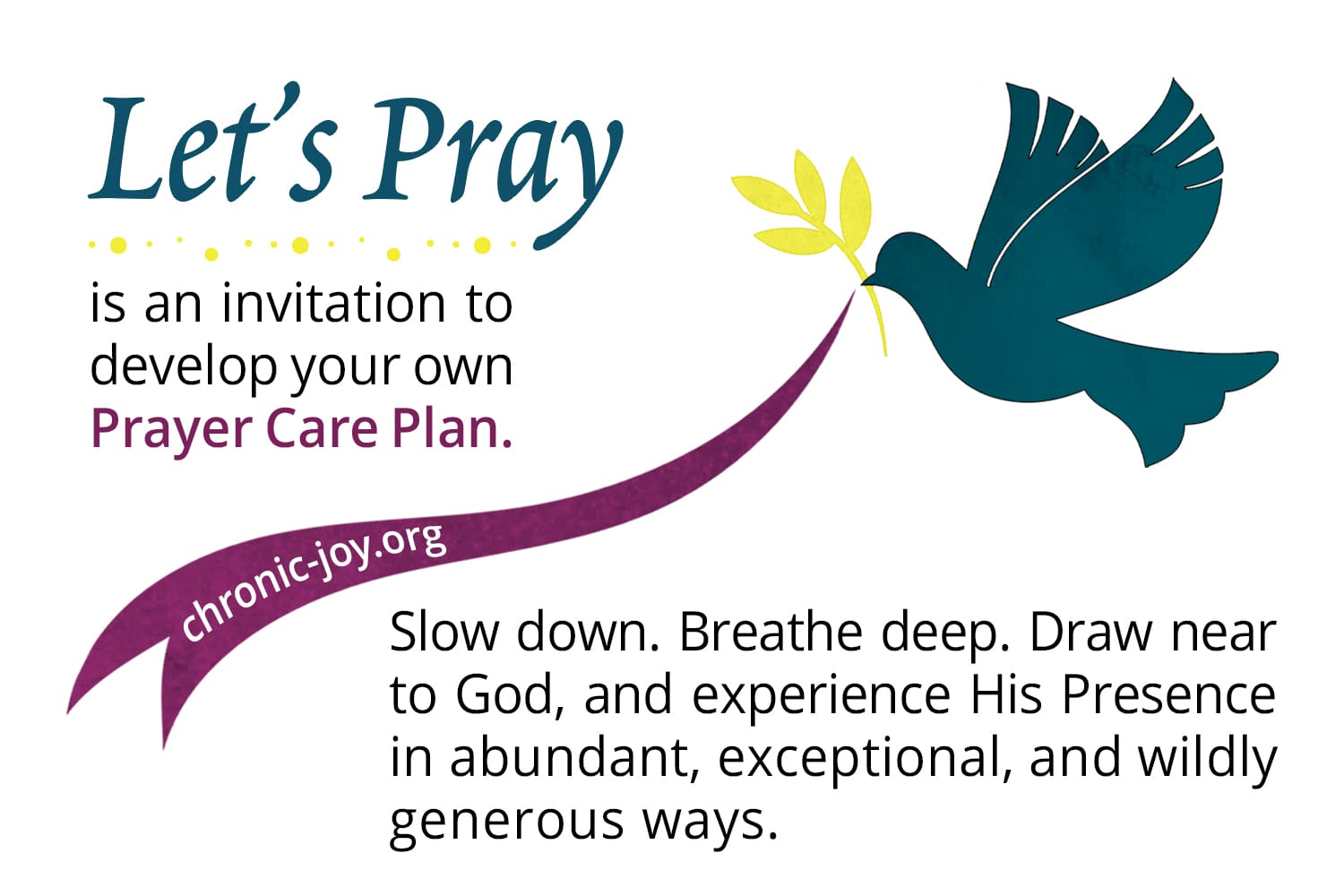 Let's Pray
Prayer is a precious invitation to simply be with Jesus.
Slow down. Breathe deep and draw near to God, experiencing His Presence in abundant, exceptional, and wildly generous ways.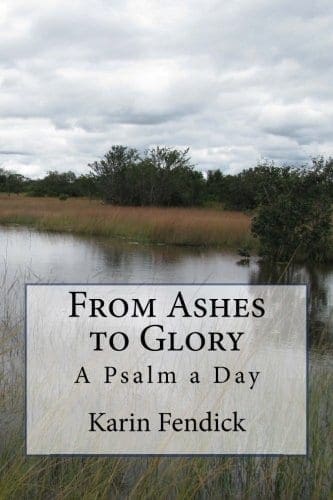 Karin Fendick
Though not from a liturgical background, this poet felt led to celebrate the holy through the time span from Ash Wednesday to Resurrection Sunday. From Ashes to Glory is a collection of forty-seven brief psalms written as a daily offering of worship that will encourage and draw you closer to God in any season.
God's Prayer Book: The Power and Pleasure of Praying the Psalms
The Amazon buttons are affiliate links, which means if you click on the link and purchase the item, Chronic Joy will receive an affiliate commission.