Christmas Letter
Every couple of years I put together a family Christmas letter to send out. While it's meant to keep us connected to our long-distance families and friends, it's also a family history, if you will. I always look forward to sitting down and reflecting very intentionally over the many ways God has shown up in our lives.
This year's letter couldn't have been complete without the celebration of our 17-year-old's health after a long medical crisis. In June we saw the surgeon for the last time and all of us rejoiced over this huge milestone. Anna's kidney was finally completely healed! So even though, at times, I'm a little hesitant to share such victories too loudly because "you know who" might hear me, I needed to for all of us and for all those who have followed our journey these last five years. So there it was in print for the entire world to see. We were beyond celebrating!
A month later I was facing the temptation to doubt, panic, and relive that medical nightmare. Anna didn't go to school today, because she is having kidney pain. (For the first time in almost three years!) To see that old familiar fear in her eyes this morning resulted in that awful feeling of helplessness. To even write down those words sends a quick and cold chill throughout my body. When we had to drag out the heating pad last night (a regular ritual while she was sick) I could almost hear the enemy laughing in my face. "See, God didn't really heal Anna. He didn't answer your prayers. Why don't you just get it over with and admit He didn't work like you told everybody He did?"
"NO," my heart battled. "I will trust God and keep choosing to trust Him; you will not shake my confidence in God!"
Isn't it just like the enemy to masterfully slide in just in time to try and steal the show ─ to steal away some major victory, some major healing, some major spiritual progress we've made in our lives replacing it with doubt, fear, and discouragement?
But greater is He who is in you than He who is in the world. 1 John 4:4
What happens when healing doesn't come, or a medical condition resurfaces, or the pain doesn't subside, or our circumstances continue for years? Each day is a new day to respond faithfully to God because faith that moves forward triumphs.
So where am I at this moment? A part of me is trying not to go to the worst-case scenario. Like before, I know I need to take a deep breath and trust God's character and what I know to be true about Him. I am choosing with my will to put myself in the same trust mode that has held me for the last five years.
Like all of us, I don't know what tomorrow holds. Maybe it's just a fluke – Anna's pain doesn't mean anything – maybe it isn't. I don't know at this point. Maybe, it's God's gentle reminder to me to never forget the years in the wilderness. Maybe God never intended for me to breathe a sigh of relief, but rather has wanted me to maintain that same kind of desperate dependence on Him that was so second nature in the wilderness. How easy it is to let go of His hand when times are good, when the pressure is off, when in reality, His plan for us is to never let go of His hand. Whether I realize it or not, I am always in desperate need of God.
I have walked this journey long enough now to know that He is walking it with me and He knows the way ahead so I don't have to be afraid. He sees around the corner of my tomorrow and my fearful mother's heart and He is adequately prepared for it.
And because of that, so am I.
Today Psalm 16:8 has been a comfort to my soul, "I have set the LORD always before me. Because he is at my right hand, I will not be shaken." In other words…I will not be shaken by fear, heartbreak, doubt, disappointment, brokenness, illness, flashbacks or any other thing that can be thrown at me. My confidence is secure. His right hand will keep me, and nothing I face will ever shake me because I am setting the Lord always before me holding on in desperate dependence!
---
*First published December 2012, Just Between Us magazine. **Publsihed with permission.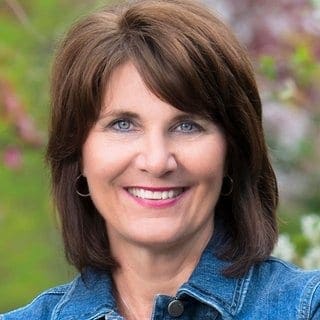 Shelly Esser
Editor of Just Between Us magazine
Shelly has been the editor of Just Between Us for more than 30 years. Additionally, she has been involved with leading and nurturing women since attending college. She and her husband have four adult daughters and two sons-in-law. They live in Menomonee Falls, Wisconsin. 
When Chronic Illness  is a Member of the Family
The keys to parenting when chronic illness is a member of the family are prayer; humor; flexibility; being intentional kind; acknowledging loss, fear, and other uncomfortable emotions; embracing each family member's God-given worth; and loving one another deeply from the heart.