Service in a Box
Simply and creatively serve. Everything you need in one box!
When chronic illness makes serving in traditional or familiar ways difficult, Service in a Box is everything you need to simply and creatively serve one another in love in new ways.
Each of you has been blessed with one of God's many wonderful gifts to be used in the service of others. So use your gift well. (1 Peter 4:10)
Want to brighten someone's day? Encourage a weary caregiver? Inspire a teen or young adult? Share a loved one's burden? Remind a lonely older adult that they are not forgotten? Lift a healthcare worker's spirits? Or make a server's day with a little bit of kindness?
Start with Service in a Box!
Service in a Box is everything you need to encourage, strengthen, inspire, and serve one another in love. Inside you'll find:
Beautiful, blank-back Flat Cards
Professionally-printed Resource Guides
Service in a Box Guide
#PenToPaper Note Starter
Envelopes
HOW SERVICE IN A BOX WORKS
ONE TO WRITE AND ONE TO GIVE

Letter-writing is a vital and life-giving ministry not only for the recipient, but to the writer as well. Each Service in a Box contains flat cards and professionally printed guides, so you can encourage those on your heart.
On hard days, writing a note might require our brave intentionality, but it is a gift to the one who receives it. That one small act carries love that can change the trajectory of someone's day, brightening both theirs and yours!
Place these three beautiful and inspiring gifts in one envelope: your thoughtful note and an encouraging guide. Pray for the recipient and drop in the mail. (One stamp is all it takes.)
HOW ABOUT SENDING SERVICE IN A BOX AS A GIFT WITH A PERSONAL NOTE?
(Sample note) May you be blessed as you send these little packets of encouragement to friends and family. It lifts the spirits and brightens a day to discover old-school mail in the mailbox.
BUILDING YOUR OWN SERVICE IN A BOX
CHOOSE FROM OUR SERVICE IN A BOX OPTIONS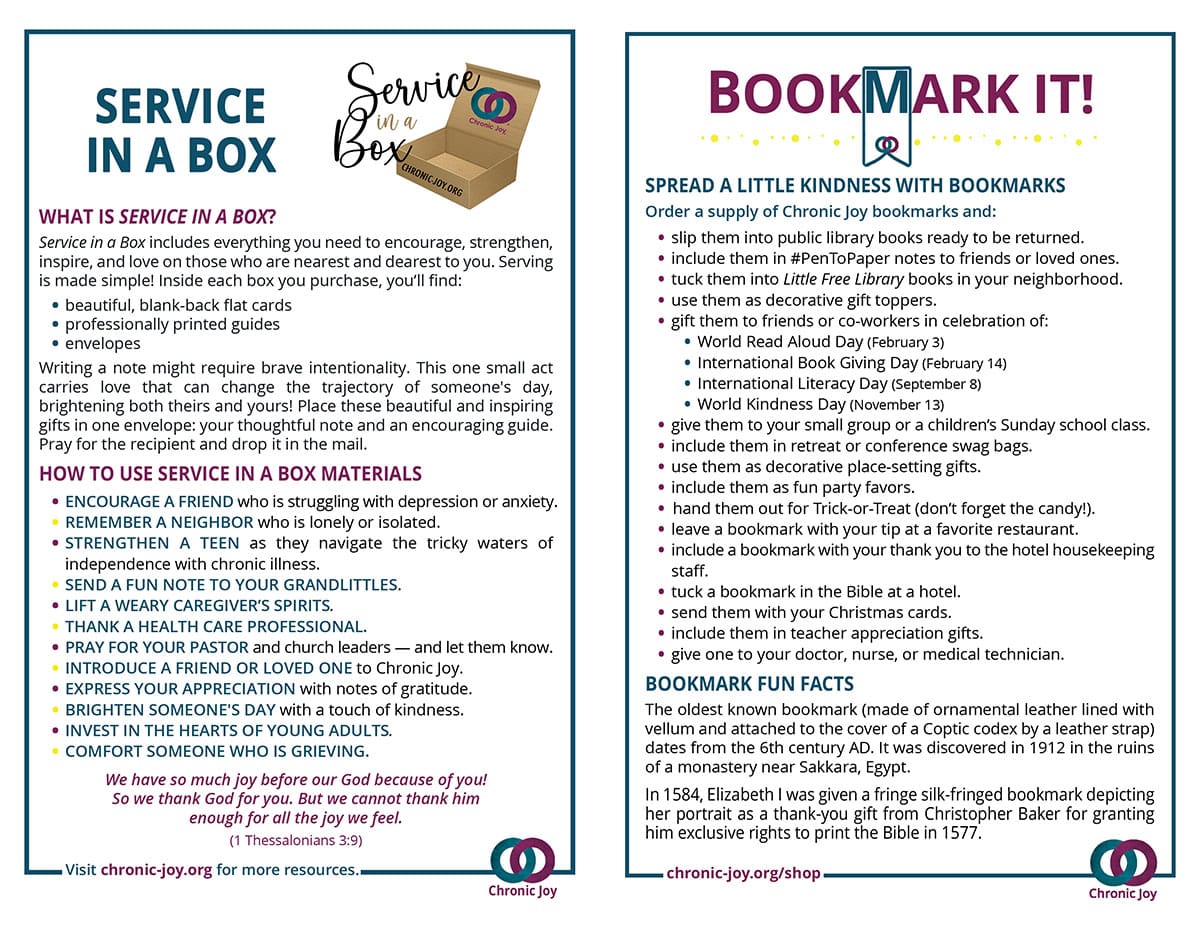 Service in a Box
Service in a Box is everything you need to encourage, strengthen, inspire, and love on those who are nearest and dearest to you. Check out a variety of options in our store. Or start with just one. Print out any of our printable guides and tuck them in an envelope with a note of encouragement and brighten a day
Click here to purchase your box.
Printables
Downloadable Hope!
Resources, tips, and tools to encourage and inspire everyone affected by chronic illness. There are more than 150 beautifully-designed FREE printables, with more coming regularly. Stop by and download a little hope today -- and be sure to check back often to see what's new!