Let us think of ways to motivate one another to acts of love and good works. (Hebrews 10:24)
 THE REMARKABLE KINDNESS OF GOD
This (in the words of Alexander MacClaren) is your invitation "to cultivate the buoyant, joyous sense of the crowded kindnesses of God," and to Pass It On to the precious souls in your little corner of this hungry and thirsty world.
We are wired for community, called to love one another deeply from the heart, invited to meet with God in prayer for each other. And we are inspired by the Spirit to be intentionally kind, becoming a conduit of Jesus' love to every life we touch as we journey Home.
We've collected 24 creative ways to pass on the remarkable, joy-filled, always-right-on-time, crowded kindness of God to one another. And it all begins with prayer.
A Short Prayer
Lord, thank You for Your unending and compassionate kindness. How I long to pass Your kindness on to others—both those I know and those I don't—who are hungry and thirsty for Your tender loving-kindness! Please make me a blessing and use me as a conduit that blesses others.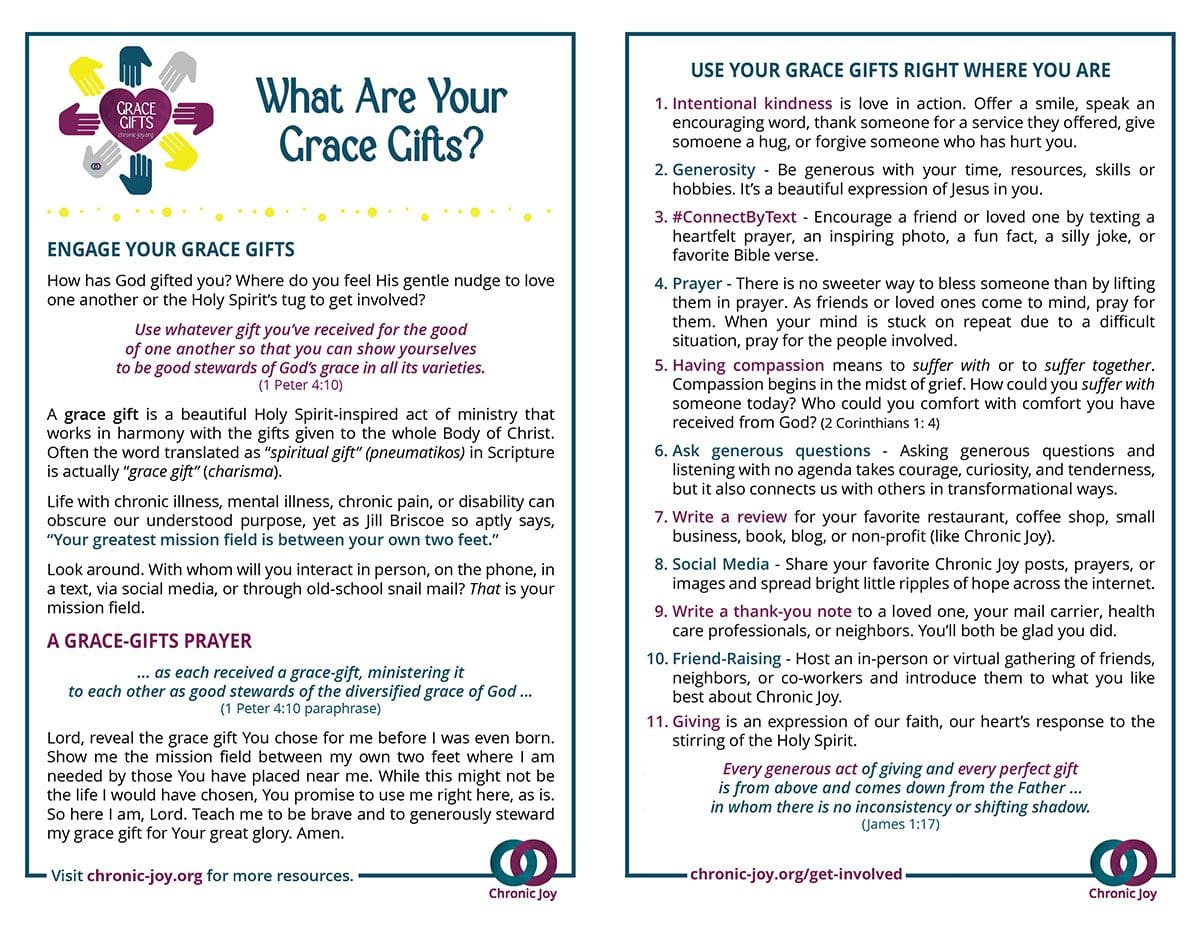 What are Your Grace Gifts?
How has God gifted you? Where do you feel His gentle nudge to love one another or the Spirit's tug to get involved? A grace gift is a beautiful Holy Spirit-inspired act of ministry that works in harmony with the gifts given to the whole Body of Christ.
Ask Generous Questions
Lean into the living presence of Jesus and cultivate a deeper relationship with one another. When we slow down and really listen to each other, we grow together as the Body of Christ on earth.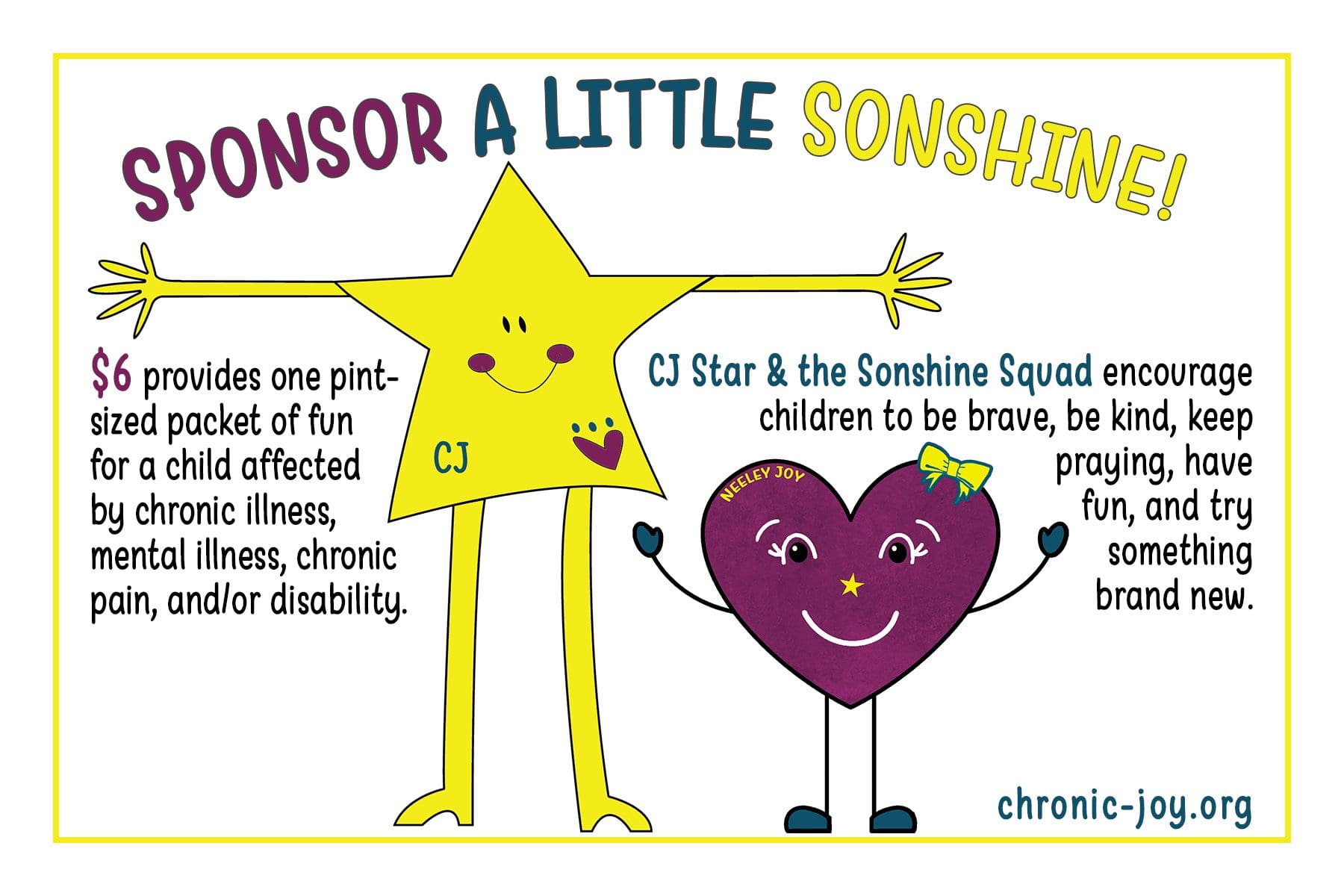 Sponsor A Little Sonshine!
Join Chronic Joy in sending packets of pint-sized fun to kids worldwide affected by chronic illness, mental illness, chronic pain, or disability. CJ Star and his winsome Sonshine Squad encourage our Littles to be brave and kind, have fun, keep praying, and try new things.
⭐️  Donate $6 – Fund one fun-filled envelope for one precious Little
⭐️  Donate $12 – Supply exciting  and engaging activity sheets
⭐️  Donate $50 – Provide shareable stickers for our Littles & their friends

24 CREATIVE WAYS TO SHARE GOD'S KINDNESS → PASS IT ON

:

 
...is love in action. Pass It On today by:
speaking an encouraging word
offering forgiveness to someone who hurt or wronged you
writing a review for your favorite restaurant, small group, or non-profit
purchasing our Service in a Box - Touch of Kindness to spread kindness far and wide
...is a vibrant expression of Jesus living in and loving through us. Be generous with your:
time
resources
unique skills, hobbies, or gifts
Did you know that from the comfort of your own home, you can record audio tracks for Chronic Joy posts or page content?
Never underestimate the power of a simple text. In just minutes, you can give the gift of encouragement. Remind someone today that they are cared about, prayed for, and dearly loved.
The Prayer Pond is our safe harbor and a precious invitation from God. Today, we warmly invite you to spend a few minutes at the Prayer Pond where you can request prayer and also #PrayItForward for another. Our beautiful Make Your Life a Prayer flat cards make it easy to send prayer notes to friends and loved ones.
Brighten someone's day with a free Chronic Joy Printable (There are more than 100 to choose from!). Grab the link or download, print, and mail a Printable to a friend or loved one.
The word compassion literally means to suffer with or to suffer together. Chronic illness, mental illness, chronic pain, and disability can leave us feeling isolated and alone, but compassion begins In the Midst of Grief. Spend some time with the wonderful resources on this webpage and then check out our free printable: Verses to Comfort & Encourage.
Do you knit or crochet? Prayer shawls are blessings of community, kindness, comfort, and compassion, stitched with prayer and gifted to those who are struggling with illness, pain, anxiety, depression, loneliness, loss, or grief, as well as those who are hospitalized, recovering from surgery, or facing prolonged treatments. We offer free downloadable patterns for prayer shawls and face cloths.
Community is where we learn to "love one another deeply, from the heart" (1 Peter 1:22). What does that look like in everyday life? Start with Radical Community then download our 33 Biblical "One Anothers."
10. WHAT'S IN YOUR POCKET?
When we each give what we have (willing hands, a skill, our hobby, knowledge, our voice, our time, prayer, or financial resources), we are bolder, braver, and stronger together – and together, God multiplies the impact one precious life at a time. How will you give today?
"Forgiveness," writes Pastor Laurie Brenner, "is an essential ingredient for joy." Not sure how to strengthen your forgiveness muscle? Our Ministry of Reconciliation printable is a great first step! If there are difficult relationships for which you are struggling to find words, our free printable provides an easy step in.
12. ACCOUNTABILITY
Becoming an accountability partner is a powerful Kingdom-building and community-cultivating gift. Step beyond the familiar framework with #StepRepPray and Megan Willome's post, Workout Buddy and Prayer Partner.
13. ASK GENEROUS QUESTIONS
Asking generous questions takes courage, curiosity, and gentle tenderness, but it also connects us in transformational ways. Need a little inspiration? We've got several free printables:  Questions of Jesus, 76 Questions for Couples, and Ask Generous Questions.
14. OFFER A SMILE
"Small actions of love are the very definition of humbly serving one another," writes Pamela Piquette in Love in Action. There's no better place to begin!
15. DONATE A BOOK
Do you know someone who would be blessed by Discovering Hope, the first book of Chronic Joy Publishing? Through Gift of Hope, they can receive it as our gift, completely free of charge.
Write a review for your favorite restaurant, coffee shop, small business, Etsy shop, book, blog, podcast, radio show, or non-profit (like Chronic Joy).
17. SOCIAL MEDIA
Share your favorite Chronic Joy posts and spread a little compassion, hope, and joy on Facebook, Instagram, LinkedIn, Twitter, or Pinterest. Know someone who's in need of a little encouragement? Tag them!
If you've ever thought about sharing your story, we'd love to help. Story Matters is filled with thoughtful questions and helpful tips to get you started – and if you need a little more inspiration, check out Build An Ebenezer.
19. LEAVE A THANK YOU NOTE
Thank your mail carrier, garbage collectors, health care professionals, or neighbors. Looking for a little gratitude kickstart? Download Discovering Gratitude. Our Appreciation flat cards are an easy way to express your gratitude.
20. INVITE A FRIEND...
...to be your Gratitude Buddy.
Author Kara Tippetts wrote, "Gratitude protects our hearts in the midst of suffering." Link arms with a friend and text, message, or email each other one thing (or more!) you're grateful for each day. Need a little inspiration? Start with A Grateful Heart and 10,000 Reasons.
Dust off your grace gifts and let us know what you love to do and how you'd like to be involved – one-time or ongoing – from the comfort of your own home. Not sure how to get involved? Connect with Us! Tell us what you love to do, and we'll brainstorm with you!
Host an in-person or virtual gathering of friends, neighbors, co-workers, your sports team, or small group, and:
#StepRepPray – Run, walk, climb, bike, dance, swim, jump rope, or hula hoop in someone's honor or for someone who can't – then let them know.
Write #PenToPaper notes for those who need a little encouragement in your community or for the growing Chronic Joy community.
Knit or crochet prayer shawls, face cloths, or bookmarks for our Kindness Boxes.
Help us build Kindness Boxes. Invite participants to donate lotions, chocolates, candles, notepads, pens, and other small items to add to our Kindness Boxes
...our children
Donate:
$6 – one fun-filled envelope for one precious Little
$12 – exciting  and engaging activity sheets
$50 – shareable stickers for our Littles and their friends
24. PASS IT ON
YOU are our why, the reason we do what we do. We are always #BetterTogether!
We always thank God, the Father of our Lord Jesus Christ, when we pray for you. (Colossians 1:3)
In kindness [God] takes us firmly by the hand and leads us into a radical life-change. (Romans 2:4)